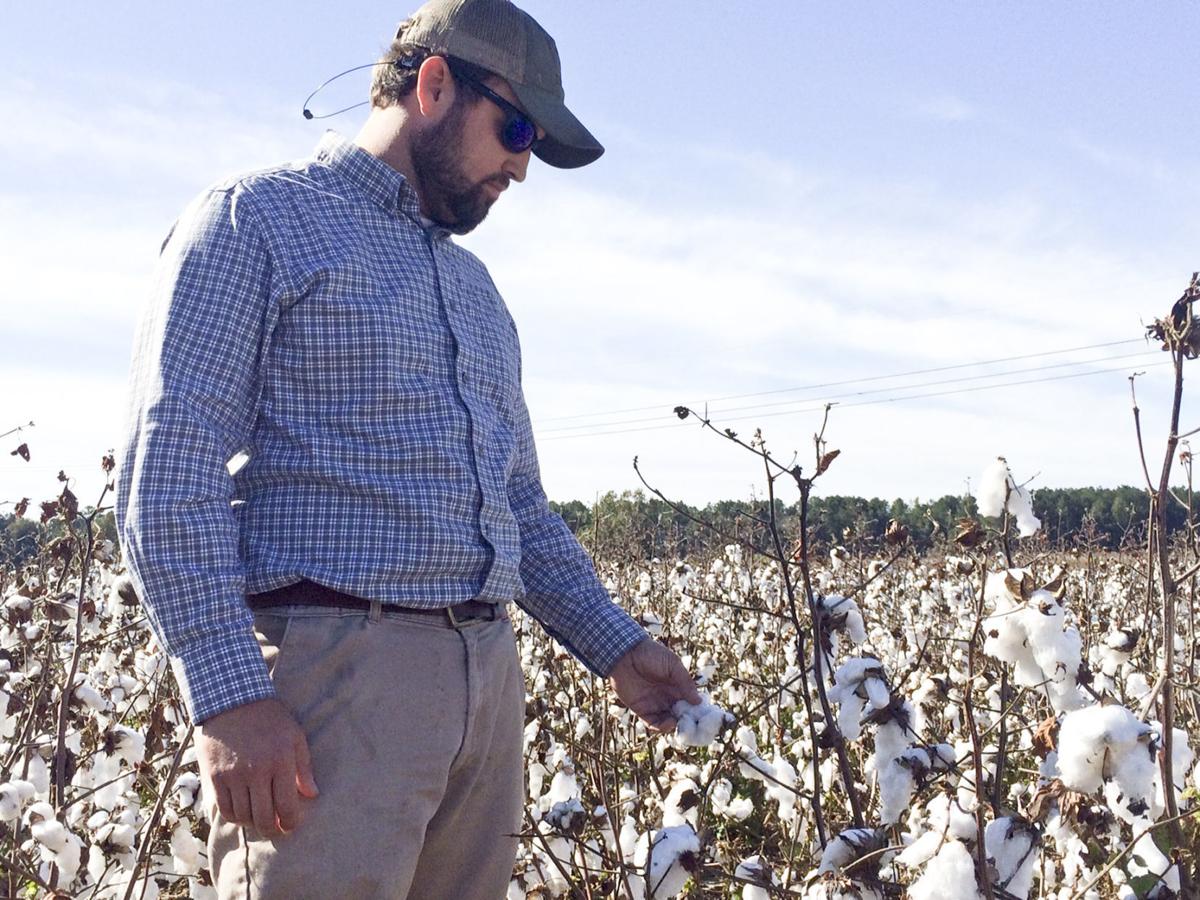 Drought and heat gave a double whammy to Orangeburg County farmers for the 2019 growing season, generally reducing dryland yields across all crop commodities.
Reduced yields are on top of low commodity prices.
"It has been a rough year," said Orangeburg County farmer Edwin Smoak, who grew dryland corn and cotton. "It has been a survival-mode year."
For Smoak, it was the driest farming year he has seen in recent memory. He has farmed for 19 years.
For Providence farmer Dean Hutto, the story is pretty much the same.
"Overall 2019 has been pretty trying weather wise, and on top of that we have to deal with low commodity prices across all the crops for different reasons," he said. "Hopefully we get the tariff issues with China straight and we see bean and cotton prices rebound."
Orangeburg County Clemson Extension Agent Jonathan Croft said Smoak's and Hutto's stories are Orangeburg County's story for 2019.
"Early cool, wet spring delayed some early corn planting," he said. "Dry, hot conditions during late spring through most of the summer were tough on crops, grazing and hay production."
Croft said there were some areas that did receive storms and rain in early June. That helped support dryland and cotton yields in those areas.
The majority of The T&D Region is currently in a severe drought -- the third highest level of drought, according to the National Weather Service. There are five levels of drought severity.
All of Bamberg County is in a severe drought, but the drought status in Orangeburg County varies, with the east having less-severe conditions.
In fact, the far eastern tip of the county -- near the Berkeley County line -- is not even in a drought, according to the NWS drought classification.
The Eutawville and Holly Hill areas are classified as abnormally dry while an area running through Orangeburg city proper is considered in an extreme drought. Extreme drought is the fourth highest level of drought.
The far western part of Calhoun County near the Lexington County line is also classified in an extreme drought.
For Orangeburg County farmers, the last few years have not been pretty.
In 2015, farmers had to deal with the historic flood, and in 2016 Hurricane Matthew made its presence felt.
Last year, Tropical Storm Michael brought gusty winds and heavy rains, damaging some of the cotton crop and delaying the harvesting of peanuts.
Corn
About 31,304 acres of corn were planted this year in Orangeburg County, according to the Orangeburg Farm Service Agency.
Dryland corn saw an average yield countywide of about 55 bushels per acre, which is down about half from where farmers would like to see corn, Croft said. Farmers would like to see dryland yields hovering in the 100 to 120-bushel range.
"There were some pockets with good non-irrigated corn, however, the bulk of dryland corn in the county suffered yield impacts from hot dry weather in May," Croft said. "The few areas with the highest dryland yields received some localized thunderstorms during the months of May and June. Also late-planted dryland corn fared better than early planted corn."
Smoak was one who benefited from late-planted corn. He planted about 200 acres of dryland corn after the late May heat.
The crop was one bright spot for him.
"I was very surprised, but we had an average crop about 100 bushels an acre," Smoak said. "I planted my corn a little bit later than I wanted to, but the timing was right and that helped it survive."
Unlike Smoak, Hutto planted corn in May. He had about 1,400 acres, with 800 being irrigated and 600 dryland.
"Dryland yields were below average due to the drought and heat in the middle of the summer, but it was probably a little better than we anticipated," he said.
Irrigated corn, as expected, fared better than dryland corn with an average of about 225 bushels per acre. Farmers typically plan for average irrigated yields of 250 bushels per acre, Croft said.
While irrigated corn yields did better than dryland, it suffered also from the dry conditions.
"There were some issues with maintaining soil moisture levels during the drought and heat of May and June," Croft said.
Hutto said his irrigated corn yields were "average to above average, which was surprising considering all the heat we had when the corn was pollinating."
Lower-than-desired yields come with lower-than-desired prices.
At current prices of about $4 a bushel, profit margins are slim to none. Last year, farmers were seeing prices hovering around $4.50 a bushel.
"Depending on marketing strategies by farmers, some may be getting closer to $4.50 per bushel on delivery," Croft said. "With late planting and flooding in the Midwest this spring, many are expecting prices to climb, but that is yet to be seen."
"To see decent on-farm profits above total cost, corn prices need to be in the $5 to $5.50-per-bushel range," Croft said.
Hutto echoed Croft, noting commodity prices have been as challenging as Mother Nature.
"No crop is at a price that is profitable," he said. "We really needed great yields to make a profit and we missed on the yields overall, and now we are hoping we just have enough to break even."
Despite the dry conditions for corn, insect and disease pressure were nothing beyond the normal, Croft said.
Cotton
Across the county, about 37,414 acres of cotton were planted.
As of this writing, yield numbers were unknown as cotton was being harvested.
Smoak planted about 800 acres of mostly dryland cotton.
"It has not been a good year for cotton," Smoak said. "We have been hurt by the drought this year."
Smoak is averaging less than a bale and a half per acre. "I would like to see two bales."
Smoak said August was dry as a bone.
"The whole month of August, we did not get any rain," he said, noting the month is typically a crucial month for cotton. "We did not make any cotton in August. That led to it being an early crop and just being a poor crop."
Hutto planted about 1,000 acres of cotton -- all dryland.
"The cotton yields also seem to be below average due to the heat and drought," Hutto said.
In addition to Mother Nature's unkindness, Smoak said leaf spot and deer pressure were also problems for his cotton.
"They (deer) are bad," Smoak said. "I have lost 10% of my crop to deer pressure."
Croft said generally farmers would like to see irrigated cotton yielding 2-1/2 to 3-1/2 bales per acre. Farmers would like to see dryland cotton yielding 1-1/2 to 2-1/2 bales per acre.
"Farmers that were able to get a good plant stand in May and that received timely rain during the summer have the best-looking crops right now and they are working hard to get it harvested," Croft said.
You have free articles remaining.
But as with most crop growers this year in the county, drought conditions were the story for cotton.
"A dry spring that impacted plant stands and timing of planting hurt the crop in many areas," Croft said. "Dry, hot conditions with no to very little rainfall was the biggest factor hurting cotton yields this year."
Insects were also a problem.
"Aphids and spider mites were problems this year in many cotton fields," Croft said. "Some areas also experienced high pressure from stinkbugs and growers had to make extra insecticide applications to combat the stinkbugs."
Expected reduced dryland yields also come with low prices.
"Prices are low and seem to be stuck in the 60-cent-per-pound range," Croft said. "Farmers would really like to see cotton prices get above 85 cents per pound and stay there."
"At the current prices a farmer has to have excellent yields to barely break event," Croft said.
Peanuts
About 4,434 acres of runner peanuts -- both irrigated and non-irrigated -- were planted in the county.
As of this writing, Croft said the peanut crop was still being harvested and yields were undetermined.
Hutto planted about 100 acres of dryland peanuts.
"The peanuts were average -- surprisingly," he said, since heat and drought were prevalent during the crop's growth period.
For dryland runner peanuts, average yields of 3,500 to 4,000 pounds per acre are desired.
But Croft said for irrigated runner peanuts, a crop of 5,000 to 6,000 pounds per acre is the ideal.
"So far, even though I don't have exact yields for runner peanuts, the areas that do have good yields were areas that received more showers throughout the growing season than others," he said. "There are many areas in the county that hot, dry conditions throughout the summer have significantly impacted the yield of runner peanuts."
Runner peanuts did have some disease issues in 2019.
"The disease that I saw the most in runner peanuts this year was white mold, also called southern stem rot (Sclerotium rolfsii)," Croft said. "This was due to the lack of timely rainfall to wash fungicide treatments into the soil to help control this fungal disease."
Other issues confronting peanuts were spider mites and velvet bean caterpillars.
"We also had some areas with damage to the pods from lesser corn stalk borers," Croft said. "Diseases this year for the most part were minimal. We did see a few fields with some late leaf spot problems, however they were close to harvest when this happened and had minimal impact on yield."
Peanut prices are at about $435 to $450 a ton under contract, which are lower than desired, the same as last year. "Farmers typically like to see prices at least in the $500-per-ton range."
"At current prices, profit margins are very slim, and that is one of the main reasons for the drop in planted acres this year," Croft said.
About 4,583 acres of Virginia peanuts were planted in the county.
Croft said the crop is still being harvested, meaning yields are not known at this point in time. The desired yields for irrigated and dryland Virginia peanuts are the same as for runner peanuts, Croft said.
Croft said that as with runners, the fields that did see more showers benefited.
Soybeans
About 13,440 total acres of soybeans were planted in the county this year. The crop has yet to be harvested.
Hutto has about 600 acres of dryland beans.
"We haven't harvested any soybeans, but they look OK," Hutto said in the middle of October. "It is hard to tell how they were affected by the last dry spell we went through. I suspect some pods didn't fill out and the beans will likely be pretty small due to the lack of rain on the tail end of the crop."
Croft said farmers would like to see dryland yields averaging 35 to 40 bushels per acre. Farmers would like to see irrigated yields averaging over 60 bushels per acre.
The story for soybeans is also hot and dry conditions.
"It was planted after the first wave of drought in May and early June and soybeans looked like they had good yield potential until we had the continued dry and hot conditions during August and September," Croft said. "At this point, yield potential especially for dry soybeans is way off."
"In 2019 the worse insect we had was an early than normal infestation of velvet bean caterpillars," Croft said. "If fields that were infested were not treated, these insects would completely defoliate the plants."
Soybeans are hovering in the $9 range, according to the Chicago Board of Trade in the middle of October. Farmers would like to see soybeans at $10 a bushel  in order to make a profit.
Wheat
A total of 5,591 acres of wheat was planted in Orangeburg County this year, with the average yield about 70 bushels per acre. That is the lower end of where farmers would like to see wheat yields. The desired yields are between 70 and 85 bushels per acre.
Unlike other commodities, wheat did benefit from timely rains in the early spring, Croft said.
"Also the dry conditions that hurt corn and delayed cotton planting were good conditions for wheat harvest," Croft said. "Warm weather during the winter did delay heading of some varieties due to the lack of adequate cold temps for vernalization."
Wheat prices are in the $5-a-bushel range, below the $8 a bushel farmers would like to see to make a profit.
"Low prices are continuing to cause planted acres to be really low compared to historic wheat planting in Orangeburg County and S.C. in general," Croft said.
There were no reports of disease or insect pressure on the crop this year.
Overview
Orangeburg County is a state leader in agriculture.
According to the latest 2017 Census of Agriculture, Orangeburg County is home to 978 farms consisting of about 293,790 acres in farmland. The average size of a farm is 300 acres, according to the 2017 census.
These numbers are down from the 2012 census of 1,056 farms but up in the average farm size. The 2012 census reported an average farm size of 268 acres.
The 2017 numbers bucked a decade-long trend of smaller farm sizes.
"Agriculture continues to be a leading industry in Orangeburg County and employs a lot of residents," Croft said.
Overall, Orangeburg County ranked second in total market value of crops and livestock and poultry sold at $213.9 million in the 2017 census.
The county has a total of 726 cropland farms consisting of about 165,516 acres.
Orangeburg County ranked first in the state in market value of crops sold at $107.2 million.
The county ranked first in the state for the most cotton sold at $22.2 million and first in total sales of other crops and hay at $22.3 million.
The county's largest crops in planted acres in descending order are corn, cotton, peanuts and soybeans.
Agricultural census data is taken every five years.