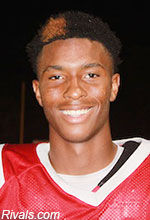 A former Barnwell athlete who is now a member of the Allendale-Fairfax football team says he was hazed by his new teammates during a football camp held in Orangeburg County.
Shakur Chisolm, a star running back and rising senior who transferred to A-F from Barnwell High, was the target of a "brutal hazing incident that occurred at a school-sponsored football camp the week of August 3," according to a statement from the office of Bamberg attorney and state Rep. Justin Bamberg, who is representing Chisolm.
The statement said Chisolm and multiple students present during the incident report that transfer students and underclassmen were beaten by upperclassmen with boxing gloves, belts and fists in a hazing ritual allegedly orchestrated by the coaching staff.
Chisolm -- who is being recruited by Clemson, South Carolina, Georgia, Auburn and California -- plans to withdraw from Allendale-Fairfax and will soon determine where he will attend school and whether he will play football his senior year, according to the statement.
Chisolm said in a Facebook post that his so-called initiation to the team got out of hand. Here are his words:
"Some people say it wasn't that serious but if it wasn't that serious why it had to be 20 to 30 dudes jumping on me ? Why when I was yelling stop they didn't ? Why when I finally got away they came in the house after me and searched it top to bottom to find me ? Why didn't the coaches come help or stop anyone ? I was there all last week and everybody who did get this initiation it was with 3 to 4 people. The second night I got my initiation from the seniors and that was playing to me I understand the tradition boys going to be boys from that night forward I thought that was the end of it. I understand people have their own opinion and may have went through it but I highly doubt they went through what I did that night. Everyone know the difference between playing and serious but when numerous of males fist all balled up repeatedly Beating on you and you telling them to stop and they won't that's not playing. I don't want nobody to think I hate anyone from the team I got love for them boys and I forgive but this is my side of the story."
The camp was in Orangeburg County, but no police report was filed, according to WRDW-TV in Augusta, Ga.
Bamberg said Tuesday night he could not say as yet where the camp was held.
The Augusta TV station interviewed Allendale County School District Superintendent Leila Williams, who said regarding who is investigating the matter: "The school district, so myself and the principal."
There are no reports, no documents, nothing in writing about what may have happened at that camp, according to the TV report.
South Carolina law makes hazing a crime, especially if it includes physical harm.
WRDW asked the superintendent at what point law enforcement would get involved. She said, "At the point that we determine the level of the infractions. Some levels may be just general, or it may get to that point where we need to ourselves contact them."