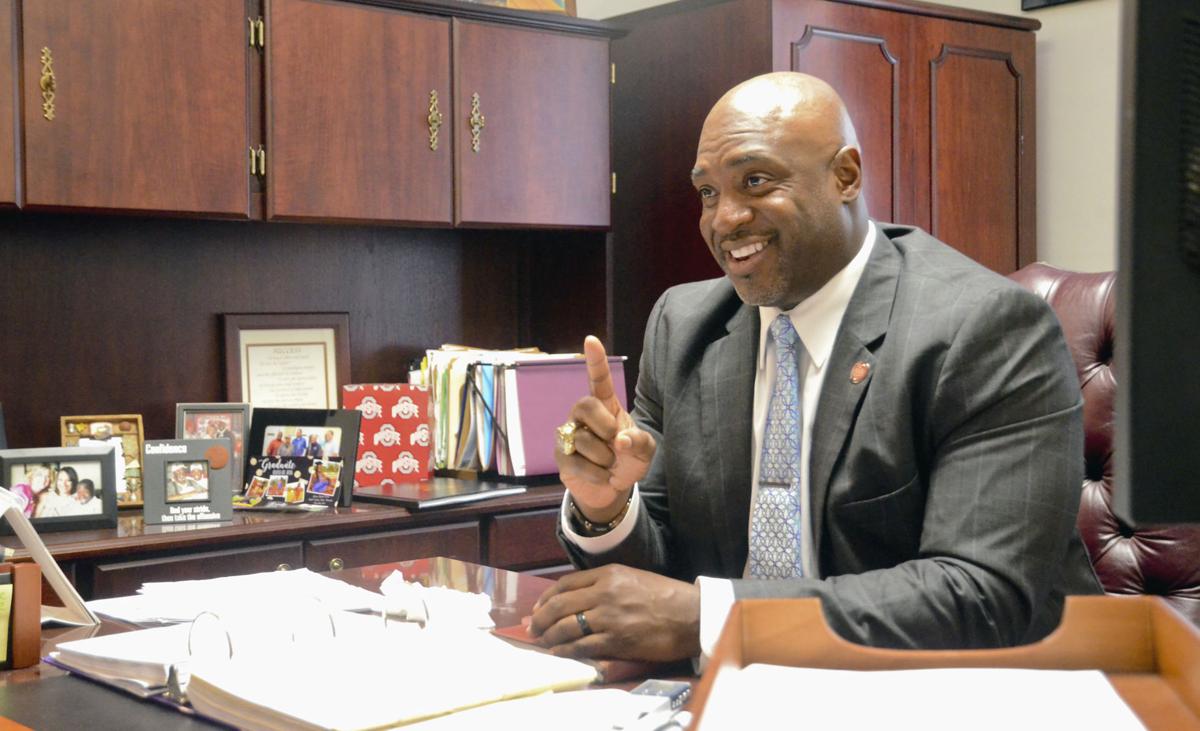 The message from South Carolina State University athletics is that no one is abandoning ship or running around screaming the sky is falling. And there is no need to do so.
Yes, with present cuts in school funding and a projected budget for 2015-16 that may require athletics to do with even less direct funding, the Bulldog program has to reduce costs.
But, according to Director of Athletics Paul Bryant, none of the 14 varsity sports on campus are in serious danger of being fully cut from the department.
"We have 14 sports, we will continue to have 14 sports and our 14 will be solid," Bryant said. "We have not gone over budget (upwards of $8.7 million) this school year. We are in the black by six figures after making some cuts. So we are not asking for any dollars to close out the year on June 30."
According to Bryant, every effort is being made to save as many scholarships across all sports as possible, even with a smaller budget of right at $6 million projected for the upcoming school year. The athletic department is dealing with a $2.5 million cut in subsidies from the university for 2015-16, based on recent budget cuts.
From school subsidies of $6.7 million in 2013-14 to $3.6 million in 2014-15, S.C. State athletics is now looking at $1.1 million in 2015-16, plus monies from collected student fees (which in 2014-15 added up to $6.7 million).
"We are in athletics and, honestly, if you have any competitive bone in your body, you are going to take on exactly whatever challenge is put in front of you, and you're going to try to conquer it," said Bryant, who came to S.C. State in August 2014 with a mission of balancing the budget and moving Bulldog athletics into the future. "We're moving forward with our fall sports and going ahead with our schedules."
One of the premier events of the fall schedule is the MEAC/SWAC Challenge in football, where S.C. State football will be playing Arkansas-Pine Bluff in Orlando, Florida.
Head football coach Buddy Pough is looking forward to the upcoming season. But he knows more athletic budget pinches might involve his football players, along with other student-athletes and coaches.
"At this point, we are going to be at the mercy of the powers that be until we patch that gap in funding," Pough said. "Whatever comes out of the board meeting (today), that is what we as coaches have to go out and figure out how we will deal and adjust.
"We know we are losing scholarships. We just don't know how many. And this isn't the first time we've had to cut summer school for some of our football players. We did that a few years back, and the next season we won the conference. That won't happen all the time.
"But one thing I'm concerned about is that we, as coaches, can do for the student-athletes what we tell them we can do for them."
As many as 13 football scholarships and three of the 13 men's basketball scholarships could be lost, just to give two examples. The fewer scholarships lost, the better, Bryant said.
"We have been asked (by the S.C. State Board of Trustees) to cut our scholarship budget," Bryant said. "To me, scholarships are something that brings students to South Carolina State University.
"Initially, instead of affecting the students that we have coming here, I cut my personal budget by slightly more than $850,000 to put that back into the scholarship pool. That way, we won't have to cut as many scholarships as we would have otherwise," Bryant said.
"We are enrollment-driven, and we need to boost our enrollment. Retaining first the students we already have planning to come here, that is what I'm trying to do."
All changes made to athletics stand to have a direct effect on student enrollment at S.C. State.
"We have a little more than 300 students in athletics," Bryant said. "Between 88 and 94 of them are on full (scholarship) rides.
"What does that equate to? That equates to the rest paying some of their tuition to the institution. We are trying to do anything and everything to not affect enrollment."
At this point, based on the spending plan being considered by trustees, athletics at S.C. State is an auxiliary budget, separate from the university budget.
By the NCAA's benchmark for self-sufficiency, just 24 of 230 public schools in Division I have athletics programs that stand on their own, according to an analysis of the 2013-14 school year by USA Today Sports based on data gathered in conjunction with Indiana University's National Sports Journalism Center.
By NCAA definition, self-sufficiency means an athletic department's generated operating revenues — not counting money from student fees, university funding or direct government support — are at least equal to its total operating expenses, which basically means taking in more money than you spend.
So that means S.C. State athletics is among 206 Division I athletic departments that depend on other revenue (before it was mostly university funding, now it is mostly student fees and fundraising monies) to continue its programs.
In 2013-14, S.C. State athletics brought in total revenue of $9,816,895, while spending that same amount. Total subsidies for S.C. State that school year totaled $6,635,852 (nearly 68 percent of its budget).
By comparison, in 2013-14, University of South Carolina athletics brought in more than $98.6 million in revenue while spending $95.7 million and receiving subsidies of more than $5.6 million (nearly 6 percent of its budget).
Clemson University athletics, at the same time, brought in more than $74.7 million in revenue while spending just more than $73.4 million and receiving slightly more than $4.3 million in subsidies (nearly 6 percent of its budget).
During that same time, Coastal Carolina University athletics in Conway brought in more than $23.3 million worth of revenue while spending slightly more than $23.8 million and receiving a little more than $19.1 million in subsidies (nearly 82 percent of its budget).
Other in-state Division I institutions that same year had the following athletic budget breakdowns:  The Citadel (nearly 66 percent of its budget from subsidies), College of Charleston (nearly 76 percent of its budget from subsidies), Winthrop University (nearly 86 percent of its budget from subsidies) and USC Upstate (nearly 82 percent of its budget from subsidies).
"South Carolina State athletics has taken institutional subsidies like most other Division I schools have, and we have operated within our budget," Bryant said. "Without subsidies, every athletic department on our level of competition – minus those 24 – would be in trouble."
One of the 24 self-sufficient programs, Oregon, reportedly received $95 million in in-kind facility gifts from Nike co-founder Phil Knight two years ago.
S.C. State hasn't had that kind of generous gift, but Bryant said a new bus was donated recently for Bulldogs athletic teams to use. That will cut down on travel costs for the near future.
"All things considered, our coaches have been positive and have been diligent with sending that message to student-athletes that we are open, we are going to be here, and we are going to proceed," Bryant said. "The NCAA has given our coaches a one-time waiver to go out, outside the recruiting calendar, and recruit students. They were so excited and they have gone out and done it.
"Our football staff went out and, in little more than a week, came back with more than 50 enrollees in the university. These are students who we wouldn't have touched, otherwise, through admissions or any other department. Our coaches have that relationship with high school counselors, and don't mind going outside of their responsibilities to help us increase enrollment."
The coaches recruiting students who aren't athletes will help increase enrollment. And athletics, in general, adds to college campus life and helps give college students a more complete experience.
"We are a campus where, as athletics, we are integrated into campus life," Bryant said. "In fact, we bring more school spirit and pride and life to campus life. It brings a better quality of life to the campus."
Another change to add revenue to the athletic department has already been set up. According to Bryant and Pough, a walk-up ticket for $10 will be offered to football fans who want to enjoy the tailgating excitement outside Oliver C. Dawson Stadium at home games but don't want to pay a full ticket price to get inside the stadium for the game.
More changes are sure to come, but Bryant reiterates that Bulldog athletics will be around for them all.
• More coverage of S.C. State funding and athletics on A1 and A6.