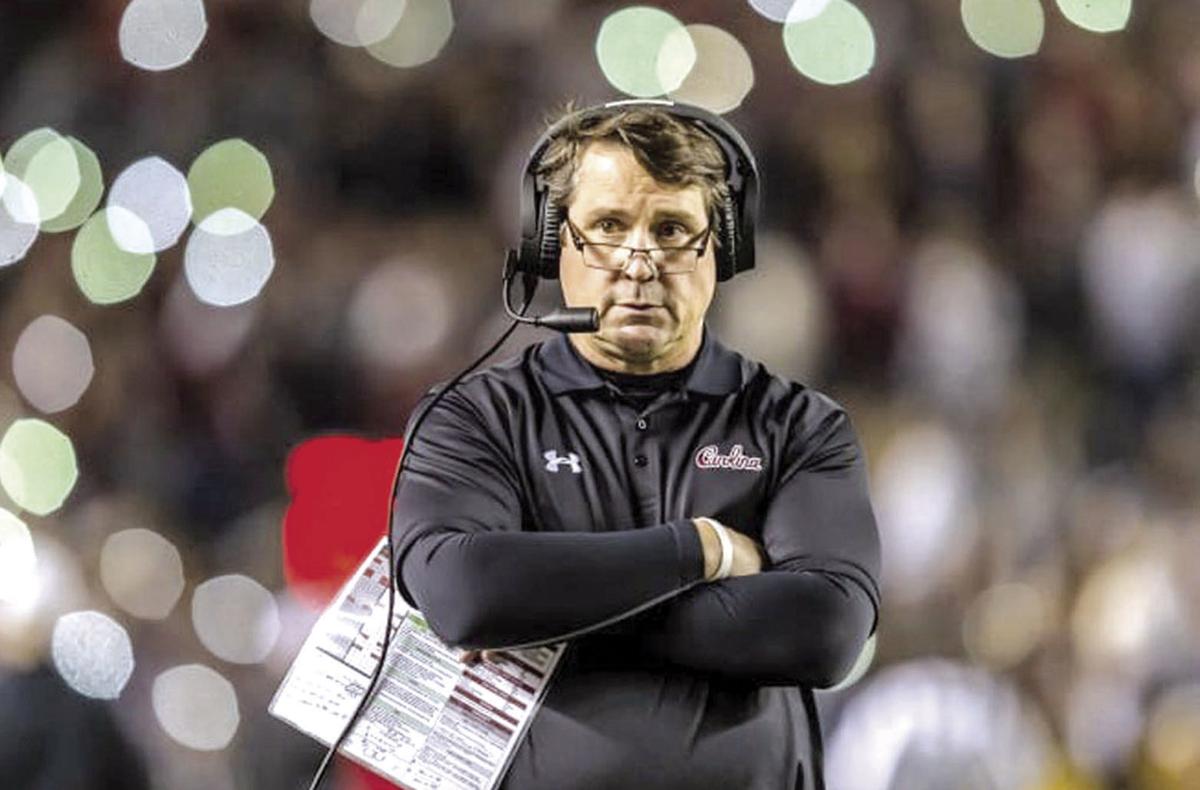 In the span of a one bye week, the president of the University of South Carolina has voiced his support for head coach Will Muschamp in an interview with The Greenville News, told the Florence Morning News that athletic director Ray Tanner had discussed coaching buyouts with Florida State, refuted accounts of both interviews and then issued a new support statement after audio of both conversations was produced.
Earlier, members of the school's board of trustees had varying opinions on whether USC could afford Muschamp's $18.75 million buyout, and that was right after the body was rumored to be courting a new athletic director behind Tanner's back.
Welcome to the confusing state of South Carolina football, where one is left to wonder, even if there was the will to fire Muschamp (it looks like there isn't from university decision-makers), could everyone get on the same page long enough to actually pull it off?
The chatter, the misdirection, the blaming of the media for inaccurate reporting, it's all a bad look for the university.
Muschamp deserves better, but he doesn't deserve to remain South Carolina's football coach.
One of the key buzzwords around South Carolina football in the Muschamp era has been trajectory. The now-embattled head coach often talks about where the program is headed. And that was pretty compelling argument when the Gamecocks went 4-2 down the stretch in 2016 to reach bowl eligibility and followed it up with a 9-4 year and an Outback Bowl victory over Michigan in year 2.
Since then, the Gamecocks are 11-14 overall, and after a 20-15 loss to Sun Belt foe Appalachian State at Williams-Brice Stadium and a listless 30-6 loss at the hands of Texas A&M, the question of where South Carolina is headed in the future becomes increasingly tough to answer.
'Do your job'
"Do your job." It's a phrase plastered all over South Carolina's new ops building. It's a simple theory: If every part of an organization does its given tasks to the best of ability, that organization succeeds.
Muschamp was hailed as an elite recruiter when he arrived in December 2015. He even mentioned in his introductory press conference that he could "sell ice to eskimos." That reputation made him an attractive candidate for the job. Recruiting tailed off under Steve Spurrier in his last three seasons, with classes slipping to 16th, 16th and 19th in the final rivals.com rankings.
Four Muschamp recruiting classes have since produced rankings of 26, 16, 18 and 17. The Gamecocks 2019 class is currently ranked 18th.
Now some of the lack of success can be attributed to a down cycle in instate talent. There hasn't been a Marcus Lattimore or a Jadeveon Clowney playing in South Carolina since Muschamp has recruited the state. Nothing he can do about that.
The rise of Clemson and Georgia makes recruiting tougher as well. Spurrier teams made hay pulling some key recruits out of the Atlanta area and consistently winning the Upstate and Rock Hill areas instate.
Yes, it's tougher, but it's Muschamp's job to find a way to reverse those trends. Sell some ice to those eskimos or find a product they are buying and sell that.
You know, so you don't get pushed around by a Sun Belt team … in year 4. That speaks poorly of roster management, a lack of which points to inadequate recruiting and player development.
All brakes, no gas
The high-water mark of the Muschamp era may have been the 2018 Outback Bowl. The Gamecocks rallied to beat Michigan that day, capping a 9-4 season and leading the coach to exclaim it's going to be "all gas, no brakes" in the offseason.
That mantra, or at least the reverse of it, has seemed to become the theme for Muschamp's offenses. He had issues with scoring points at Florida, and three offensive coordinator switches in four seasons didn't do the trick. It's been more of a start and stop.
Muschamp has said he wants to go fast on offense. Occasionally, the Gamecocks have been successful running that scheme, even staking themselves to big leads. They've also been woefully conservative at times, allowing less-talented teams to stay in games.
Trading out Kurt Roper for Bryan McClendon paid some short-term dividends in 2018. The Gamecocks averaged 31 points per game, good for sixth in the SEC.
A year later, the Gamecocks are back in the bottom half of the league in scoring at 24 points per game, and even that total is inflated by a 70-point outing against lowly Charleston Southern.
If Muschamp gets a chance to stay for the 2020 season, it likely means changing offensive coordinators again. That would mean Muschamp has had five different OCs in nine seasons as a head coach.
Which leads one to believe if he will ever get that hire right. He hasn't in ample opportunity.
Results-oriented business
In the end, it boils down to wins and losses. Muschamp said as much at his press conference last week.
Well, the Gamecocks are staring down a 4-8 season without a miracle finish. South Carolina is a 24.5-point underdog at home against Clemson.
You can blame the schedule. Yes, this season probably had a 7-5 ceiling because of the ridiculous gauntlet staring down the Gamecocks, but it didn't have a 4-8 floor. For a program that consistently recruits in the top 25 and spends in the top 15, 4-8 should be completely unacceptable.
Blame injuries if you'd like. The Gamecocks have had a rash of them the last two seasons. They've also continued to operate under the same strength and conditioning program, you know the one Muschamp also has direct autonomy over.
History? Give me a break. It's not the 1990s anymore. The Gamecocks have been bowl eligible 15 times since the turn of the century, they've finished in the top 10 three times, they won the SEC East.
An $18 million buyout? Wait, didn't the athletic department make SEVEN times that in revenue last year? The money is there.
4-8. That's not the kind of returns stakeholders expected when the school made the decision to invest more than $100 million into facilities over the last few seasons. Fans deserve a lot more returns than an outlying victory over Georgia and another Outback Bowl trophy to show for it.
Where are the Gamecocks headed? What really is the trajectory? The fact that the question is so tough to answer is all the reason you need.
Brantley Strickland, formerly sports editor for The Times and Democrat, now works as an economic developer for Southern Carolina Regional Development Alliance. Reach him at strickland.brantley@gmail.com.
Be the first to know
Get local news delivered to your inbox!