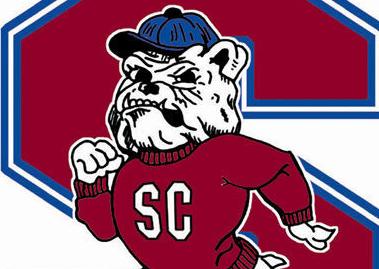 With S.C. State up 3-1 early, the Presbyterian College softball team rallied with four runs in three innings to take a 6-5 win over the Lady Bulldogs in Tuesday afternoon action in Orangeburg.
Natasha Sherrod picked up her first career save, quieting a late rally from the home team, by getting back-to-back strikeouts to end the game
Collecting hits for PC were Jonnie Petree, Megan Anderson, Presley Bissett, Madison Longanecker, and Lindsay Harris, with Harris posting a team-high two RBI.
Katie Brown started for PC, going 6.0 innings, and surrendering six hits, five earned runs, with two strikeouts. Natasha Sherrod earned the save after coming in during the seventh inning and striking out two and holding the Bulldogs to no runs and no hits.
Stats of the Game:  PC recorded six runs off six hits and had two errors, while S.C. State finished with five runs off six hits, with four errors.
Scoring the Game:  A sacrifice fly by Megan Anderson put the Blue Hose up in the first inning, but the lead didn't last long with S.C. State exploding for three runs in the bottom of the frame. A two-RBI and a sacrifice fly made it 3-1 in favor of the Bulldogs. PC got one back in the second with a RBI single from Lindsay Harris, and took the 4-3 lead in the top of the third with a Hope Rogers sacrifice fly and a RBI single from Presley Bissett.
After the Blue Hose went up 5-3 off back to back Bulldog errors in the top of the fourth, S.C. State capitalized on a PC error in the fifth to cut into the lead 5-4.
PC made it a two-run game again after Harris drove in another run, this off a line out to the left field, with brought Rebekka Gross from third. That proved to be a crucial run, as S.C. State rallied in the bottom of the seventh with an RBI-double to make it 6-5. Natasha Sherrod came in relief and forced a fly out and struck out two to quell the rally and give PC the 6-5 win.
Notables:  - Natasha Sherrod picked up her first career save for PC.
- Lindsay Harris collected multiple RBI for the first time in her career with two in Tuesday's game.
- PC is now 3-0 this season in one-run games.
For the Record:  PC improved to 6-9, while S.C. State dropped to 0-14.
Next up:  S.C. State plays next on Friday at 9 a.m. in the Georgia Southern Eagle Classic in Statesboro, Ga. against Marshall University. The Lady Bulldogs will also play Delaware State, Eastern Kentucky and Georgia Southern in the two-day event.