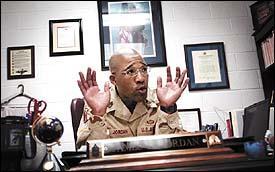 FAYETTEVILLE, N.C. —Command Sgt. Maj. James R. Jordan has much in common with his younger brother, retired basketball star Michael Jordan.
James Jordan loves his job, believes in helping his team, expects maximum effort from those around him, and will leave on his own terms.
So it's no surprise has asked to stay in the Army for a year beyond his mandatory retirement date so he could complete a deployment to Iraq with the 35th Signal Brigade.
"We are currently at war," Jordan said. "We are doing things, and it requires leaders to do certain things. That's what I am, a leader."
Command Sgt. Maj. Jordan and about 500 soldiers of the brigade were scheduled to depart Sunday for a year in Iraq.
Under normal conditions, the 47-year-old Jordan, who entered basic training in June 1975 and had three assignments in Korea, would start winding down his Army career in the spring as he approached the 30-year mark.
His colonel promised to support whatever decision he made, but Jordan had no intention of getting on an airplane April 29, flying home and leaving his brigade.
"That's not the way you want to end a 30-year career," Jordan said.
"People ask, 'Why?"' said Col. Bryan Ellis, the brigade commander. "The answer is, he is completely selfless. We all want to see it go well."
Jordan is a no-nonsense noncommissioned officer with a shaved head and a wry sense of humor. The sergeant major stands 5-foot-7. His brother is about 6-foot-6.
At Fort Bragg, the older brother has kept a low profile and avoided calling attention to his family connection.
In his job, he advises the commander as the senior enlisted soldier in the brigade of 2,450. Many of them are young specialists and sergeants facing back-to-back extended tours overseas.
"If you don't believe in selfless service, you are not going to make it in this business," Jordan said. It's not your age that counts, it's your mind, said Jordan, the oldest person in the brigade.
He went to airborne school, where most soldiers are in their teens or early 20s, as a 36-year-old first sergeant.
At 47, he will run eight miles for physical training and expects soldiers to be alongside him, not lagging behind.
Three years of Junior ROTC at New Hanover High School in Wilmington helped convince Jordan that the Army was for him. "I figured I wanted to be a soldier, plus I was the oldest of five kids," he said. "I wanted to get out of the house and do something myself."
As Jordan sees it, his job is to help get the brigade to Iraq and back and resume the hectic work of providing communications for the 18th Airborne Corps around the world.
"The brigade has got to be prepared to do the mission when we return," Jordan said. "Quite a few critical people are preparing to get out of the Army when they return."
In recent months, he has been focused on preparing his soldiers for the dangers of Iraq.
"One of the things we found out is you've got quite a few soldiers who are technically smart," Jordan said. "They can make a computer do everything you want it to do."
But the computer-savvy soldiers also must know what to do on a Fort Bragg firing range or when a convoy is ambushed in Iraq.
"Your technical skills ain't going to help you be able to put steel where it needs to be," he said. ' "Technical' ain't got nothing to do with it out there. You've got to be 'tactical' — just as qualified as the infantry."
A noncommissioned officer can't be effective sitting in an office or standing back with hands on hips, he said. "Some of my family really don't even know what I do," he said. "They know I'm in the Army. That's about it.
"My immediate family and my wife, my kids, not extremely happy, but they are on the team. They say, 'Daddy, do what you've got to do."'
Jordan said his mother told him he has "been in it forever."
"I've been doing this by myself for so long, being my own person, being my own soldier," he said. "I'm going to continue doing it the same way until the day I feel like I need to hang it up, not when they feel like I need to hang it up."