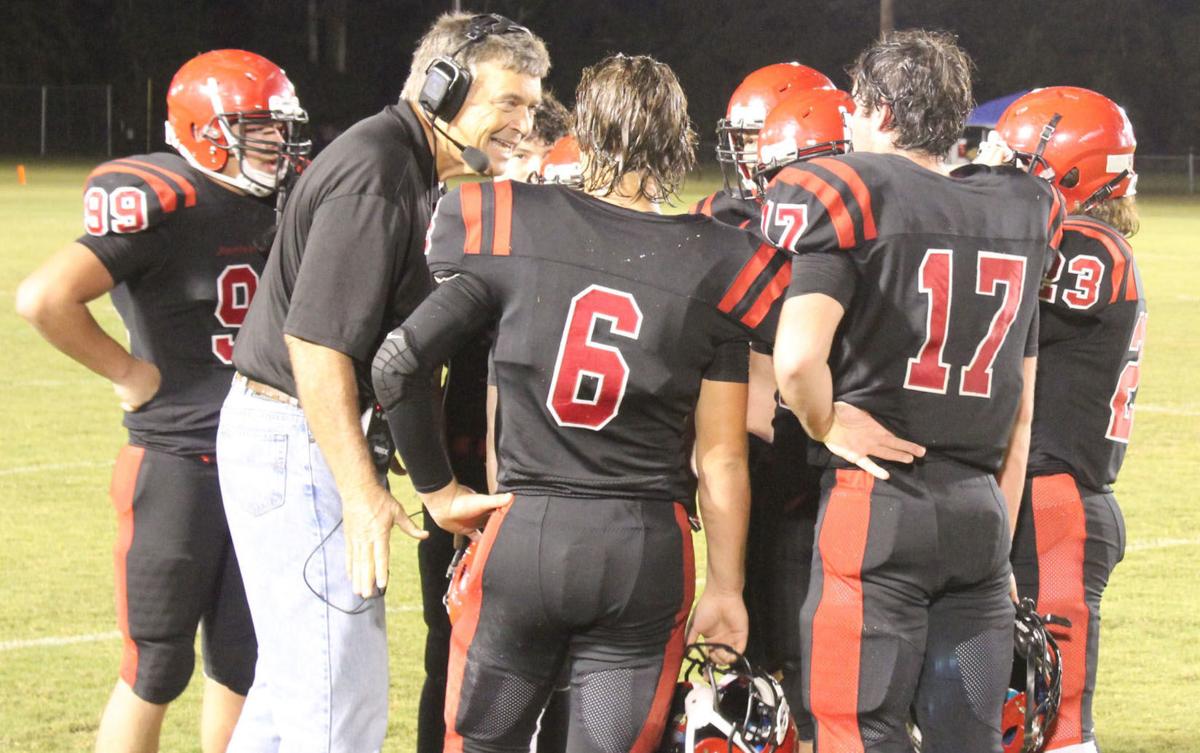 Players and coaches, for the most part, can control or at least help decide the outcome of football games.
Controlling the weather is a different story.
Just 3 weeks ago, monitoring the heat index and utilizing wet bulb globe temperature-monitoring devices were the main focus on Palmetto State fields. But, this week, it's all about watching the latest on Hurricane Dorian and concern about playing conditions for Friday.
So far in The T&D Region, only Orangeburg Prep has had to cancel a Week 2 contest. Friday's opponent, Christian Academy of Myrtle Beach, is among the many coastal schools that appeared at the most risk from the impending storm winds and rain.
Exactly how the next couple of days will unfold is still even the best meteorologist's guess.
Team of the week
The Trojans snapped a three-game losing streak dating back to last season with the 7-0 shutout of Eau Claire. It was also the first win under new head coach Tony Felder.
Week 1 Gridiron Giants
Colyn Peek (Andrew Jackson Academy) - 138 rushing yards, 3 TDs
James Mingo (Andrew Jackson Academy) - 187 all-purpose yards, 2 TDs
Tyreek Jenkins (Bethune-Bowman) - 11 tackles
Ashon Greene (Bethune-Bowman) - 70-yard punt return TD; 63-yard fumble recovery return, 4 tackles
Andrew Tucker (Calhoun Academy) - 90 rushing yards, 4 TDs
Seth Tyson (Calhoun Academy) - 152 rushing yards, 2 TDs
Tyrese Mitchum (Clarendon Hall) - 144 rushing yards, 2 TDs
Da'Qavion Miller (Clarendon Hall) - 12 tackles
J.J. Nimmons (Edisto) - 120 passing yards, TD
Marques Farrison (Edisto) - 9 tackles, INT, 2 forced fumbles
Crawford Thomas (Holly Hill Academy) - 100 passing yards, TD
Tyler Wright (Holly Hill Academy) - 15 tackles
Zach Pelloni (Holly Hill Academy) - 12 tackles
Perrin Breland (Holly Hill Academy) - 11 tackles
Will Shaw (Orangeburg Prep) - 181 yards, 3 passing TDs
A.J. Tolbert (Orangeburg Prep) - 92 receiving yards, 2 TDs
Kenneth Fogle (Orangeburg Prep) - 15 tackles
Billy Workman (Orangeburg Prep) - 11 tackles
By the numbers
Edisto is off to a 2-0 start under first-year head coach Preston Deaver. It's the first undefeated start for the Cougars since 2001 ... Bamberg-Ehrhardt improved to 7-1 all-time against Orangeburg-Wilkinson with this past Friday's 17-13 win ... Branchville is off to a 2-0 start for the third consecutive year ... North is seeking its first win since October 2014 this Friday against Bethune-Bowman … Andrew Jackson Academy has won 49 of its last 50 games, but has Calhoun Academy (2-0) coming to town on Friday.
Newest hall-of-famers
Three coaches with T&D Region ties will be enshrined in the S.C. Football Coaches Association's Hall of Fame after this season. They are Allen Sitterle, who led Daniel to four state titles and most recently won two SCISA 8-man titles at Andrew Jackson Academy (2015 and 2016); Rusty Charpia, who won 240 career games, led James Island to a 1974 Class 3A title and served as head coach at Woodland High School; and South Carolina State graduate James "Nate" Thompson, who led Carvers Bay to a 2006 Class A Division II title. The three are among nine inductees who will be honored at the Dec. 13 ceremony in Myrtle Beach.
S.C. Prep Football Media Poll
Class 2A - 1. Abbeville (11), 2. Barnwell, 3. Timberland, 4. Bamberg-Ehrhardt, 5. Saluda, 6. (tie) Southside Christian, Oceanside Collegiate, 8. Gray Collegiate, 9. Whale Branch, 10. Andrew Jackson. Others receiving votes: Blacksburg, Pageland Central, Carvers Bay, Andrews, Batesburg-Leesville, East Clarendon, Woodland, Lewisville
Class A - 1. Green Sea Floyds (9), 2. Wagener-Salley (1), 3. (tie) Lamar (1), Lake View, 5. Blackville-Hilda, 6. C.E. Murray, 7. Branchville, 8. Baptist Hill, 9. Denmark-Olar, 10. (tie) McBee, Calhoun Falls Charter. Others receiving votes: Ridge Spring-Monetta, Williston-Elko, Whitmire, Dixie, Hemingway, St. John's, Great Falls, McCormick, Cross, Ware Shoals.
SCISA Prep Media Football Poll
Class 2A - 1. Florence Christian, 2. Robert E. Lee, 3. Trinity-Byrnes, 4. Hilton Head Christian, 5. Williamsburg Academy. Others receiving votes: Orangeburg Prep, Hilton Head Prep.
Class A - 1. Thomas Heyward, T2. Pee Dee Academy, T2. Dillon Christian, 4. Carolina Academy, 5. Bethesda Academy. Others receiving votes: Dorchester Academy, Colleton Prep, Spartanburg Christian.
SCISA 8-man - 1. Clarendon Hall (3), 2. Andrew Jackson (2), T3. Beaufort Academy, T3. Jefferson Davis, T5. St. John's Christian, T5. Richard Winn Academy, T5. Laurens Academy, Others receiving votes: W.W. King.
Thomas Grant Jr. reported on The T&D Region sports scene for two decades as a Times and Democrat staffer. In 2014, he became sports editor of The Lexington County Chronicle and The Dispatch-News in Lexington.
Be the first to know
Get local news delivered to your inbox!