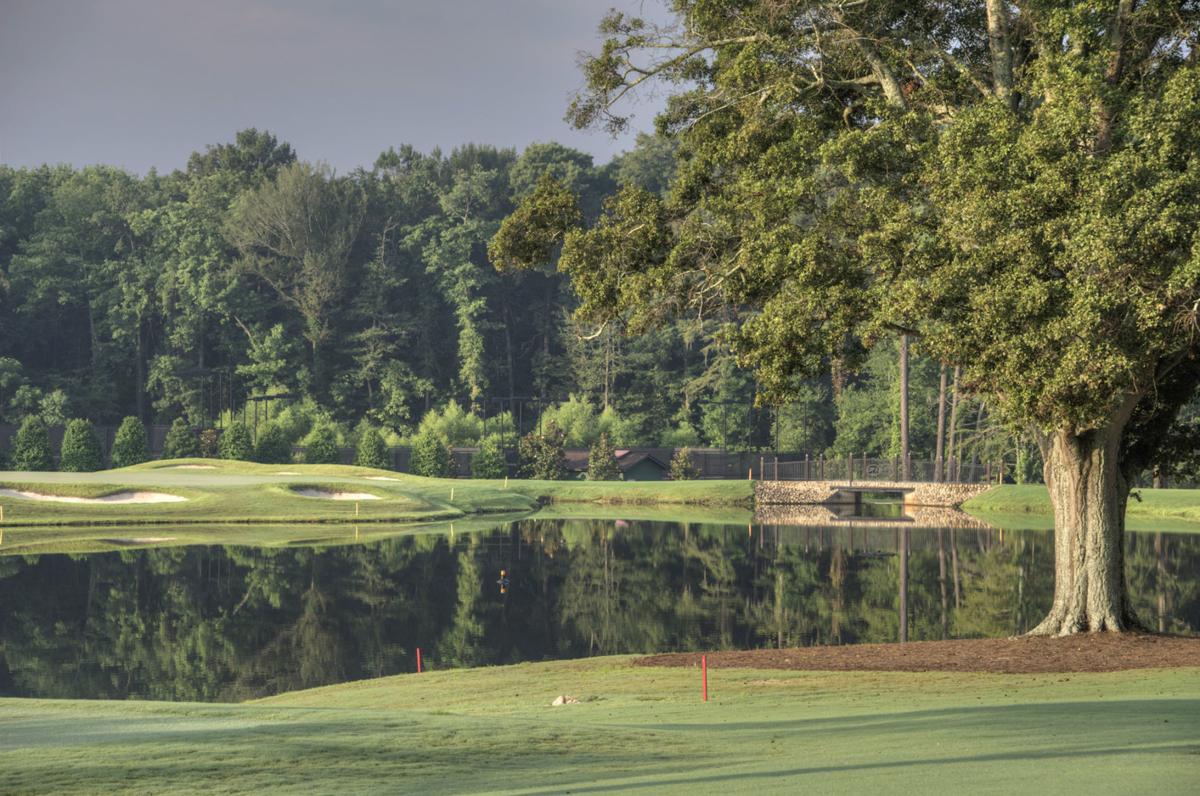 When local businessman Frank Tourville bought the then-Country Club of Orangeburg in 2009 and spent considerable funds to bring the 1962 Ellis Maples design up to 21st century standards, his goal was to make the newly dubbed Orangeburg Country Club, in his words, "the best damn golf course in South Carolina."
Note that Tourville – whose home looks out on the course – didn't say "the best private course in South Carolina," even though OCC was and remains a private club. His directive to Pinehurst-based architect Richard Mandell was to elevate an already solid layout into the ranks of S.C.'s best.
Nearly a decade later, Orangeburg CC has established itself not only among the state's best (it has been ranked in the top 50 of all of S.C.'s 360-plus courses), but for 2019, the South Carolina Golf Course Ratings Panel – a group of 100 golf media, avid players and industry insiders – has again named OCC in its biennial "Top S.C. Courses You Can Play" as the finest public-access course in the Midlands.
It's the second consecutive such honor for OCC, and Ratings Panel executive director Michael Whitaker attributes that staying power to the club's 2009 project.
"Many courses in South Carolina have reinvented themselves over the last few years," Whitaker said. "Orangeburg Country Club, for example, has always been a wonderful club with a wonderful golf course, but with the most recent renovation to the course and clubhouse, it has become one of the premier facilities in the state. It has to be seen to be believed."
Still, a private club -- and a public-access course? Welcome to golf's new reality.
Located in a small community far from the state's coastal resort areas, OCC in recent years has opened its doors to limited outside play via area golf packages. The resulting influx of players has spread the club's reputation across South Carolina and now to areas east of the Mississippi, director of golf David Lackey said.
"Although our core model is as a private club that focuses on its members and their guests, we gladly make the facility available to non-members via our relationship with Golf Santee and Santee-Cooper Resort," as well as select others, Lackey said.
"(The Santee golf operations) attract some regional and in-state play, but their primary customer is from the northeastern U.S. and Canada, where this time of year they're still snowed in or freezing, while our area is feeling some early effects of spring."
Building that widespread reputation is a bonus, but Lackey said extra income from outside play was also a consideration.
"With rounds of golf having decreased throughout the golf industry, providing an avenue for non-members to access the course provides a positive boost to our level of activity," he said. "And the golf staff manages the tee sheet to still provide members access to their course."
This year's "Best You Can Play" rankings include courses from the Atlantic to the Upstate (voting totals are not disclosed), but not surprisingly, a majority (26 of 32) are located along the coast. Orangeburg CC is one of four Midlands courses honored along with North Augusta's Mount Vintage Golf Club, the Country Club of South Carolina in Florence, and the Aiken Golf Club.
The top-rated courses in each area for 2018-19 are Caledonia Golf & Fish Club in Pawleys Island (Grand Strand); Harbour Town Golf Links at Hilton Head's Sea Pines Resort (Lowcountry), which barely outpolled perennial leader Kiawah Island Resort's Ocean Course; The Walker Course at Clemson (Upstate); and OCC in the Midlands.
The panel, which met Saturday to announce the rankings, also voted Aiken Golf Club, one of the state's oldest (1912), as the best "hidden gem." Originally known as Highland Park Golf Club, the in-city layout evokes visions of Pinehurst courses in North Carolina.
Prior to its 2009 renovation, Orangeburg CC had not done major work to the course since the 1960s. Initial plans included leveling tee complexes, renovating and updating the bunkers and improving cart paths.
As the project proceeded, Lackey said, Mandell used old aerial photos to illustrate how the greens had slowly shrunk by an average of 17 percent – not uncommon in older courses due to changing mowing patterns, and it was decided then to rebuild all the green complexes (putting surfaces and surrounding areas). Other improvements included lengthening and updating the driving range, and installing a new short-game practice facility.
Later renovations included improved aesthetics around some ponds, notably fronting the 18th green, which is the view from the clubhouse grillroom, by adding a hand-laid stone wall to replace earthen banks. The par-3 17th and par-5 11th holes were similarly spruced up.
Perhaps the most significant improvement, from a player's perspective, was the turf conditions tee-to-green. Former superintendent Tom Green and successor Alex Tolbert and their maintenance crews have grown lush, well-covered fairways and fast, firm Champions Bermuda greens (OCC was the first course east of the Mississippi to use Champions turf) that form the course's best defense.
Add major expansion and updating of the clubhouse, and the final result is one that one writer and golfer from Charleston once called "as good as anything at Kiawah."
"OCC is honored to again be included in the 'Best Courses You Can Play,'" Lackey said. "Once our renovation was completed, the commitment to excellence and attention to detail hasn't been abandoned." As an example, club employees each day remove all fallen pine cones from the course for a neat, tidy look.
It all translates into the finest course "you can play" in the Midlands – as a member or a visitor – and one of South Carolina's best.
Bob Gillespie is a former senior sports writer for The State and former sports editor of The Times and Democrat. He lives in Columbia.
Be the first to know
Get local news delivered to your inbox!