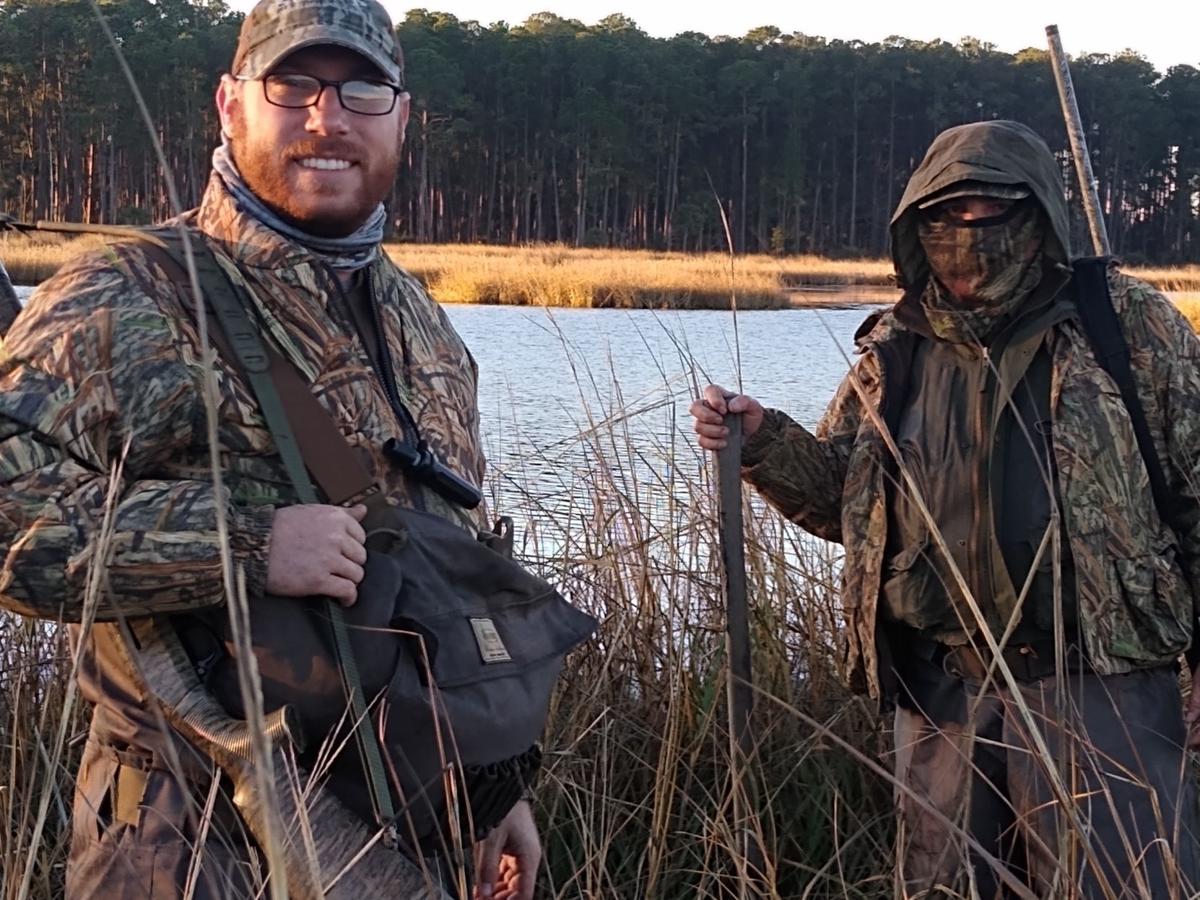 It took five long years but our group of four finally got drawn on the state lottery for a wildlife reserve duck hunt.
Dr. Michael Horger, his father Mike Horger, a friend of the Horgers, Steve Johnson of Charleston and I have applied and accumulated preference points for the last five years. Several decades ago I got drawn nearly every year. Mike and I were drawn for the Santee Gun Club hunt in Georgetown after a couple of years, so obviously there are more hunters than slots these days.
When we applied this year I had a couple of requests of Michael.
1. If possible I would like to go back to Bear Island.
2. I'd like to go as late in the season as possible. Mike and I were eaten alive by sand gnats and mosquitoes at the Santee gun club the day after Christmas.
I'm not sure if these requests were a good or bad thing in the long run but both worked out.
This year we were drawn for Bear Island west. I had never hunted that side before but had some of my most memorable hunts on the east side (including during the snowstorm of 1988). My hunting partners and I used to stay at the Edisto Motel in Jacksonboro and eat at the famous and now sadly closed Edisto Motel Restaurant.
These accommodations no longer exist and while we used to check in at the shed at Bear Island at 5:30, the staff now required we be there before 4:30 a.m. I guess due to COVID concerns. So I took 4:15 as a starting point and began counting backward. It would take us an hour and a half minimum to get there from the Horgers' pond house (where I would meet the rest of the group). So that meant I needed to be there about 2:30. It would take me about 45 minutes to reach the pond house from my house .... now we are looking at 1:45. I would need about an hour to wake up, get dressed and have my obligatory two cups of coffee. I set my clock at 12:30. Why the heck was I even going to sleep?
Arriving at the pond house at 2:20, I found all of the lights off ... uh-oh. All of the doors were locked. A nice hard series of raps on the door brought Michael to the door and I introduced myself to Steve while he still had his covers pulled over his head. No worries. Very light traffic and Dr. Horger's rather rapid transportation effort landed us at the gate to the refuge on Bennett's Point Road a little after 4.
There were private club members using the gate to get to their clubs behind Bear Island, but the refuge staff wasn't there yet. In a very COVID-like manner, we were told to pull over to a sign marked "1" and sit in our truck and wait. Eventually when the other hunters showed up, our temperatures were taken and we were told to load up in the back of the truck for a brisk ride across the highway to the west side.
While we were sitting in the truck, Michael looked up the harvest report for both the east and west sides. It seems that hunters on the east side were averaging 3.5 ducks per hunter while those where we were heading averaged less than one duck per hunt. That explained why some hunters had not bothered to even show up this frigid morning. Oh well, we were here now.
The west side used to be the side you had to carry your own boat and decoys. To a certain extent, these are provided now. Michael carried his own complex decoy string. It was a beautiful dawn and slightly before the 6:51 legal time, several mottled duck and merganser landed in the spread. They had moved off and were the only ducks other than flights of merganser we had a chance at before the first pickup time of 9 a.m.
Some teal and mallards landed at the far end of the pond and several hundred yards away but; quite frankly, the pluff mud made wading impossible and the only way we could keep from sinking into the quicksand was to stand on clumps of weeds. We debated between us whether to take the 9 o'clock ride out or wait until the final 11 a.m. ride.
By the narrowest of margins we decided to stand the cold wind for another two hours. Had we not waited five years to be here? At about 5 minutes after 9, I told my companions that I had been watching a duck a couple of hundred yards out and he was turning toward us. Sure enough the mottled duck drake made the fatal turn and ran into three 12-gauge guns. Soon a drake hooded merganser met the same fate when Michael deemed him worthy of mounting.
We had made the right decision to stay but if we were to do it over again, and we will, I think I would specify Bear Island east where they had some standing corn planted. People ask why one would get out of a warm bed on a subfreezing morning. All I can say is you have to be there as the next day of your life begins with a pink, clear morning and the wildlife comes alive.
After a belly full of barbecue and cheeseburgers, the ride back to the pond house was quiet. I made the drive back home with one eye open. My fingers ached from the morning cold for hours but my heart was warm with another great memory among good friends.
Dr. John Rheney has been writing his outdoors column for The Times and Democrat since 1984.