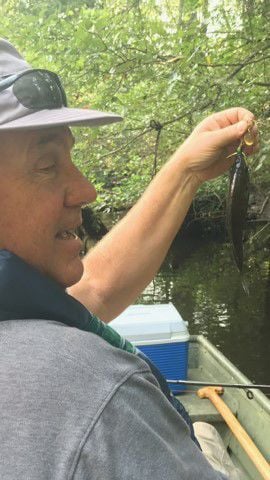 My ole hunting buddy Mike Taylor somehow convinced his wife to sell their beautiful home in Huntington and move into a small home on the Edisto River a couple of years ago. Now folks, that's a good woman there!
Their little slice of heaven is down the Cannon Bridge Road near the National Fish Hatchery. His move just happened to coincide with my new-found interest in getting back on the river I used to fish and hunt as a teenager.
About a year ago, Mike and I put in at my place in Canaan and ran upriver to his house. This was just after the county paid to have debris and trees removed from the river. That exercise was somewhat futile.
If my boat was not so small, we never would have made it. Some areas already had trees across the course of the river and some areas were never cleared at all. It took an entire afternoon, but we finally made it over a section that would be about five miles as the crow flies.
Mike fishes most afternoons from the bank of his land and has become quite the River Rat. He has neighbors that have years of experience and has taken their advice to heart. He now knows his section of river quite well.
Recently we slid my 10-foot jon boat with 6-horsepower Mercury down the bank and moved upriver, fishing the eddies until we hit a tree we couldn't get around. The first place we stopped and the first cast Mike made, he brought in a nice shell cracker.
His second cast, he hooked what appeared to be a large jack fish. I say "appeared" because he lost it before we got a good look. He never did let me get a good look at the "wooly booger" lure he was using, but it sure was working at that point.
The water had come down some, so we mainly fished the channels at the mouth of small creeks and indentations on the bank. Interestingly enough, whenever we would move to a new spot, we would catch a fish almost immediately but once that pool was disturbed, we had no further success and it was time to move on. This pattern repeated itself time and again. Mike pretty much skunked me on the upper reach.
As the sun began to bake us in the late morning, we motored down the river until we hit another tree we couldn't pass. At this point, Mike manned the trolling motor and we slowly worked back upstream. It was my turn to shine.
As Mike was struggling to keep us moving upriver, I used his distraction to throw the first lure into the pockets we passed. My first cast usually caught a redbreast or shell cracker before Mike could tie on and get his line in the water. It was glorious!
We hadn't planned on staying long, but we were so preoccupied with not letting any pocket go unchallenged that by 2 p.m. my head and neck were cooked (I left my hat in the truck during the twilight of early morning). Mike made sure when he tied up that he was in the shade and my end of the boat was in the scorching sun. I finally cried uncle and we cranked up and headed back to the house for a late lunch Sara had ready for us. The River Rat had prevailed after all.
Just to prove a point, Mike took a little fish food and threw into the canal in front of his house. Blue gill came to the surface and popped the food ravenously.
I looked at Mike and asked. "Why didn't we fish here"?
He replied, "Oh no, these are my pet fish."
It was time to load up and go home to finish some chores, but I left vowing to come back soon with a couple of his "wooly booger" lures and a hat. Mike and I were on either end of the boat all day, so once again I found a good way to have fun with a friend while socially distancing. Lemonade out of lemons they say.
Dr. John Rheney has been writing his outdoors column for The Times and Democrat since 1984.
Be the first to know
Get local news delivered to your inbox!