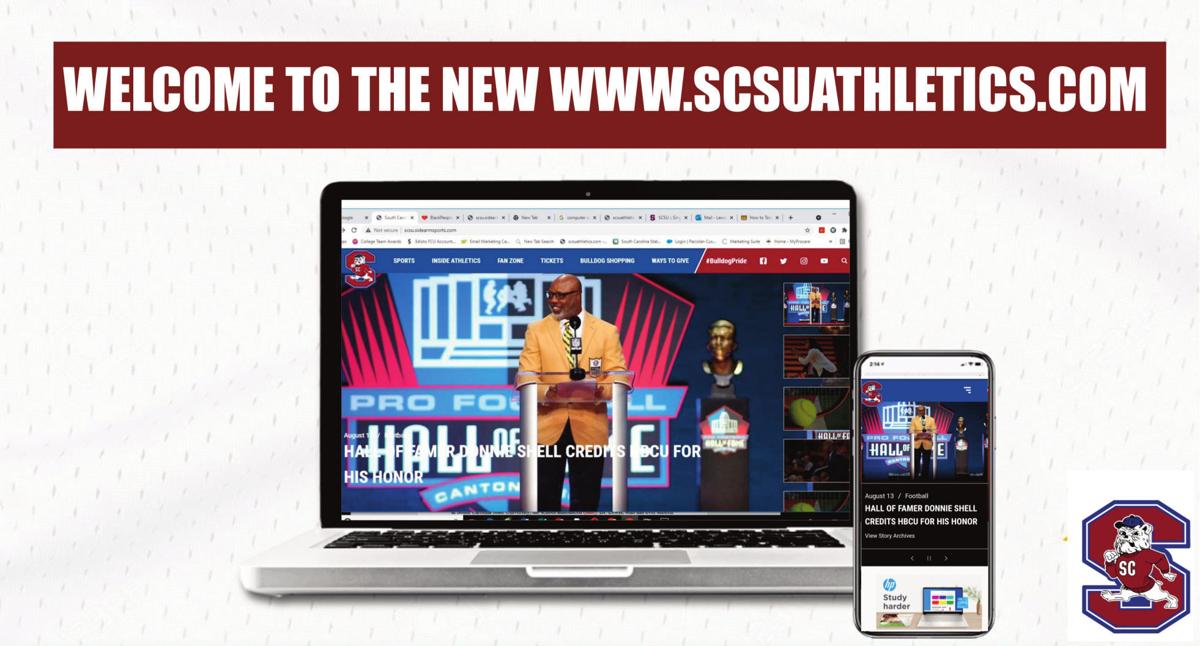 The South Carolina State University Department of Athletics teamed up with industry leader Sidearm Sports to launch a redesign of its official website – www.scsuathletics.com -- on Tuesday.
S.C. State's new-look website delivers a responsive layout focused on a user-friendly experience on all devices including the desktop, tablet and mobile phones.
"We are thrilled with the redesign of our website, which continues to be the number one way we tell the story of our rich tradition in S.C. State Athletics," said Stacy Danley, director of athletics. "We are excited for Bulldog Nation that this new design provides our fans a user-friendly experience."
The new website reflects the features that will highlight some top priorities such as: current stories, schedules and results, gameday links to audio/video streams and live statistics, video highlights and interviews, and student-athlete spotlights and a multimedia wall for easier access to S.C. State Athletics social media pages (Twitter, Instagram and YouTube).
The site also takes on a cleaner look with more white space, simplified navigation and a more efficient layout of recent stories.
A Learfield company since June 2014, Sidearm Sports is the nation's leading digital provider in college athletics, and its easy-to-use interface allows schools to customize their content streams and digital presence.
Clemson women add to staff
CLEMSON --  Clemson head coach Amanda Butler announced the addition of McGhee Mann to her staff prior to the 2021-22 season as video coordinator.
Mann spent the 2020-2021 season at Arkansas State with the women's basketball program as the director of scouting and operations. He came to the Red Wolves after two seasons as the video coordinator for Grand Canyon University's women's basketball program.
Clemson baseball adds to staff
CLEMSON -- Matt Heath was added to the Clemson baseball staff as special assistant to the head coach, announced by Monte Lee.
Heath most recently served as associate head coach and pitching coach at UT Martin from 2019-21, and he was also pitching coach under Lee at College of Charleston from 2011-15.
Among Heath's responsibilities are practice planning and assisting the coaching staff with pitcher development, in-game management, including with the bullpen, on-campus recruiting and the transfer portal.
"We're excited to have Matt join our staff as a special assistant," said Lee. "He has a wealth of experience at programs all over the Southeast, both as an assistant coach and head coach, including working with me at College of Charleston. His knowledge of the game and experience will be a tremendous asset for all the coaches and players."
Carolina sets record for season tickets
South Carolina fans have responded to Coach Shane Beamer's energy and positivity by setting a school record for new football season tickets.
Carolina fans have purchased 8,370 new season tickets for the 2021 season with three weeks remaining before the opening kickoff, set for Sept. 4 against Eastern Illinois.
Gamecock fans have been energized by the "Welcome Home" promotional campaign and throwback pricing. The previous record for new season ticket sales in one season was 8,323 in 2019, and the "9-4 Challenge" is to reach 9,004 by the season opener.
Total season tickets sold for the 2021 campaign are approaching 40,000.
MEAC announces volleyball honors
NORFOLK, Va. – Coppin State junior libero/defensive specialist Ashley Roman was selected as the Mid-Eastern Athletic Conference (MEAC) Volleyball Preseason Player of the Year, presented by TowneBank, the conference announced. The Eagles were also selected as the preseason favorite to win the conference.
Coppin State, which at 11-5 notched its first-ever winning season in 2020 and made its first MEAC title match appearance snice 2013, was chosen as the preseason favorite with eight first-place votes and 115 points.
Howard (three first-place votes, 100 points) was picked to finish second, while Delaware State, with 99 points and one first-place vote, was picked to finish third. Morgan State and Maryland Eastern Shore were tied for fourth with one first-place vote and 72 points each, with North Carolina Central (one first-place vote, 59 points) coming in sixth.
Norfolk State and South Carolina State rounded out the predicted order of finish.