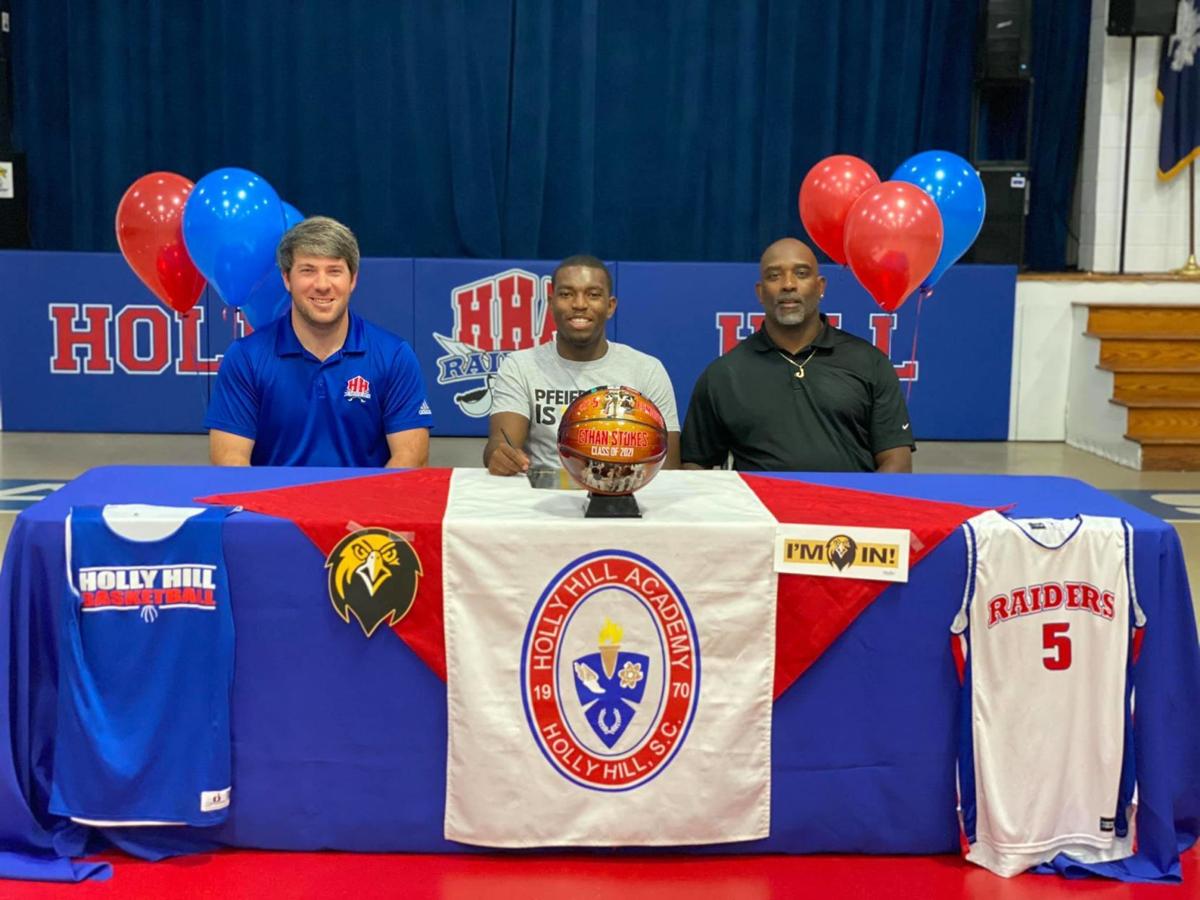 Basketball player Ethan Stokes of Holly Hill Academy signed to play collegiate basketball at Pfeiffer University in Misenheimer, North Carolina.
"Without a doubt it was the way that everyone treated me when I went up on a tour at the university," Stokes said. "Coach Schoch (Pfeiffer head basketball coach Pete Schoch) took the time out of his day and sat down and had a heart-to-heart conversation with me and my mom for some time. After that, everything kind of just fell in place.
"Also, while I was up on the university campus, they had a student center named Stokes Student Center with my last name being Stokes."
"My mom was making a lot of little jokes. I knew I was home and about three days after my tour, I called the coaches there and let them know that I had made my decision to attend Pfeiffer University," he said.
Stokes averaged 22 points per game and shot 47% from the three-point line in his senior season at HHA.
"I'm a leader before anything. I believe I play very good team ball and I'm the type of player to do anything that the team needs me to do," he said.
"This past season I averaged around 22 points per game and a lot of my points came from behind the 3-point line. And with the type of system that Coach Schoch runs, I believe that I can contribute well to the team," Stokes said.
"Ethan brings incredible work ethic and leadership. He's known for his ability to shoot the ball," Holly Hill Academy head coach Michael Nelson said.
"He is a good on-ball defender who will continue to improve."
"Being able to stretch defenses with the 3 ball was a huge key to our success this season going 16-1. His overall game boosts the players around him."
"Pfeiffer has typically run a high tempo offense generating a lot of shots and three-point attempts. Ethan fits that mold perfectly," Nelson said.
"This just shows that even at SCISA A level, you can still get noticed and attain your dreams of playing at the next level," Nelson said.
"If you are good enough, they will find you regardless of the level you play and the location," he said.
"It's a great feeling for our program but more importantly for Ethan. He's worked hard for this opportunity and I'm proud of his accomplishments."
"I hope our guys strive for their goals like Ethan," Nelson said.