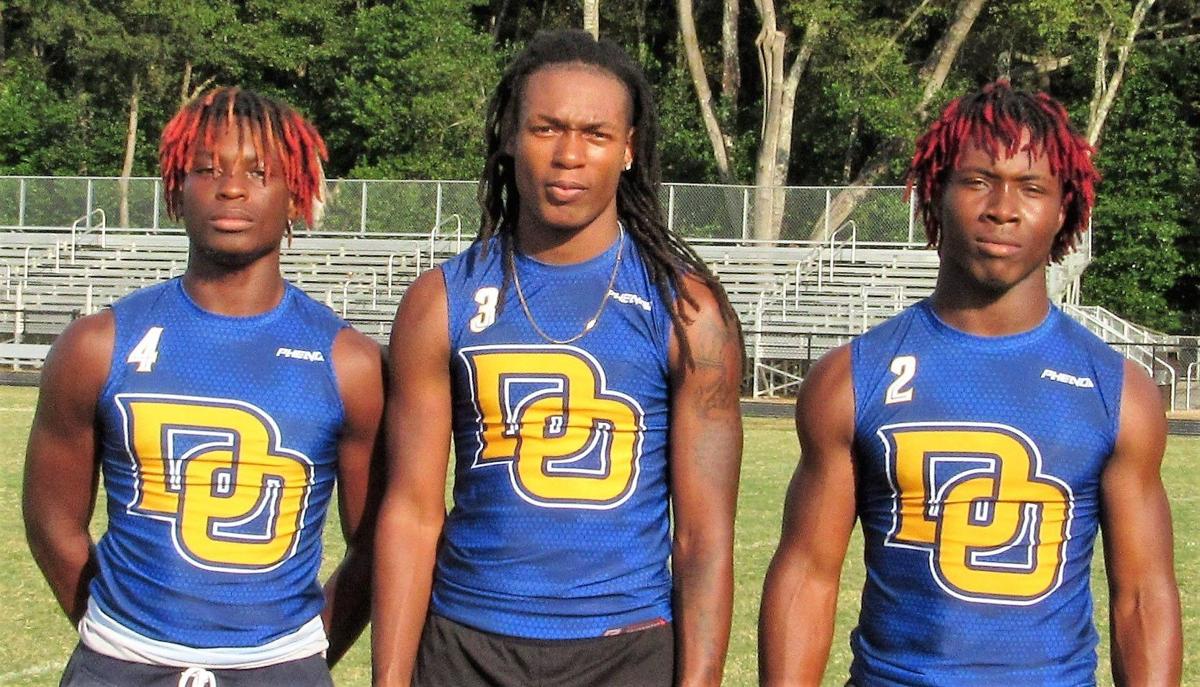 Denmark-Olar (4-2) is averaging nearly 50 points per game this season thanks to the offensive trio of T.J. Williams, Keithan Washington and Chris Sanders.
The Vikings defeated Wagener-Salley 50-42 last week and are tied at the top of Region 3-A with Calhoun County and Ridge Spring-Monetta.
Washington and Williams combined to rush for 285 yards and five touchdowns against the War Eagles.
"Our speed, strength, chemistry and work ethic are unmatched," Williams said.
Washington said when the three players are in the backfield, it's like a movie.
"We trust each other to make a play," Washington said. "If I don't make the play T.J. will, if he doesn't Chris will. We feed off our teammates and the fans."
Sanders, who has missed some time due to injury, said it's the trio's ability to turn routine routes into big plays that gives them the edge.
"We are hard runners, very fast and elusive," Sanders said. "We can take what should be a three to five-yard run and break it for a 40 or 50-yard touchdown. We just push each other to be the best on the field. If one of us scores the other two are cheering him on."
Williams likes how each player brings out the competitiveness in the others.
"We see each other make a play, and we want to make a bigger one," Williams said. "Somebody gets a long run, one of us wants a longer one. We even try to see who can get the best blocks and pancake (blocks)."
The trio have brought success to a team that finished 1-7 last season. Denmark-Olar head coach Jarvis Littlejohn credits consistency within the program that has led to the turnaround.
"I added new coaches in (coach) Hugee and (coach) Metto," Littlejohn said. "There's been a lot of turnover, but having that consistency has been big."
Washington leads the team with 1,392 yards rushing and 31 total touchdowns from his quarterback position.
"(Keithan) is probably the most gifted athletes I've seen in the last 10-to-12 years," Littlejohn said. "He can do it all, has a high football IQ and doesn't miss a day in the offseason or in the weight room. He's a vocal leader now, that's something we have worked on."
Williams has 844 yards rushing and 12 touchdowns while catching two touchdown passes this season. Littlejohn called him a hard worker.
"He works when nobody is around," Littlejohn said. "He's a great young man on and off the field. He's not a vocal leader, but rather someone that leads by their action."
Littlejohn said Sanders is the Swiss army knife of the group. He has 375 yards rushing and six touchdowns in limited action this season.
"I think (Chris) is the one that makes everything go," Littlejohn said. "He can do it all, offense, defense and special teams. Even injured, he's coming out every day and helping the other guys in practice."
Denmark-Olar looks to keep pace in the region as they travel to face Williston-Elko Friday with kickoff scheduled for 7:30 p.m.