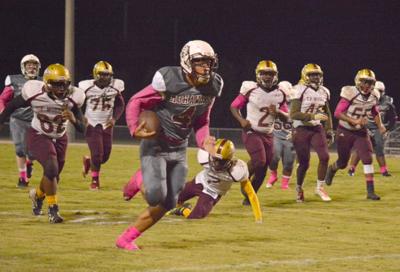 The S.C. High School League is finding out, once again, the meaning of the adapted saying "the best laid plans of mice and men often go awry."
After extending the regular season an extra week to help mostly teams in the Grand Strand area, the Pee Dee Region and on down the coast make up for contests postponed due to Hurricane (later Tropical Storm) Florence, weather has once again put a pin in the SCHSL balloon.
With the prospect of rainfall and cold temperatures headed through the Palmetto State most of the day on Friday, some teams have decided to move up their week 10 contests to Thursday.
According to SCHSL.org and reports from local school officials, these are tonight's scheduled games:
Lower Richland at Orangeburg-Wilkinson, 7:30 p.m.
Ridge Spring-Monetta at Hunter-Kinard-Tyler, 7:30 p.m.
Swansea at Edisto, 7:30 p.m.
Woodland at Allendale-Fairfax, 7 p.m.
Williston-Elko at Denmark-Olar, 7:30 p.m.
At this time, Friday's remaining schedule appears set. What's also unclear is how many T&D Region teams will use week 11 to make up the week 4 contests postponed by Hurricane Florence.
Northwood Academy at Orangeburg Prep
Andrew Jackson Academy at Holly Hill Academy
Barnwell at Bamberg-Ehrhardt
Bethune-Bowman at Branchville
Jefferson Davis Academy at Calhoun Academy
W.W. King Academy at Clarendon Hall
Dorchester Academy at Bethesda Academy (Ga.)
Ridgeland-Hardeeville at Lake Marion
North at Blackville-Hilda
TMQ team of the week
Jefferson Davis Academy: The Raiders clinched the SCISA 8-man Region II title with a 32-20 win over Clarendon Hall. Is a playoff collision with Andrew Jackson Academy possible, setting up a rematch of the state title game last season?
Week 9 gridiron giants
Tykel Hoover (Andrew Jackson Academy) - 5 TDs
Braxton Wedgeworth (Bethune-Bowman) - 7-for-16 passing for 95 yards, TD, 122 yards rushing, 3 TDs
Seth Tyson (Calhoun Academy) - 181 rushing yards, 3 TDs
Evan Inabinet (Calhoun Academy) - 117 rushing yards, 2 TDs
Zach Pelloni (Holly Hill Academy) - 165 total yards, 3 TDs
Tyler Wright (Holly Hill Academy) - 17 tackles
Jackson Canady (Holly Hill Academy) - 11 tackles
Ramsay Norris (Holly Hill Academy) - 10 tackles
Jimmy Bozard (Jefferson Davis Academy) - 132 rushing yards, 2 TDs
Josh Hutto (Orangeburg Prep) - 8 tackles, 2 sacks
Region showdowns
A pair of major clashes with region title ramifications will take place along Highway 78 this Friday. At Leon Maxwell Stadium, fourth-ranked Bamberg-Ehrhardt takes on second-ranked Barnwell in a matchup of 8-0 teams for the Region 5-2A title.
About 15 minutes away, eighth-ranked Bethune-Bowman will look to clinch its first region title since 2000 with a win at host team Branchville. A victory by the Yellow Jackets would tie the school record for victories (7) set in 1985 under head coach Raysor Griffith and could possibly set up a three-way tie with the Mohawks and C.E. Murray for first place in Region 5-A.
Streaks continue
Andrew Jackson Academy extended its Palmetto State-best winning streak to 45 games with a 94-8 rout of Cathedral Academy. It was the highest point total of any high school football team posted this season. Meanwhile, a 40-0 loss to Hunter-Kinard-Tyler was the 43rd consecutive loss for North.
North-South All Stars
While no T&D Region player was selected to the Shrine Bowl, three area players made the cut for the Dec. 15 Touchstone Energy Bowl North-South All-Star Classic at Doug Shaw Memorial Stadium in Myrtle Beach.
Quarterbacks A.J. Williams (Bamberg-Ehrhardt) and Braxton Wedgeworth (Bethune-Bowman) were named to the South team and defensive tackle Jamario James (Hunter-Kinard-Tyler) was selected to the North team.
At the Dec. 15 Shrine Bowl game at Wofford College, Ken Tucker, coach of Bethune-Bowman through the 2017 season and current assistant coach at Pelion, will be coaching wide receivers for the South Carolina squad.
Mike Williams to be honored
Former Lake Marion High School and Clemson University star Mike Williams, now with the Los Angeles Chargers in the NFL, will be honored at halftime of Friday night's Lake Marion game with a ceremony retiring his No. 7 jersey.
Williams is to be on hand for the ceremony, with the Chargers (5-2 record) on their bye week. Game admission is $7. Kickoff is 7 p.m.
S.C. Prep Football Media Poll
Class 2A: 1. Abbeville (14); 2. Barnwell; 3. Carvers Bay; 4. Bamberg-Ehrhardt; 5. Southside Christian; 6. (tie) Ninety-Six, Timberland; 8. Mullins; 9. Landrum; 10. Saluda. Also receiving votes: North Central, Andrews, Hannah-Pamplico.
Class 1A: 1. Lamar (13); 2. Wagener-Salley (1); 3. Dixie; 4. Baptist Hill; 5. Lake View; 6. Blackville-Hilda; 7. St. John's; 8. Bethune-Bowman; 9. Ridge Spring–Monetta; 10. Green Sea–Floyds. Also receiving votes: Branchville, Whitmire, Hemingway, C.E. Murray.
Thomas Grant Jr. reported on The T&D Region sports scene for two decades as a Times and Democrat staffer. In 2014, he became sports editor of The Lexington County Chronicle and The Dispatch-News in Lexington.