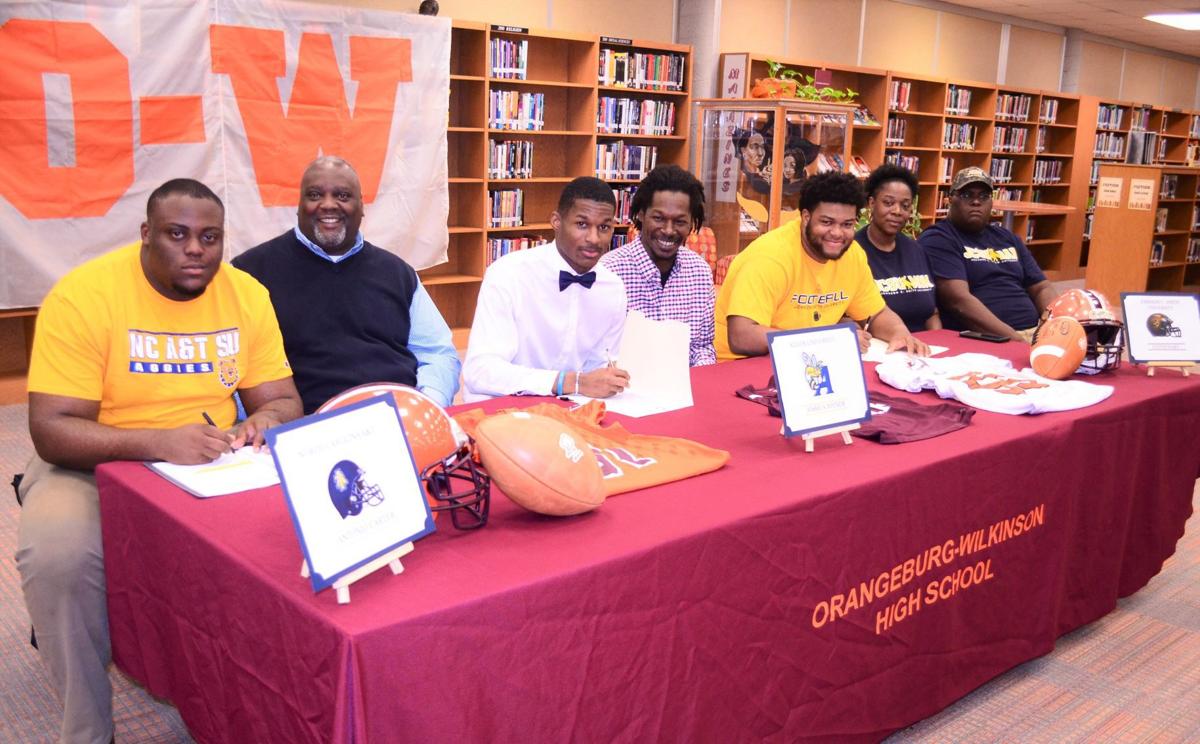 On Thursday, three Orangeburg-Wilkinson seniors joined the long list of former Bruin football players to sign college athletic scholarships.
All three 2019 T&D All-Area Football Team honorees are staying in the Carolinas to further their education and continue their athletic careers at three Historically Black Colleges and Universities.
Antonio Carter, a 6-foot-2, 315-pound offensive guard/tackle, inked a national letter of intent to play football for North Carolina A&T State University in Greensboro, N.C.
Joshua Joyner, a 6-foot-1, 180-pound free safety, inked a national letter of intent to run track, with plans to also play football for Allen University in Columbia.
Floyd Hart Jr., a 6-foot-4, 335-pound offensive tackle, inked a national letter of intent to play football for Johnson C. Smith University in Charlotte, N.C.
Bruins head football coach Kevin "Butch" Crosby was glad to see a trio of his former players moving on to the college ranks.
"This is always a blessing for young men to get the opportunity to further their education and enhance their athletic ability on the next level, and these are three great kids," Crosby said. "Everybody wants to sign on National Signing Day, but I told them to be patient and find the schools looking for them.
"We preach to them about the academics, because there's only so much you can do with your athletic ability. The academic part has to be a good habit that they make a part of their everyday schedule."
Carter, who chose N.C. A&T over Johnson C. Smith and North Carolina Central, plans to study kinesiology.
"A&T made it pretty much like a family thing when I went up on my official visit, so they hands down won me over," Carter said. "The academic advisers really impressed me, letting me know that they aren't going to let me fall behind while I'm there.
"It was a family decision. And the Aggies have a championship-winning program, something we have been trying to instill here at Orangeburg-Wilkinson. So, I'm ready to go in, put in the work and try to get A&T back to the Celebration Bowl."
After one more football season in the Mid-Eastern Athletic Conference against teams including N.C. Central, Florida A&M and South Carolina State, the North Carolina A&T athletic program is moving to the Big South Conference for the 2021-2022 calendar of competition.
"We will be ready to go Big South and make some moves up there too," Carter said. "(N.C. A&T coaches) told me to just come in and work hard, because there are no guarantees. But, you can get yourself on the field.
"It was academics that got me to this opportunity. I can't say I'm the most athletic person on the team. But, I took care of academics and got there."
Joyner is heading to Columbia on track scholarship, but he also plans to join the Yellow Jackets football team, where his former O-W coach Tommy Brown is the defensive coordinator/assistant head coach.
His main track events in high school have been the 400 meters, 200 meters, 4x100 relay and 4x400 relay. Joyner plans to major in biology, with a future in pharmacy.
"Running track at Allen University, and getting this experience, I'm just really excited about it," Joyner said. "I've wanted to run track in college, but I'm also going to walk-on in football.
"My opinion is that the 400 is my best event in track. I've run a :52.52, and this year I plan to run a :49. I've been working harder in my senior year, so I know I can get faster. This day is really a blessing, for me and my family."
Hart is glad to have the opportunity to play football on the next level for the Golden Bulls and further his education at the same time.
"When I took my visit, I liked the atmosphere a lot," Hart said. "And the coaching staff, I really agreed with what they were saying. That helped me make my decision. And, it's close to home.
"I've been impressed with their program, their playing style and how they play as a team, as a family. Here at O-W, I learned the value of family, hard work and trusting the system, the process."
Hart knows he can make a difference on the offensive line in the college game. But his focus will be marked improvements in his off-the-field success.
"I'm looking to improve my academics," he said. Hart plans to major in computer science.
Coach Crosby was pleased to see often-overlooked offensive linemen having their day in the spotlight on their signing day Thursday.
"I told them that today they get to be in the front row, since a lot of people don't look at linemen," he said. "But, we are fortunate to have these two really good offensive linemen going to play on the next level, and they are going to do well.
"We are happy for them, and at the same time, we only lose three on the offensive line for next season. Those are big losses, but that's all we lost on the offensive side of the ball. And we are only losing two on the defensive side. We've got a good group coming back and we look forward to building on that 6-win record last year." 
Get in the game with our Prep Sports Newsletter
Sent weekly directly to your inbox!