'They'll be ready': Ex-SCSU assistant guides Barnwell into state finals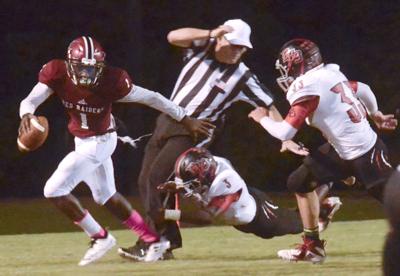 The coaching journey of Dwayne Garrick began nearly 30 years ago at South Carolina State University.
For two years, he served as a graduate assistant under head coach Willie Jeffries. Along with the tutelage from the coaching legend, Garrick and former players Reggie Kennedy, J.W. Montgomery and Walt Wilson were groomed for the high school football coaching profession they would pursue following their days as Bulldogs.
"Those two years, if I could have stayed there 100, I would have stayed 100," he said. "But I was a GA (graduate assistant) two years. That's all I had. I had to give it up after that, but those were two of the best years of my life, to be honest with you. Two of the best years of my coaching career.
"A lot of GAs do a lot of paperwork and that kind of stuff. I was actually a coach on the field. So I had fun under Coach (Ben) Blacknall, who was a defensive coordinator at that time. I learned so much from him. Learned so much from Coach Jeffries on how to treat people."
Garrick has used those lessons to lead two programs to state championship games. From 2008-10, he guided Williston-Elko to three consecutive Class A Division II title games, winning in 2010.
Now in Garrick's second tenure at Barnwell, he has his team in position to do something it has not accomplished since his days at S.C. State. The undefeated Warhorses (14-0) will look to dethrone three-time defending Class 2A champion Abbeville (13-0) in the title game Friday at Charlie W. Johnson Stadium at Benedict College in Columbia. The game kicks off at 8 p.m.
Garrick returned to Barnwell following the 2014 season as an assistant at River Bluff under David Bennett. That year, the Gators won a then-school record eight games and upset top-seeded Goose Creek in the Class 4A Division I playoffs.
"David Bennett and I have been friends going back to college days at Presbyterian College," he said. "I kept up with David all his career. He was at Coastal Carolina. Just a great day. When the opportunity came about the first time, I turned it down. It came about the second time, I took it just for a new challenge.
"But going and playing at that level, week in and week out, was a dogfight. Unlike what it was for me when I was at Williston, we had 5-6 football games that weren't tough at all, to be honest with you. It probably helped me out mentally as much as anything. It was a great challenge, had some great football players, won eight football games and planned to stay there."
After two straight Lower State final losses to region rivals Batesburg-Leesville and Bamberg-Ehrhardt, Barnwell broke through this season with a 57-26 win over Carvers Bay. The victory ended the coaching career of S.C. State graduate Nate Thompson.
Garrick believes the previous two losses in the Lower State final will prepare his team for the championship spotlight Friday.
"I think being able to play in the Lower State the last two years has got us big-game ready," Garrick said. "I don't think it will be overwhelming to our kids. I think they'll come out, they'll be focused, they'll be ready."
Thomas Grant Jr. reported on The T&D Region sports scene for two decades as a Times and Democrat staffer. In 2014, he became sports editor of The Lexington County Chronicle and The Dispatch-News in Lexington.