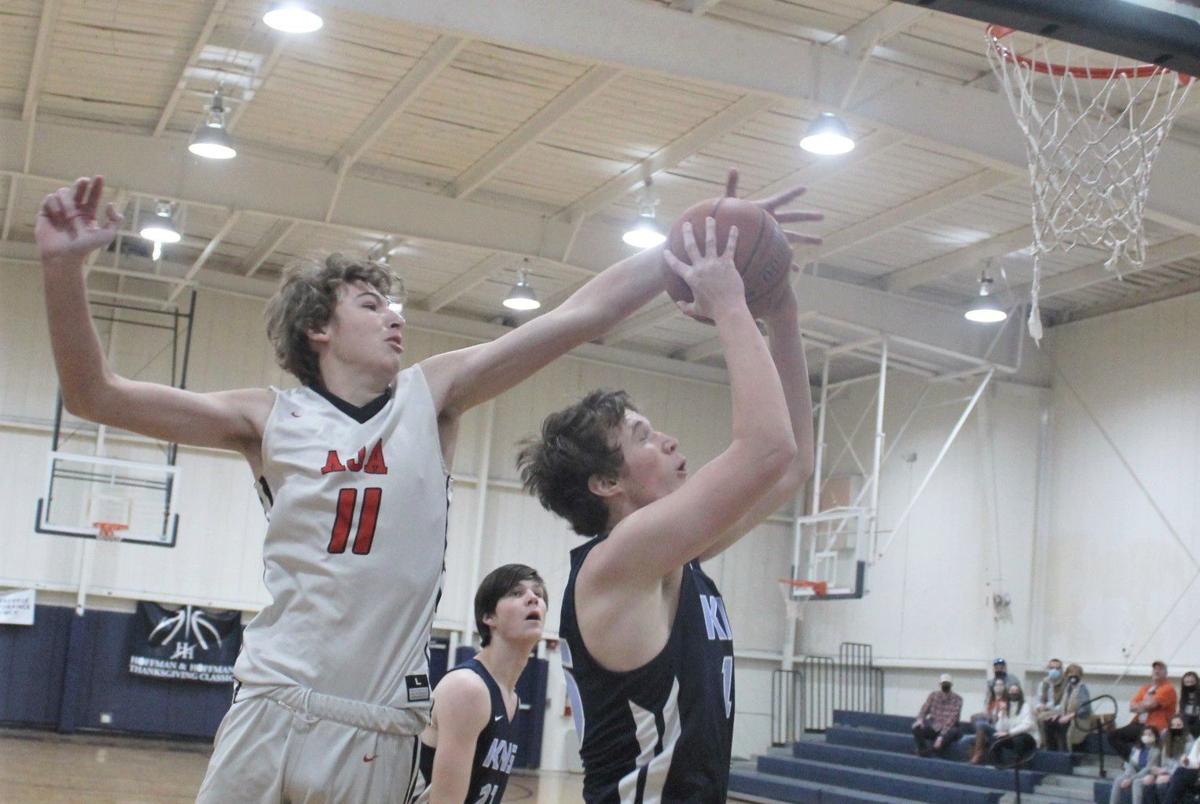 Andrew Jackson Academy 58
W.W. King Academy 35
COLUMBIA — Having reached the SCISA Class A state title game a season ago, Andrew Jackson Academy is one win closer to reaching the championship contest again.
AJA took a 58-35 win against W.W. King Academy in first-round play in SCISA Class A state playoffs on Saturday in a game played at Heathwood Hall.
The Warriors got 18 points apiece from juniors Chase Carson and Jonathan Schaffer. Fellow junior Lakota Gleaton made all 3 of his 3-point attempts, finishing with 11 points for AJA.
Carson also had 4 rebounds, 8 assists and a steal, while Schaffer added 4 rebounds and 2 steals. Carson Cone, also a junior, added 5 points, 8 rebounds, a block and 2 steals, while sophomore David Johnson grabbed a game-high 11 rebounds to go along with 2 assists and 4 steals. Junior Jeb Fickling added a game-high 6 blocked shots, along with 2 points, 6 rebounds and 2 steals.
Andrew Jackson will now play Cathedral Academy at Orangeburg Prep on Tuesday at 6 p.m. in a state quarterfinal contest.
Orangeburg-Wilkinson game moved
The Orangeburg-Wilkinson Bruins, a No. 1 seed, were unable to open SCHSL Class 3A state playoffs on Saturday with the scheduled contest against the second-seeded Lakewood Gators.
An issue with a leak in the gym roof caused the game to be moved to Monday and set for a 7:30 p.m. start, after the O-W girls team plays its first-round playoff contest.
The winner of the boys game on Monday at O-W will next play Oceanside Collegiate (14-6 record) on Wednesday at 7 p.m., since the second-seeded Landsharks took a 63-54 road win at No. 1-seeded Dillon on Saturday.
Orangeburg Prep 53
Shannon Forest 51
COLUMBIA — The No. 3-seeded Orangeburg Prep Indians advanced in the SCISA Class 2A playoffs with a 53-51 victory over No. 2-seeded Shannon Forest Christian of Greenville on Saturday in a game played at Heathwood Hall.
Mikey Templeton led the way for the Indians with 20 points and 7 rebounds. Christian Rutland and A.J. Tolbert each added 9 points.
Tolbert chipped in the final basket with 6 seconds on the clock to seal the victory.
OP is now 9-5 this season and will face Dillon Christian on Tuesday at 5 p.m. in gym A at Wilson Hall.
Holly Hill Academy 58
Faith Christian 43
HOLLY HILL — Jabari Sumpter posted a double-double performance of 23 points and 16 rebounds on Saturday, helping Holly Hill Academy take a 58-43 win at home against Faith Christian in the first round of SCISA Class A state playoffs.
Also for the Raiders, Ethan Stokes had 19 points, Crawford Thomas had 8 rebounds, and Marion Breland had 5 points and 6 rebounds.
HHA will play Tuesday at 8 p.m. at Orangeburg Prep against Newberry Academy.
Calhoun County 57
McCormick 44
ST. MATTHEWS — The Calhoun County Saints won 57-44 on Saturday at home in a SCHSL Class A first-round playoff game against McCormick.
Both teams entered the postseason as No. 2 seeds in the upper state bracket.
Russell Brunson Jr. led the Saints with 17 points, while Jaheim Middleton added 16 points and Kendall Huggins added 14 points.
McCormick was led by D. Sibert with a game-high 21 points.
CC will next play at No. 1-seeded Great Falls on Wednesday at 7 p.m. Great Falls advanced with Friday's 68-49 home win against Calhoun Falls Charter.
Carvers Bay 72
Bamberg-Ehrhardt 59
BAMBERG — Bamberg-Ehrhardt lost its opening game of SCHSL Class A state playoffs on Saturday, falling 72-59 at home to Carvers Bay of Hemingway.
The Red Raiders finished the season with a 19-2 record, having gone 10-0 in Region 6-A play, and having only previously lost to Dillon Christian, a program that Orangeburg Prep will play on Tuesday in Sumter in the second round of SCISA Class 2A state playoffs.