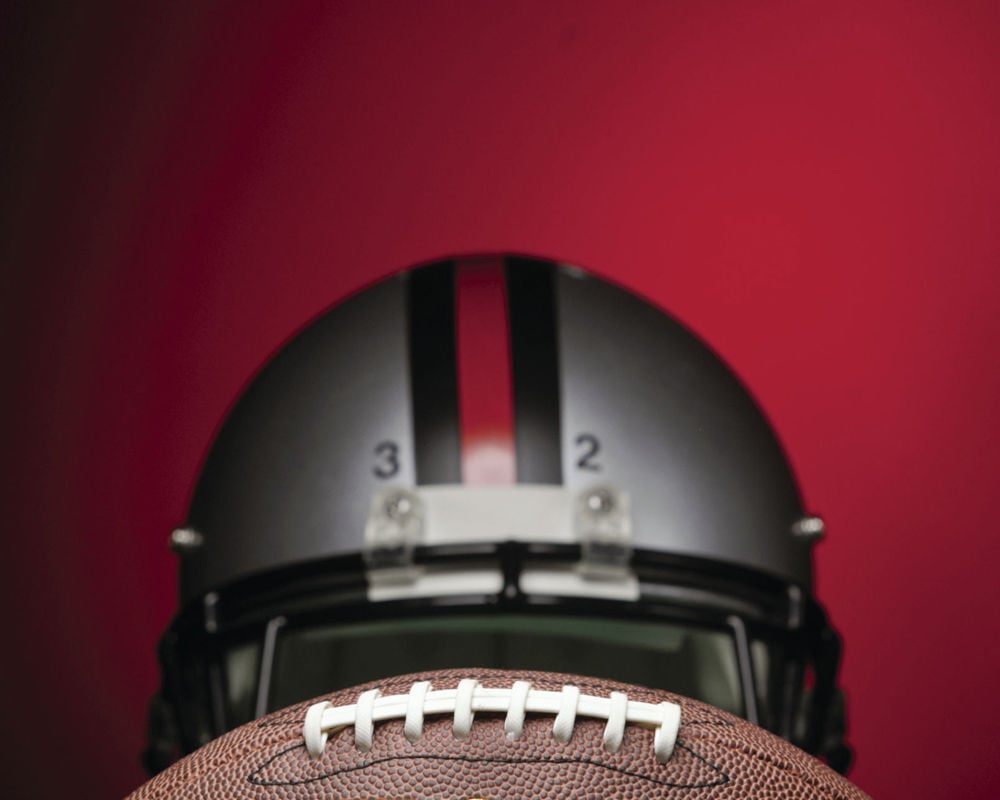 Wade Hampton 34,
Edisto 7 (Senior Night)
CORDOVA - Wade Hampton took a 34-7 Region 5-2A win at Edisto on Friday during Senior Night for Cougars football players and cheerleaders.
The Red Devils scored 21 first-quarter points, en route to the win.
Edisto was led by sophomore Johnny Clark with 114 yards rushing on 22 carries.
Senior Nick Ulmer added 13 carries for 66 yards and a touchdown. Senior Trenton King added 20 carries for 87 yards, while junior Troy Guest added 6 carries for 53 yards.
Junior linebacker John Nelson led Edisto with 8 tackles, while sophomore linebacker Dylan Williams added 7 stops. Four Cougars players each added 6 tackles.
The Cougars (0-2 overall, 0-2 in region) will play next Friday at Allendale-Fairfax in a non-region contest.
Orangeburg Prep 34
Greenwood Christian 0
GREENWOOD - Orangeburg Prep picked up a 34-0 non-region shutout win at Greenwood Christian on Friday, in a game that was called at the 7:03 mark of the third quarter due to a serious injury to a Greenwood Christian player.
The Indians (4-1) were led by senior A.J. Tolbert with 2 rushing touchdowns and one receiving touchdown.
Junior quarterback McCullough Mims (6-for-7 passing for 117 yards) opened the scoring with 8:34 to play in the first quarter on a 34-yard touchdown run. The kick attempt was no good.
Mims then found Tolbert on a 50-yard pass play for a touchdown as time expired in the opening quarter. Mims then passed to Tolbert for the 2-point conversion and a 14-0 lead.
Mims had a 20-yard interception return in the second quarter to set up a Tolbert 2-yard scoring run at the 8:34 mark. Peyton Inabinet added the PAT for a 21-0 lead.
The Indians blocked a punt midway through the second quarter, setting up another Tolbert touchdown run, again from 2 yards out. Inabinet added the kick for a 28-0 lead.
Junior Andrew Hunter intercepted a Greenwood Christian pass late in the second quarter. That led to a 10-yard touchdown run by Dylan Wilson with 2:10 left before the half. The kick failed, leaving the score 34-0 at the half.
OPS will play at Hilton Head Prep next Friday in a region game at 5 p.m.
Allendale-Fairfax 34
Bethune-Bowman 6
ROWESVILLE - The Mohawks of Bethune-Bowman, led by head coach Glynn Darby, opened the 2020 football season on Friday night with a 34-6 home loss to Region 6-A foe Allendale-Fairfax.
The Mohawks were led on offense by senior quarterback Trevon Davis, who was 12 of 25 passing for 168 yards, including a touchdown pass of 70 yards to senior wide receiver Bradley Washington.
Washington finished with 2 receptions for 103 yards.
On the defensive side of the ball, the Mohawks were led by senior defensive tackle Tyreek Jenkins with 9 total tackles, junior defensive lineman Omar Washington with 8 total tackles, and freshmen defensive lineman Ahmond Green with 8 total tackles.
Bethune-Bowman will play at Bamberg-Ehrhardt in another region contest next Friday night.
North/Hunter-Kinard-Tyler 28
Calhoun County 10
ST. MATTHEWS - North/Hunter-Kinard-Tyler picked up its first win of the season with Friday night's 28-10 road Region 3-A win at Calhoun County.
North/H-K-T (1-1) will play host to Blackville-Hilda next Friday night.
Calhoun County (0-2) will play next on October 16, hosting Denmark-Olar for Homecoming.
Andrew Jackson Academy 88
Clarendon Hall 54
EHRHARDT - Andrew Jackson Academy stayed unbeaten, moving to 6-0 with Friday's home region win against Clarendon Hall.
Leading the way for the defending state champion Warriors, Tucker Cook had 25 carries for 263 yards and 3 touchdowns.
Bug Brunson added 17 carries for 137 yards and 5 touchdowns, while Chase Carson added 9 carries for 100 yards and a touchdown, Reese Donehue added 9 carries for 96 yards, and Carson Cone added a rushing touchdown.
AJA rushed for a total of 610 yards.
Brunson was 5 of 6 passing for 65 yards, a touchdown and two 2-point conversions.
Chase Carson added 4 receptions for 62 yards and a touchdown.
Defensively, the Warriors were led by Carson Cone and Donehue with 8 tackles each, while Moye Brandt added 4 tackles and both Brunson and Chase Carson added 3. Brunson had a 55-yard fumble recovery for a touchdown.
AJA will play at Patrick Henry Academy next Friday in another region contest.
Holly Hill Academy 77, Faith Christian 14
Bamberg-Ehrhardt 33, Branchville 8
Dorchester Academy 30
Calhoun Academy 12
ST. GEORGE - Dorchester Academy took a 30-12 home win against Calhoun Academy on Thursday night, scoring 3 touchdowns in the final 5 minutes of the game.
For the Raiders, Ben Singletary rushed 25 times for 169 yards and 2 TDs. Wyatt Judy rushed 7 times for 153 yards and a TD. Hunter Hartzog rushed 6 times for 31 yards and a TD.
Defensively for the Raiders, Judy had 9 tackles, including a tackle for a loss, Haden Hartzog had 11 tackles and 2 interceptions, Hunter Hartzog had 9 tackles, Noah Byron had 12 tackles, and Connor Hartzog had 11 tackles.
For the Cavaliers, Seth Tyson scored on a 4-yard run, and Andrew Tucker scored on a 3-yard run.
Kade Strickland led CA on defense with 8 tackles, while Hunter Summers had 7 tackles and a sack, and both Jase Waltz and Mason Polin added interceptions.
CA plays at home next Friday against St. John's Christian at 8 p.m.
Barnwell 56
Denmark-Olar 14
BARNWELL - Barnwell took a 56-14 non-region home win against Denmark-Olar on Thursday night.
Denmark-Olar fell to 0-2 overall.
The Vikings were led on offense by sophomore Chris Sanders with 138 yards rushing and a TD on 14 carries.
The Vikings were led on defense by junior Xavier Oliver with 7 tackles and an interception.
D-O plays host to Ridge Spring-Monetta in a Region 3-A game next Friday at 7:30 p.m.
Orangeburg-Wilkinson 36, Swansea 13
Correction/O-W touchdowns
Two touchdown passes in the Orangeburg-Wilkinson/Swansea game report in Friday's edition were incorrectly credited. The passes were caught by NahShawn Hezekiah. The story has been corrected at TheTandD.com. We apologize for the error.
Calhoun Academy 34
Dorchester Academy 0
ST. GEORGE - Calhoun Academy shut out Dorchester Academy 34-0 on Thursday to improve to 3-1 on the season.
Colt Layton scored on TD runs of 47 and 40 yards.
Hunter Thornburg scored on a 74-yard run.
Chase Strickland scored on a 1-yard run and Cael Parlor scored on a 51-yard run.
Strickland connected to Colt Layton for two 2-point conversions.
Layton had 9 carries for 177 yards while Thornburg had 6 carries for 96 yards.
On defense, Jackson Bronson led the Cavaliers with 7 tackles and Brody Durr had an interception.
The Cavaliers play next Friday at home at 6 p.m. against St. John's Christian.
Get in the game with our Prep Sports Newsletter
Sent weekly directly to your inbox!