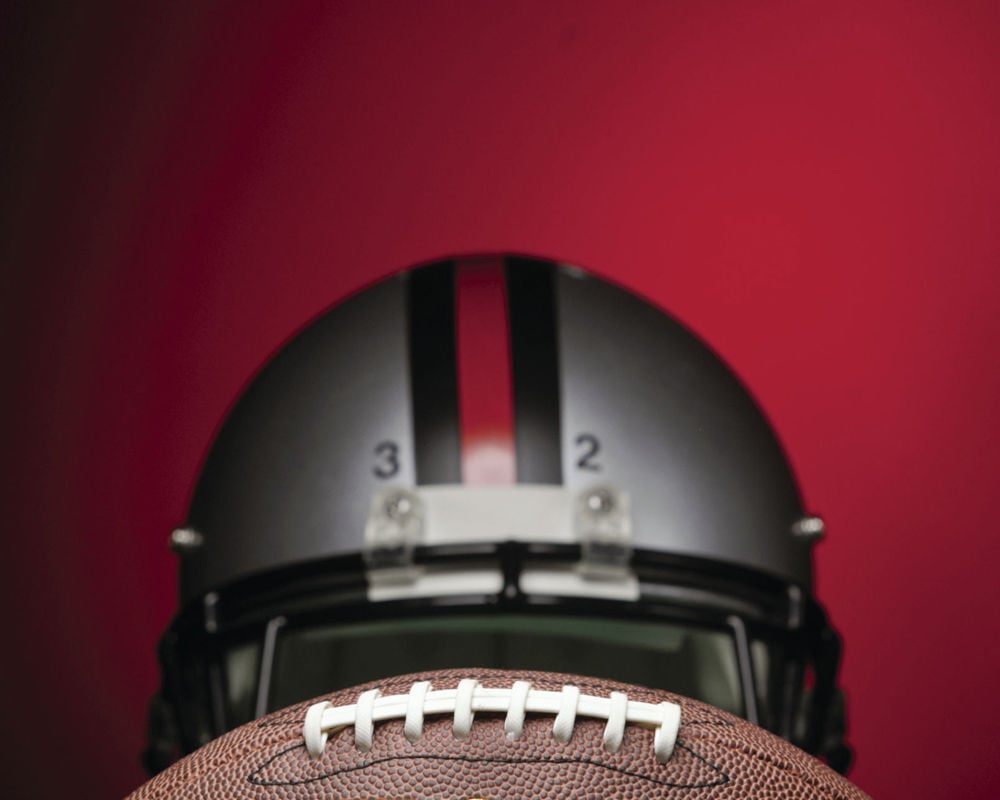 Carolina Academy 22
Orangeburg Prep 21
LAKE CITY - The Orangeburg Prep football team fell one point short of reaching the SCISA Class 2A state title contest, losing 22-21 at Carolina Academy on Friday.
The Indians finished the season with an 8-3 record.
Carolina Academy (8-1 record, having only lost to Florence Christian 23-20) will take on Hilton Head Christian Academy for the state championship next Saturday at noon at Charleston Southern University.
Senior running back Dylan Wilson put the Indians up early, running in a 7-yard touchdown with 7:44 left in the first quarter. Peyton Inabinet added the PAT for a 7-0 lead.
The Bobcats answered with a 3-yard touchdown run and a 2-point conversion run with 6:40 left in the second quarter.
Carolina Academy added a 1-yard touchdown run with 42 seconds left to play before halftime, and the 2-point conversion pass was good for a 16-7 lead.
OPS junior quarterback McCullough Mims ran in a 5-yard touchdown at the 6:43 mark of the third quarter. The PAT attempt failed, leaving the score 16-13, in favor of the host Bobcats.
With 6:58 left in the game, Carolina Academy scored on a 17-yard run. The 2-point conversion run attempt failed, with the score 22-13.
The Indians posted the final points of the game with 4:56 left, when Wilson added an 8-yard touchdown run, before Mims passed to junior tight end Mikey Templeton for the 2-point conversion and the 22-21 final score.
Orangeburg-Wilkinson 10
Lower Richland 0
The Orangeburg-Wilkinson Bruins finished the 2020 season with a 10-0 non-region home win against Lower Richland on Friday.
O-W posted a 5-2 record this season, its first after moving from SCHSL Class 4A play to SCHSL Class 3A play.
Holly Hill Academy 50
Laurens Academy 36
HOLLY HILL — The Holly Hill Academy Raiders remained unbeaten and advanced to the SCISA 8-man state championship with Friday's 50-36 home win against Laurens Academy.
HHA (12-0 record) will now play Richard Winn Academy (6-0 record) at Northside Christian in Lexington next Friday at 7:30 p.m. for the state title.
The Raiders totaled 340 yards rushing on 49 carries against the Crusaders from Laurens.
HHA was led by Marion Breland with 16 carries for 207 yards and 4 touchdowns, while Zach Pelloni had 19 carries for 70 yards, Crawford Thomas had 8 carries for 32 yards and a touchdown, and Tyler Wright had 6 carries for 31 yards.
Breland was 1-for-2 passing for 46 yards and a touchdown.
Zach Pelloni added an 87-yard kickoff return for a touchdown.
Defensive leaders for HHA included Perrin Breland with 13 tackles, a forced fumble and a fumble recovery. Marion Breland added 10 tackles and a fumble recovery, while Pelloni added 8 tackles and a forced fumble. Wright had 8 tackles, Dyson Dantzler had 7 tackles, a sack and a forced fumble, Davin Walling had 6 tackles and a forced fumble, Harley Watkins had 6 tackles and an interception, and Jackson Canaday had 5 tackles and a fumble recovery.
1st Q HHA 11:45 8-0 Zach Pelloni 87 yard kickoff return TD. 2 pt good.
1st Q HHA 1:12 16-0 Marion Breland 21 yard TD run. Crawford Thomas to Harley Watkins 2 pt good.
2nd Q LA 11:49 16-8 #3 53 yard pass to #88. #3 2 pt good.
2nd Q LA 4:18 16-16 #3 31 yard pass to #33. 2 pt good.
2nd Q HHA 24-16 3:09 Marion Breland 1 yard TD run. Crawford Thomas 2 pt good.
3rd Q LA 11:08 24-22 #3 pass 51 yards to #33. 2 pt no good
3rd Q LA 8:54 24-30 #3 5 yard run. #3 pass to #33 2 pt good.
3rd Q HHA 2:27 30-30 Marion Breland 43 yard TD run. 2 pt no good.
4th Q HHA 10:22 38-30 Crawford Thomas 1 yard TD run. Marion Breland 2 pt good.
4th Q HHA 5:30 44-30 Marion Breland 46 yard pass to Harley Watkins. 2 pt no good.
4th Q HHA 5:17 50-30 Marion Breland 14 yard run. 2 pt no good.
4th Q LA 0:52 50-36 #3 1 yard TD run 2 pt no good.
Richard Winn Academy 22
Andrew Jackson Academy 16
WINNSBORO - The defending SCISA 8-man football state champions from Andrew Jackson Academy fell 22-16 in a state semifinal game on Friday at Richard Winn Academy.
The Warriors finished the season with a 10-2 record.
Bamberg-Ehrhardt 26, C.E. Murray 20
Lake Marion at Scott's Branch, unavailable at press time
Get in the game with our Prep Sports Newsletter
Sent weekly directly to your inbox!