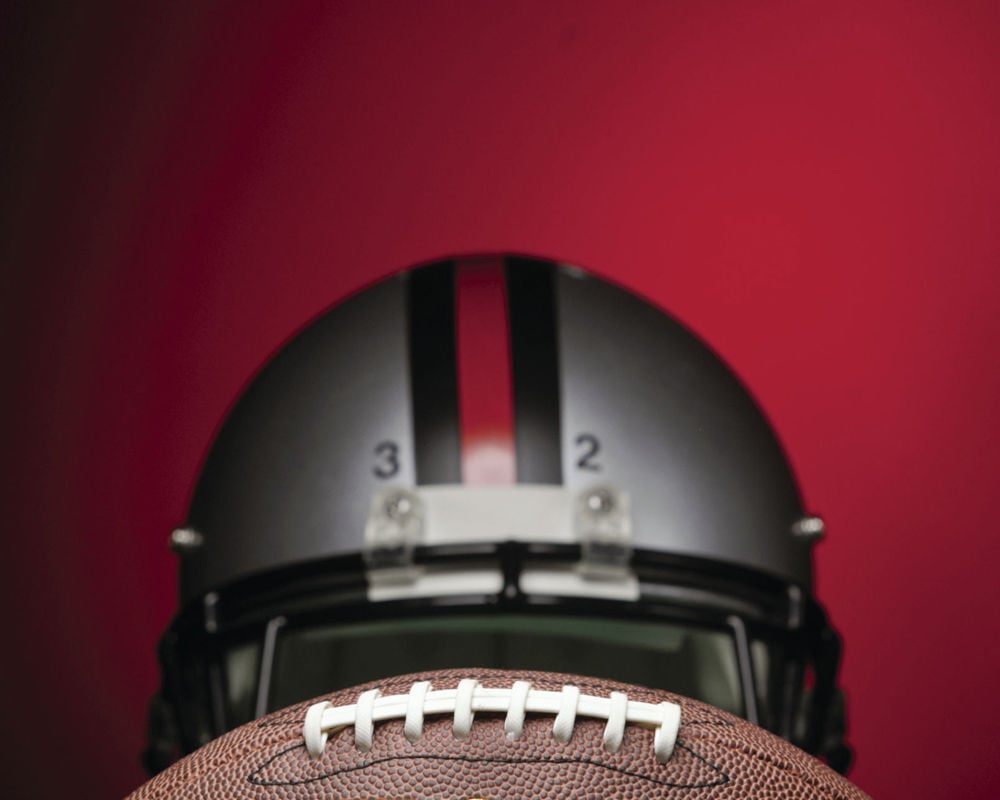 Orangeburg Prep 38
Hilton Head Prep 23
HILTON HEAD ISLAND - Orangeburg Prep picked up a 38-23 region win at Hilton Head Prep on Friday afternoon.
Senior A.J. Tolbert scored 4 touchdowns for the Indians (6-1 record), including 3 rushing and one on a pass play from McCullough Mims.
OPS led 25-15 at the half, en route to the road win.
Senior defensive backs Stokes Kirby and Copeland Furtick each had an interception for OPS.
OPS Mims to Tolbert pass 3:41, kick failed, 6-0
HHP 11:05 3-yd run 33 HHP, 33 run good, 8-6
OPS 8:20 Tolbert 1-yard run, pass failed, 12-8
HHP 8:11 22 Kickoff return, kick good. 15-12
OPS 5:30 Mims 1-yard run, kick failed, 18-15
OPS 25.9 Tolbert 1-yard run, kick good, 25-15
OPS 7:59 Tolbert 4-yard run, kick good, 32-15
OPS 1:32 Mims pass to Templeton 5 yards, kick failed, 38-15
HHP 8:57 HHP No. 22 94-yard run, run failed, 38-23
NEXT GAME: Orangeburg Prep will host Beaufort Academy on Friday in another region game.
Orangeburg-Wilkinson 23
Strom Thurmond 13
Orangeburg-Wilkinson moved to 2-1 overall and 2-1 in Region 5-3A play with Friday's 23-13 home win against Strom Thurmond.
Sophomore quarterback Anthony Mack was 16-for-21 passing for 195 yards, while also rushing for 35 yards to lead the Bruins to victory.
Senior wide receiver Demondray Carmichael had 5 receptions for 112 yards for O-W.
NEXT GAME: The Bruins play at Fox Creek in North Augusta next Friday, in another region contest, before back-to-back home region games (Brookland-Cayce on Oct. 23, May River on Oct. 30) to close out the month.
Allendale-Fairfax 42
Edisto 0
ALLENDALE - Edisto (0-2 in Region 5-2A) fell to 0-3 overall on Friday with a 42-0 loss at Allendale-Fairfax.
Sophomore Johnny Clark led the Cougars with 11 carries for 58 yards.
Junior linebacker Troy Guest led Edisto with 6 tackles, while Dylan Williams added 5 tackles.
NEXT GAME: The Cougars will play host to Silver Bluff next Friday in another region contest.
Holly Hill Academy 70
Conway Christian 6
CONWAY - Holly Hill Academy remained unbeaten on the season with a 70-6 region road win at Conway Christian Academy on Friday.
The Raiders were led in rushing by Zach Pelloni with 5 carries for 151 yards and 3 TDs, Marion Breland with 6 carries for 76 yards, and Crawford Thomas with a 20-yard TD run.
Passing for HHA, Thomas was 3-of-5 for 58 yards and a TD, while Breland was 3-of-4 for 40 yards and 2 TDs.
The Raiders were led in receiving by Breland with 38 yards and a TD, Perrin Breland with 24 yards and a TD, and Lucas Carroway with a 5-yard TD.
Pelloni added a 72-yard kickoff return TD, and Lucas Carroway added a 63-yard kickoff return TD.
Defensively for HHA, Jacob Rogers had 7 tackles, while Carter Judy, Pelloni, Davin Walling and Dyson Dantzler each had 6 tackles, and Perrin Breland had an interception.
11:43 HHA Zach Pelloni 72 yard kickoff return TD. Marion Breland 2 pt good. 8-0 
5:29 CC #4 pass to #1 2 pt no good. 8-6 
3:02 HHA Davin Walling tackles #4 for a safety. 10-6 
2:40 HHA Zach Pelloni 18 yard rush. Marion Breland 2 pt good. 18-6 
1:31 HHA Crawford Thomas 20 yard TD run. 2 pt no good. 24-6
0:39 HHA Zach Pelloni 25 yard TD run. Marion Breland 2 pt good. 30-6 
11:49 HHA Zach Pelloni 68 yard TD run. Crawford Thomas to Marion Breland 2 pt good. 38-6
3:30 HHA Crawford Thomas 34 yard pass to Marion Breland. Dyson Dantzler 2 pt good. 46-6 
6:46 HHA Marion Breland 24 yards to Perrin Breland. Carter Judy 2 pt good. 54-6 
0:03 HHA Marion Breland 5 yard pass to Lucas Carroway. 2 pt good. 62-6 
2:54 HHA Safety snap out back of end zone. 64-6
1:18 HHA Lucas Carroway 62 yard kickoff return. PAT no good. 70-6
NEXT GAME: HHA (7-0 overall, 4-0 in region play) will play host to Charleston Collegiate next Friday.
Branchville 35
Estill 20
ESTILL - Branchville evened its season and Region 6-A record at 1-1 on Friday with a 35-20 region road win 35-20 at Estill.
The Yellow Jackets won with a run game that included Philijuan Saldano with 117 yards rushing and a touchdown on 7 carries, and C.J. Funchess with 15 carries for 90 yards and 2 touchdowns.
Defensively, Branchville was led by Codi Davis with 16 tackles, while Jalen Johnson added 14 tackles.
NEXT GAME: Branchville will play next on Oct. 23 at home against Bethune-Bowman.
Andrew Jackson 48
Patrick Henry 0
ESTILL - Andrew Jackson Academy moved to 7-0 this season with Friday's 48-0 region road win at Patrick Henry Academy.
Leading the way for the Warriors, Carson Cone had 11 carries for 205 yards and 3 touchdowns. Tucker Cook added 4 carries for 66 yards, while Reese Donehue, D.L. Johnson and Bug Brunson each added a touchdown.
Brunson was 4-of-10 passing for 39 yards and 2 touchdowns, while Chase Carson had 2 receptions for 20 yards and a touchdown, and Donehue had a 6-yard touchdown reception.
Defensively, Jonathan Schaffer had 6 tackles, including 2 quarterback sacks, while Kevin Barnes, Cook and Donehue each had 5 tackles, with Barnes getting 3 quarterback sacks and Cook getting 2 quarterback sacks. Nate Jones and Moye Brandt added 3 tackles each, as Jones had a quarterback sack and a fumble recovery, while Brandt added an interception.
NEXT GAME: AJA will play at home against Cathedral Academy next Friday in another region contest.
Dorchester Academy 33
Greenwood Christian 14
GREENWOOD - Dorchester Academy picked up a 33-14 region road win at Greenwood Christian on Friday.
Leading the way for the Raiders, Ben Singletary had 21 carries for 120 yards and a touchdown, while Brody Marchant was 13-of-24 passing for 283 yards and 3 touchdowns, and Haden Hartzog had 6 receptions for 175 yards and a touchdown.
Hartzog added 11 tackles for DA, while Noah Byron had 14 tackles, and Connor Hartzog had 11 tackles.
Dylan Price added a 39-yard field goal for the Raiders.
NEXT GAME: DA will play next on October 23 at home against St. John's Christian.
St. John's Christian 35
Calhoun Academy 24
ST. MATTHEWS - Calhoun Academy lost a non-region home game 35-24 to St. John's Christian on Friday.
For the Cavaliers, Andrew Tucker scored on a 63-yard run, Matt Layton scored on a 6-yard run, Seth Tyson scored on a 5-yard run, Tyson passed to Mason Polin on a 21-yard TD play, while all conversion attempts by CA failed.
Also for the Cavaliers, Kade Strickland had 4 receptions for 78 yards, Josh Black had 3 receptions for 45 yards.
Defensively, CA was led by Layton with 12 tackles, Strickland with 9 tackles including a sack, Tucker with 4 tackles, including 2 for a loss.
NEXT GAME: CA plays next Friday at Colleton Prep in a non-region game at 7:30 p.m.
Bamberg-Ehrhardt 42, Bethune-Bowman 0
Timberland 32, Lake Marion 6
Blackville-Hilda 22, North/Hunter-Kinard-Tyler 16
Ridge Spring-Monetta 50, Denmark-Olar 26
Clarendon Hall 34, Charleston Collegiate 8
Get in the game with our Prep Sports Newsletter
Sent weekly directly to your inbox!