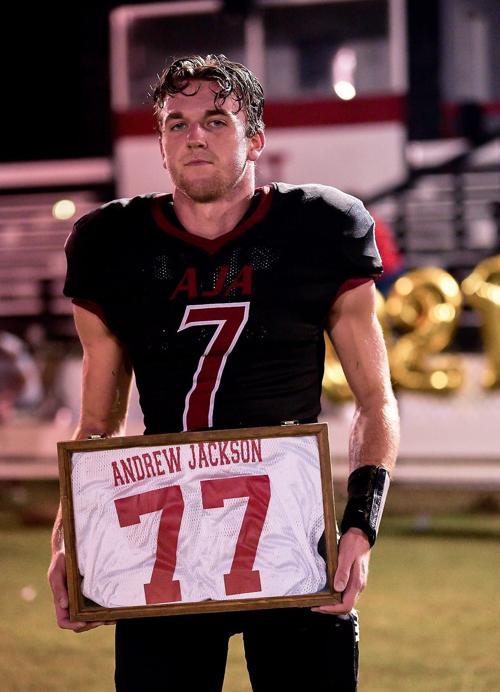 A quick glance at the box score doesn't tell the whole story of Andrew Jackson Academy's 60-18 victory over Patrick Henry Friday night.
Running back Carson Cone led the Warriors with 154 yards rushing and four touchdowns. He also led the team with nine tackles and forced a fumble. His coach, Chad Gleaton, called it the "game of his life."
"Friday night was a different experience," Cone said. "I was really pumped up to go out and do something special."
Cone has been running with a heavy heart this season after his father, Jerry Michael Cone Jr., passed away in June
"Carson's father got sick last season with cancer," Gleaton said. "It was tough on Carson to see him go downhill in the spring, then pass away right before we started summer workouts."
Gleaton was unsure what to expect from Cone once football started.
"I felt like he would play, but not perform," Gleaton said. "His mom (J.J.) and I talked every day, but after that first practice, I didn't know if he would come back. During drills, you could see that his concentration would wander."
According to Gleaton, Cone is a bit of an introvert, so he encouraged his running back to talk while his team rallied around him
"The boys really pulled him out of his shell," Gleaton said. "Our first scrimmage (against Wardlaw), I could see the relief on his face. He had that burst of speed and was accepting congratulations. He was becoming a leader, and I saw the smile return to his face. That's the power of football."
His mother could see it too. Earlier this season, after a victory over Charleston Collegiate, she told Gleaton how much the team has meant to Cone and the family.
"She came to me and told me that she felt like she had her son back," Gleaton said. "We're riding the bus home, and the guys are in the back celebrating, and there's Carson right in the middle of it."
Then, last Friday, the Warriors prepared to meet Patrick Henry in a rivalry game that Gleaton calls "good old fashion hate." The other captains had wanted to do something for Cone since the start of the season. Gleaton and AJA athletics director Jason Peek chose homecoming to honor Michael, a former AJA football player, by retiring his No. 77 jersey prior to the game.
"I found out about the (jersey retirement) about 20 minutes before kickoff," Cone said. "It's hit us hard, but this team, football, has been like a family to me. We grew closer as a team Friday night, and it felt like I could push some of (the grief) behind me."
Cone said there is only one thing he is thinking about when he's on the field, and that's a promise he made to his father.
"I promised him we would get a ring," Cone said. "I go out and try to do my best and just take it one game at a time."
"This year has been great because it has taught us not to covet our relationships," Gleaton said. "I still get emotional because I'm coaching my son. Our theme this year is 'It's Bigger Than Football.' This was our way of saying goodbye."
Cone had his finest performance of the season as Gleaton tried to feature him as much as he could. Through tragedy, Gleaton has seen Cone and the rest of his team grow up this season.
"Football gets a bad rap, but sports has a way of healing people," Gleaton said. "I've watched football pull Carson out of depression. He's honoring his father by the way he lives. You never hear about the good things that football can do, but his is 100-percent pure, and there's not enough of that in sports."
Gleaton said he and Cone still talk every day, sometimes about football, sometimes about his father.
"Coach (Gleaton) and I have really bonded since the summer," Cone said. "It's funny, I didn't really trust him at the start, but that trust has grown through our talks. I really appreciate everything he does for us."
"There are good days and bad days," Gleaton said. "He's learning how to deal with grief, but what I hope football has taught him is that even on the bad days he's still loved by everyone here. The worst thing you can do with that grief is run from it. Some of it ended Friday, but it's still a daily battle. He's got us, and I hope that's enough."