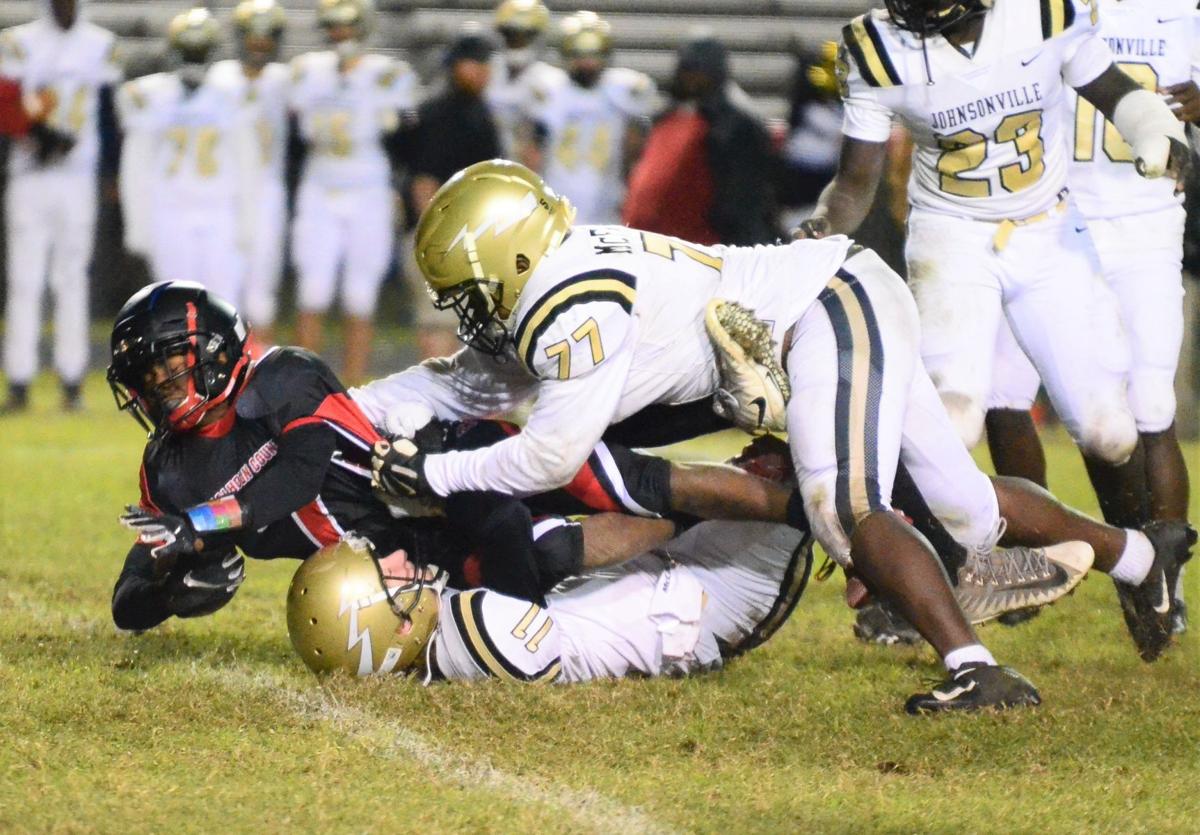 Even before 2020 turned into the year of the coronavirus pandemic, bringing on mass changes in everyday life, things were already going to be different for many T&D Region football teams by the fall.
The classifications and regions in South Carolina were shaken up with planned realignment for 2020.
North/Hunter-Kinard-Tyler (combined to play as one team this season) and Denmark-Olar already had a tough region with foes including Williston-Elko, Blackville-Hilda, Ridge Spring-Monetta and Wagener-Salley.
Now Calhoun County, a program that won a Class 2A playoff game at home last season, moves into Region 3-A to make things more interesting.
COVID-19 has already impacted the 2020 high school football season, with postponements and the season being shortened to mostly just region games and playoffs.
At Calhoun County, head football coach Wayne Farmer says that "We've been lucky with not attracting any cases."
Entering his first season with the Vikings, D-O head football coach Jarvis Littlejohn says that he had a late start getting the team together in the off-season and the pandemic has slowed down the process, in particular impacting the conditioning of the team.
The same sentiment of conditioning issues was shared by North/Hunter-Kinard-Tyler's head football coach Tony Felder.
"It's been a challenge, with guidelines of how you can't communicate face to face, but only through the phone via Zoom or Microsoft Teams," Felder said. "I believe that the teams who handle the guidelines and virus the best will have the most success this season."
Due to the consolidation of the Orangeburg school districts, and North High School's challenge to field enough players for a team in recent seasons, fans will have a combined North/H-K-T team this season.
Over the last four years, North/Middle High School has had to forfeit multiple football games due to the lack of participation, with each forfeiture bringing a $1,500 fine.
This year, Felder and H-K-T have welcomed new teammates from North in the preseason. Having joined together as a single team, the coach expects leadership from Karlyn Waymer, Jordon Singleton, Katwan Shuler and senior wide receiver/defensive back Jamareon Tyler.
It will be challenging for the team to replace the production of graduated Arquan Edwards (a quarterback/defensive back now playing at Ramah Junior College in Rock Hill) and Keron Barr (a linebacker/running back now playing at Bethany College in West Virginia).
According to Felder, his team faces "some of the toughest competition in all of class A."
"You have to face lower state (championship) winners and state runners-up, Wagener-Salley and Ridge Spring-Monetta, respectively, plus you also have the addition of Calhoun County," Felder said. "But, we are excited for the season and blessed to have these kids here."
North/H-K-T opens the season at Wagener-Salley on Friday night.
Vikings set sights on new season
Denmark-Olar's season will be one with intrigue and fits with the theme of "new" as they try to make winning the normal for the program.
D.O. goes into this year with a new head coach, Littlejohn, who wants to see the Vikings improve on last season's 4-win finish.
Littlejohn says he took the job with the team due to its "rich history and tradition of athletes," and "to set a culture" for the program. The former Newberry assistant has taken over the program that made playoffs a season ago.
The Vikings only have four seniors on the roster, with two of those being linemen Jerome Owens and Zaviel Fouts. Littlejohn expects the seniors to lead, while getting impact play from sophomore skill players Chris Sanders at running-back/linebacker and (former Orangeburg-Wilkinson quarterback) Jyrion George at quarterback/free safety.
Also, Jaquari Williams at linebacker/wide receiver looks to be an emerging talent as a sophomore.
With just 22 current rostered players, depth could be a problem for D-O this year. The Vikings open the season at Blackville-Hilda on Friday night.
Saints go marching into new region
Calhoun County will face all new opponents this season, starting with this Friday's away game at Williston-Elko.
Last year, the Saints went 5-5 in the regular season, knocked off Johnsonville in a Class 2A first-round state playoff game at home in St. Matthews, and then lost in the second round at Woodland.
"The competition is really good in this region," Farmer said. "We're expecting a challenge and we're ready for it."
The Saints are playing with just 3 seniors on the roster, and as many as 4 freshmen could be in the starting lineup.
Expected impact players include the following: Hiram Stready Jr., Devin Bull, Andre Staley Jr., and Lyndon Glover.
Terry A. Benjamin is a mass communications major at Claflin University.
Get in the game with our Prep Sports Newsletter
Sent weekly directly to your inbox!