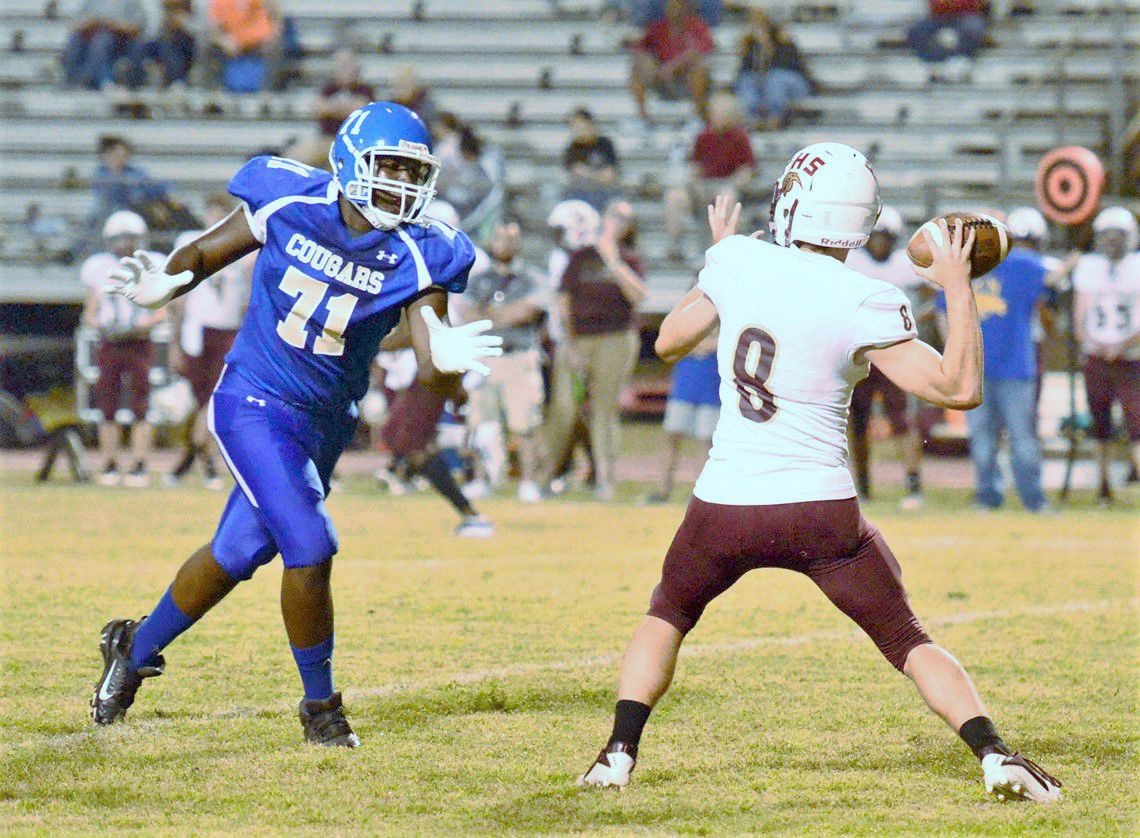 The high school seniors nationwide who are missing out on their final spring school activities and sports are among the groups heavily impacted by the current widespread shutdown of normal American life due to the coronavirus pandemic.
But others could feel the results of the schedule change in their school activities months from now, including high school football teams this fall.
Edisto High School's first season under the leadership of first-time head coach Preston Deaver finished in early November of 2019 after a 42-13 loss at 10-win Wade Hampton in the first round of SCHSL Class 3A playoffs.
The Cougars posted a 6-5 record, the first winning season for the program since 2013, which was the program's last under current Orangeburg Prep head coach Andy Palmer.
Deaver had just led the way to Edisto's second winning season in more than a decade.
All signs pointed to bigger and better things in the coming years, including starting the season 3-0, and getting quality wins against region rival Pelion (28-6) and shutting out non-region foe North Charleston (48-0) late in the campaign.
The Cougars were ready to make a move in 2020. Edisto is supposed to transition from the Class 3A ranks to the Class 2A ranks this coming season.
Of course, all sports and all off-season team plans are put on hold at the current time, as a reaction to the coronavirus COVID-19 pandemic that has a grip on America and the world in general.
A year ago this month, Deaver was brought in to coach the Cougars. He was excited about the program.
"We're going to be a tough, physical football team in all phases of the game, finding ways to play well and win," he said. "We're going to try to build on that Edisto pride. I could tell it was there on campus today.
"I want to build on that desire to have an elite program here."
The vision was there, and the early returns were good ones. Now, all high school football programs across the country is limited in what they can do as a team, other than individual workouts at home and staying in touch via telephone, social media and online platforms.
A year ago, Edisto was set to start spring practice the first week of May.
This month, with schools physically shut down and operating mostly through cyberspace, the outlook is unknown as to when the Cougars will be allowed to safely assemble as a team again.
Deaver had spring and summer workouts planned, as football players without a spring sport lifted weights together three times a week entering March.
Now, in mid-April, he has kept in touch with his coaches and players through texting and social media for weeks, while practicing social distancing and recently celebrating his wife's birthday and his kindergarten-aged son's birthday from home.
"We had the birthday parade of friends who drove by, and the birthday parties consisted of just the four of us in the house," Deaver said. "Everybody is in the same boat and this is history in the making, for sure.
"But, you just try to adjust."
Deaver's wife is an educator in Cayce. Her district observed spring break from home earlier this month, while Edisto and the rest of the Orangeburg Consolidated School District had its break this past week.
With football programs statewide wanting to have off-season workouts of some sort, the South Carolina High School League recently issued tips for virtual training, where teams can know they are doing workouts individually while they can't physically assemble together.
"Those suggestions have been helpful," Deaver said. "Some of the big universities are putting their football workouts out there. So I'm sending them to my kids in text messages, emails and the Remind app.
"I called them to touch base after the tornadoes came through. That mental health is beneficial, staying in touch, via email or social media. You take for granted walking down to the cafeteria and catchig up with your players, asking, if they play spring sports, how the last game went and how the season is going. Things like that we are missing."
Of the Edisto football players who weren't playing a spring sport, Deaver had 30 to 40 players lifting weights multiple times a week to prepare for the fall season.
"You get used to that routine and, going into my second year here, I wanted to keep things moving. But, suddenly, all that changed. That's stressful. We were rolling and making strides. For this thing to hit right there, it stopped us abruptly."
Deaver noted that spring sports everywhere have been disrupted the most. But, there's no way to say now how this extended interruption will impact fall sports.
"I've got guys taking pictures of themselves working out, showing us coaches what they are doing," he said. "Or they're flipping tires out in the country, or lifting furniture in the house, getting some reps and a workout in about anyway they can.
"We check in with them on their academics regularly, since that's most important. But, it's to the point now where I just miss seeing them and encouraging them in person. Some of them have even said 'coach, I really miss school.' The seniors are a big priority, but you don't want any of the students to have their GPAs fall."
Deaver said the Orangeburg Consolidated School District has "done a great job with the meals and the wifi buses and all for the students."
Even so, nothing quite compares to being on campus with regular interactions for school and sports workouts.
"We want to be whatever we can be to help at this time; all of our coaches and players are eager to get back together," Deaver said. "It's just waiting to see what the governor, our superintendent and our principal say. Safety is the key.
"The biggest impact I worry about with football is the strength and conditioning part. Football is a game where you practice and prepare more than you actually play. Some of your established programs may not have as many problems as a guy like me going into year two with a team. But, we will do our best. I really hate it for our spring athletes and coaches. Since it's not during football season, it doesn't directly impact us right now."
A 6-win season was a great way to make a splash in Deaver's first season at the helm in Cordova. Despite graduating 14 players this senior class, and having just 6 rising seniors for the 2020 season, the coach sees great opportunities to build on 2019.
"We set some goals for ourselves last year, some small obtainable goals, and we met every single one of them," Deaver said. "We are still looking internally to see who we are, since we got to 6 wins and then didn't finish the way we wanted to.
"The bulk of our team was freshmen and sophomores. This junior class just happens to be the smallest class in the school. It's a young team, but the best thing is a lot of those freshmen and sophomores played last year, with all 17 sophomores having played in a varsity game, and some a good amount. All 6 (rising) seniors are going to be leaders for our team."
The question now is how soon will those 2021 seniors be able to transition to those leadership roles for this fall.
"There are just a lot of questions that nobody has answers to, right now," Deaver said. "We'll be able to pick back up right we left off, just pray its sooner rather than later."
As Deaver looks to continue the building process for Cougars football, he is glad to have doubled the junior varsity schedule from 4 games in 2019 to 8 games in 2020.
At the moment, though, school weight rooms and football fields go unused, until it's considered safe for teams to once again assemble.
"It's unfortunate, but we understand," Deaver said.