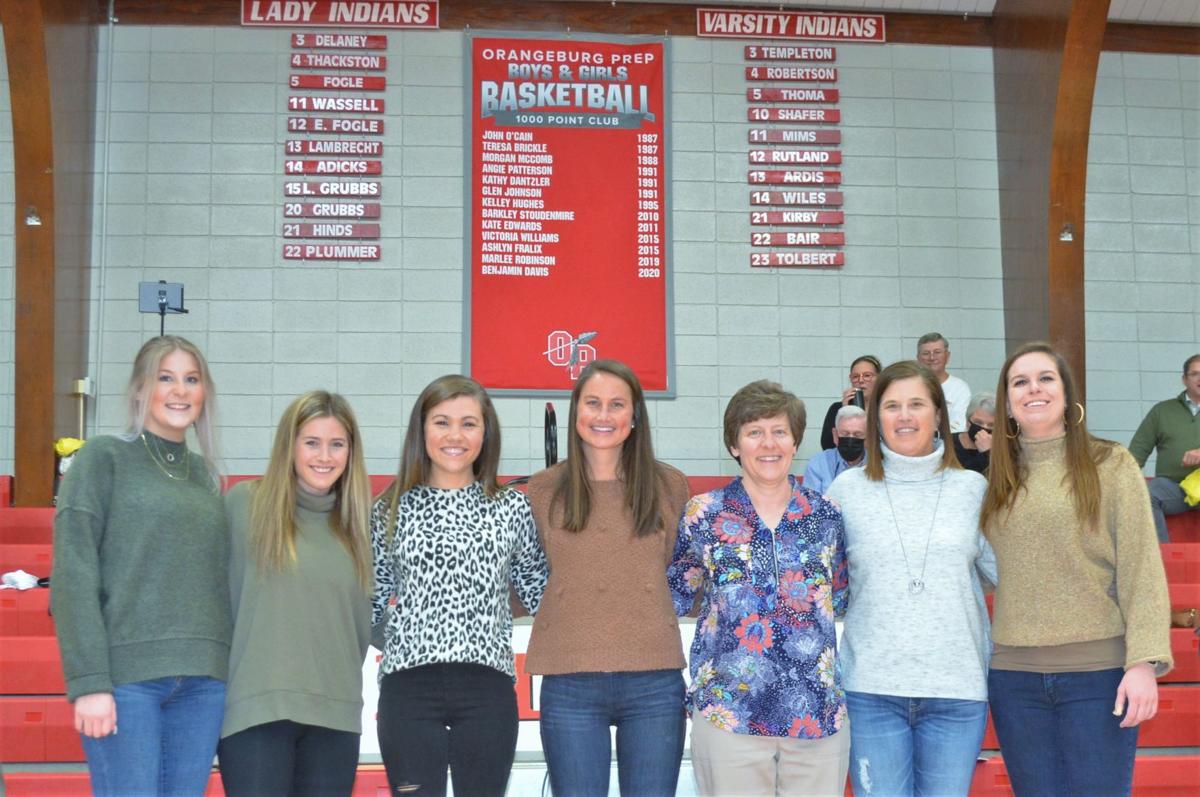 The Orangeburg Prep basketball program has recorded quite a bit of history since play began after the consolidation of Wade Hampton and Willington Academies in 1986.
Some of that history was recognized at halftime of the varsity girls home basketball game on Friday night, as a banner was unveiled on the gym wall recognizing 1,000-point scorers in program history.
A total of 13 former players are recognized on the banner, including 10 girls standouts and 3 boys standouts. Space below their names is open and available for future players who reach the mark and join the club.
Due to other obligations, only 7 of the 13 OPS 1,000-Point Club members were able to attend the unveiling ceremony in the middle of a Lady Indians' region win against Thomas Sumter Academy. Each of those who were in attendance had played for the Lady Indians.
The club includes John O'Cain (1987), Teresa Brickle (1987), Morgan McComb (1988), Angie Patterson (1991), Kathy Dantzler (1991), Glen Johnson (1991), Kelley Hughes (1995), Barkley Stoudenmire (2010), Kate Edwards (2011), Victoria Williams (2015), Ashlyn Fralix (2015), Marlee Robinson (2019), Benjamin Davis (2020).
"It (unveiling of the banner) has kind of been in the works for a while, and we hate that it had to be done during COVID, because we couldn't have a packed house here and everybody couldn't come back to be a part of it," said Jan Stoudenmire, Lady Indians head coach and OPS athletic director. "It's such an honor and an achievement for these kids when they score 1,000 points, and I've been so blessed to have as many as I've had during my time coaching.
"We're just proud to be able to recognize them. For the younger players, they can look at that on the wall and have a goal to shoot for in their careers. It's a program here. Some of the kids we have playing now were in fifth or sixth-grade when we had some of these 1,000-point scorers. So they know."
Memories are made and playing benchmarks are reached each year, as the Indians and Lady Indians add more chapters to the program's history.
"It was a fun four years playing and, both my junior and senior years we were state champs," Morgan (McComb) Fancher said, having started her high school career at Willington. "I just enjoyed playing and us working together as a team.
"This is the first time I've been back since I finished school. I'm glad to be back. We never expected to be recognized like this, but it is very special." 
Barkley (Stoudenmire) McNair now teaches at OPS and coaches the Lady Indians junior varsity team. Seeing the banner on the wall of the high school gym brought back thoughts of her playing days.
"It was great playing for my mom, even though she would fuss at me the most, I think," McNair said. "It was good to see teammates, especially Kate, knowing we accomplished this together.
"We get to see our name up there, every time we come in the gym. Hopefully we will have more to add to the club soon. One on our team now will probably make it soon. I think my mom is just the best coach. Everybody loves playing for her and she knows how to get it all out of her players. After you finish playing for her, that's not it; she keeps in touch with you and it's like a family."
Edwards is one of the members of the OPS "family" who attended the school from kindergarten through 12th grade and said she appreciates the honor of being recognized for her on-court efforts.
"I guess hard work pays off," she said. "There's only a few of us in the club, so it's great to be recognized for what we accomplished.
"I think our next member of the club is here tonight playing. But, honestly, I didn't even know for a long time that they were keeping up with our stats like that while we were playing. It was good to come back. I haven't been back for a while, so it was great to see this place and see old friends."
Patterson has assisted Stoudenmire in coaching the Lady Indians for years, and enjoyed recalling her playing days for OPS, along with memories of those she has coached.
"It was a lot of fun," Patterson said, having reached 1,000 points as a point guard in 1991, the same season teammate and forward Kathy Dantzler reached the benchmark total. "I've coached a lot of teams coming through OP, lots of good teams; and I was just privileged to come through when I did, when we merged the two schools and became Orangeburg Prep.
"We had some good athletes, were able to have some fun teams, and I got to play with some wonderful people. Playing with other 1,000-point scorers and being able to coach some of them has been a real reward for me. A lot of fun memories around Orangeburg Prep basketball for me. The younger players need to know that's something they can achieve."
Although players graduate from OPS and move on in life, the 1,000-point club banner will be a constant reminder to young players that both team and individual goals can be reached.
Williams continued her playing career after OPS by playing guard for four seasons at Columbia College. Returning home for the banner presentation was appreciated.
"I'm so happy I came to Orangeburg Prep, played varsity for 3 years, made some great friends and had such a great coach and great teammates," she said. "It means a lot to have our names on the wall. It's a great honor."
Williams and Fralix were teammates who reached 1,000 points the same season in 2015.
"I transferred over to Orangeburg Prep my sophomore year for some better competition with sports, and I feel like I really got that here," Fralix said. "Coach Jan is amazing. I know she's always wanted to do something for everyone who has scored 1,000 points.
"That's going to be special for everybody to see every time they go into the gym. It makes me miss playing, just coming back to the gym. But this was great tonight."
It's not a club that meets regularly or has a FaceBook group or other online presence. However, as exclusive as it is, there are openings for others to join the OPS 1,000-Point Club for years to come.