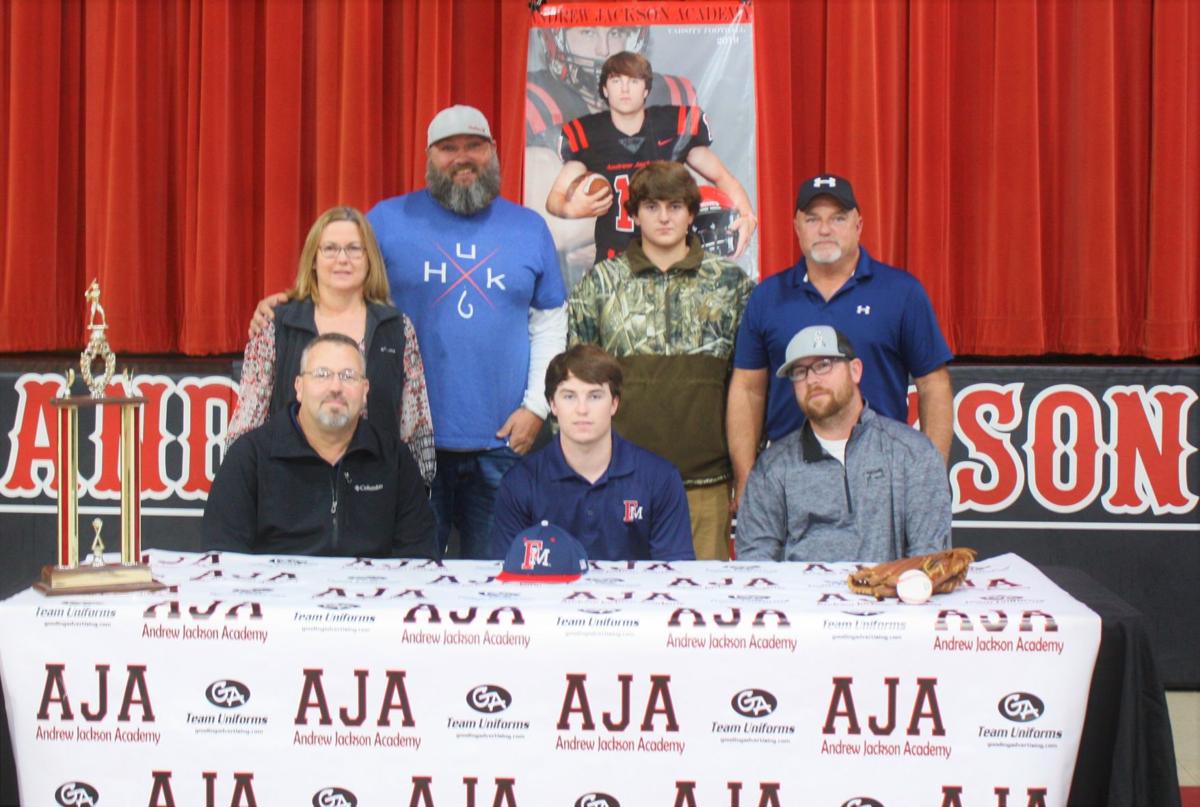 FLORENCE – Francis Marion University head baseball coach Art Inabinet, a St. Matthews native, has announced the signing of five in-state pitchers to add to the Patriot program for the 2021 season.
The quintet will enroll at FMU in the fall of 2020 and consists of four right-handers: Joshua Collins of Florence, Adam Creswell of Fairfax, Tyler Davis of Myrtle Beach, and Blake Sherrill of Rock Hill, and left-handed pitcher Will Wicker of Lexington.
Collins, 6-3 and 175 pounds, is a product of South Florence High School where he played for former Patriot Kenny Gray. As a junior, he posted a 6-3 record with a 1.90 earned run average. He logged 59 innings and registered 61 strikeouts and issued only 17 walks en route to being named the 2019 Region 6-AAAAA Player of the Year and his team's most valuable player. He was a varsity letterman each of his four years at South Florence.
"Joshua is a tall lanky right-hander who can throw a breaking ball for a strike at any time," Inabinet said. "He throws in the low 80's, but his size projects him to be able to improve to the mid-to-upper 80's range quickly."
Creswell, 5-8, 185-pounds, attended Andrew Jackson Academy as a senior, after spending his first three prep years at Wade Hampton High School. His coach at AJA was Josh Mitchum. He garnered All-Region accolades as both a sophomore and junior. He played for American Legion Post 108, and most recently with the Atlanta-based Foundation Sports 17U Mingin travel squad. He was named to the 2019 Rawlings Perfect Game pre-season All-America Team. As a youth, he was a member of the 2015 and 2016 Dixie Boys state champions. Off the field, he was selected to South Carolina Boys State following his junior year. In addition to playing baseball, he also lettered three years on the football field.
"Adam is an all-around athlete who could play a field position, but we are bringing him to FMU as a hurler. He throws in the mid-to-upper 80's range, and is a tough hard-nosed kid. We expect for him to impact our program as a freshman."
Davis, 5-8 and 150-pounds, is a product of Carolina Forest High school where he played for coach Joey Worley. In the abbreviated 2020 campaign, he batted .312 with eight runs batted in and a .429 on-base percentage. On the mound, he was 0-1 in four appearances with a 4.00 ERA and 12 strikeouts in only seven innings. Davis was a 4-year varsity letterman with the Panthers.
"Tyler is a hard-throwing righty who throws in the high 80's. He just started pitching last year and I am sure as he matures and gets opportunities, he should be throwing in the low 90's in a short amount of time."
Sherrill, 6-4 and 205 pounds, comes to FMU from Legion Collegiate Academy where Devon Lowery serves as coach. He previously played at Rock Hill High School under the direction of coach Dell Corley. Sherrill's most recent season saw him toss 37.1 innings with a 3-1 record, scattering only 24 hits and fanning 30 batters with an ERA of 2.25. He also attended Boys State in 2019 and was a member of his school's National Honor Society. He played travel ball with Canes Baseball and the Charlotte Megastars.
"Blake has good size and a good arm that registers in the mid-to-upper 80's. He projects as a bullpen guy to open his career, but one with a very bright future."
Wicker, 5-11 and 180 pounds, attended Gray Collegiate Academy where he played for coach Charles Assey. He previously attended Lexington High School and played under the direction of coach Brian Hucks. He played travel ball with the Lexington Baseball Club Owls.
"Will is a southpaw who really knows how to pitch. He already throws in the 84-to-86 mph range, and has command of three pitches. He will likely have a chance to pitch on the weekends for us as a freshman."
Francis Marion finished its abbreviated 2020 season with a 12-9 mark and was 6-5 in the Peach Belt Conference.
Get in the game with our Prep Sports Newsletter
Sent weekly directly to your inbox!