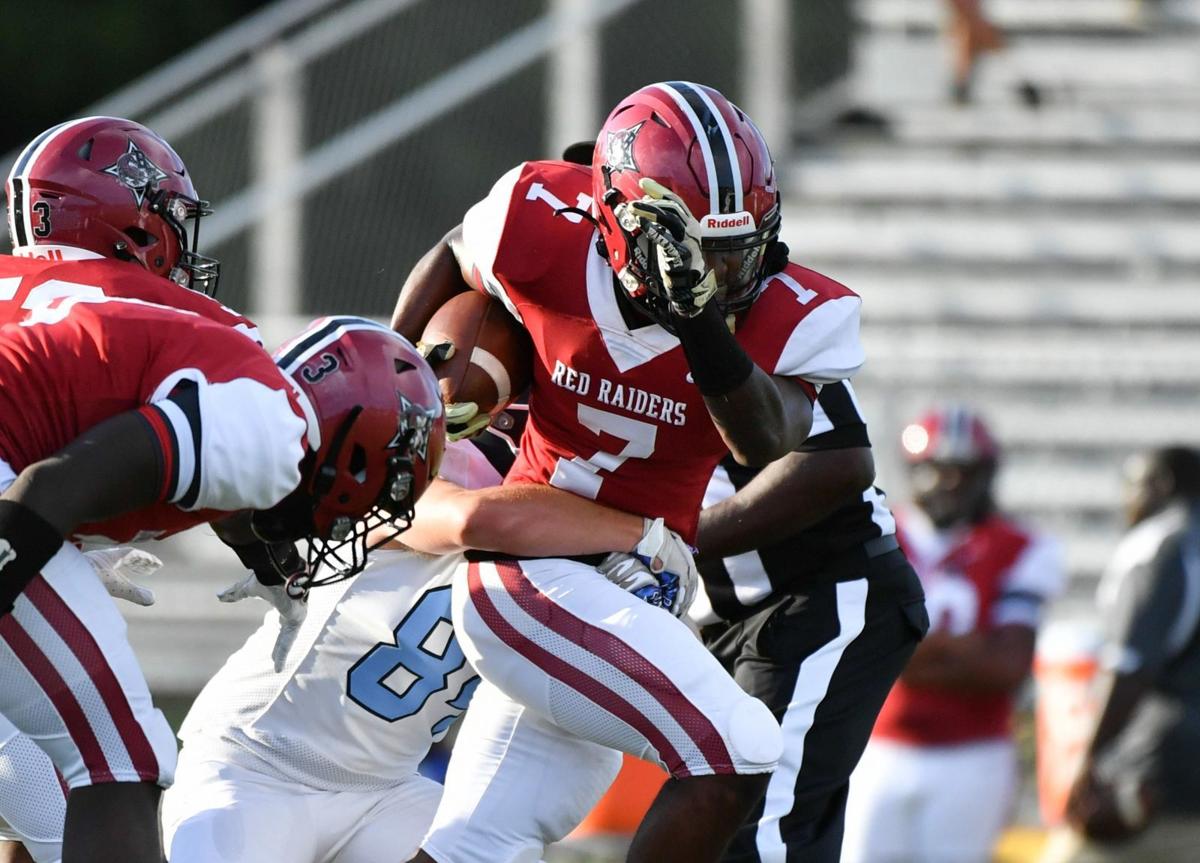 Ridge Spring-Monetta 62, Denmark-Olar 58
Keithan Washington rushed for over 300 yards and six touchdowns as the Vikings lost a shootout against Ridge Spring-Monetta.
In a back-and-forth affair, the Vikings scored with just under a minute left to play and could not get the ball back before RS-M ran out the clock. The two teams combined to score 112 points over the last three quarters.
T.J. Williams added a rushing touchdown while Chris Sanders had an 85-yard kickoff return for touchdown.
It is the second consecutive weeks Sanders has returned a kick for a score.
Denmark-Olar is scheduled to face Calhoun County at home next week.
Hilton Head Christian 53, Orangeburg Prep 0
Christian Rutland led Orangeburg Prep with 57 yards rushing in the Indians 53-0 loss to Hilton Head Christian Friday.
McCullough Mims completed five passes for 26 yards and Mikey Templeton caught two passes for 15 yards.
On defense Chad Wiles led OPS with six tackles and a pass break up. Templeton and Rutland each added three tackles and a sack.
Orangeburg Prep (0-2, 0-1) currently has no game scheduled for next week.
Bamberg-Ehrhardt 33, Bethune-Bowman 0
The Red Raiders improved to 2-0 in region play with a 33-0 win over Bethune-Bowman Friday night.
Quincy Bias led the Red Raiders with 96 yards rushing in the first half two touchdowns while Quintin Banks added 56 yards rushing and two touchdowns.
"We came out wanting to run the football," B-E head coach Robert Williams said. "Defensively, we were physical up front. Now we have to get back to work and get ready for Allendale-Fairfax."
After missing last week, Gage Boykin had a 27-yard touchdown pass to Anthony Williams to close out the scoring in the first half.
"Gage is a leader for us," Williams said. "We seem to throw the ball a little better when he's in the game."
Bamberg-Ehrhardt is scheduled to face Allendale-Fairfax on the road Friday. Bethune-Bowman is scheduled to host Branchville.
Calhoun Academy 41, Dillon Christian 15
The Cavaliers improved to 2-0 in region play with a 41-15 victory over Dillon Christian Friday night.
Calhoun Academy's offensive line featuring Chase Cooper, Cameron Crosby, Adam Lowder, Cale Quattlebaum and Lane Noe paved the way for 511 yards on the ground in the win.
Matt Layton led the charge with 223 yards rushing and four touchdowns. Kade Strickland added 103 yards rushing while Andrew Tucker and Lane Noe each had 68 yards and a score.
Defensively, the Cavs were led by Mason Polin's eight tackles. Quattlebaum added six tackles while Cooper and Crosby each added two sacks.
Calhoun Academy (3-0, 2-0) will be on the road next week at The King's Academy in Florence.
Holly Hill Academy 30, Patrick Henry 22
Tyler Wright carried the ball 40 times for 237 yards in Holly Hill Academy's 30-22 victory over Patrick Henry Friday night.
Davin Walling and Perrin Breland combined to rush for 50 yards and four touchdowns.
On defense, the Raiders were led by Carter Judy's nine tackles. Joe Huffham, Dylan Rivera and Mason Rudd each added six tackles. Breland and Lucas Carroway each had an interception.
Holly Hill Academy (3-0, 1-0) is scheduled to face Clarendon Hall at home next week.
Andrew Jackson Academy 58, Faith Christian 0
Andrew Jackson Academy continued its shutout streak Friday with a 58-0 win over Faith Christian. The Warriors have yet to give up any points through their first three games.
Jonathan Schaffer led AJA with 12 tackles while Chase Carson added six tackles. Colson Loadholt, Carson Cone and Reese Donahue each had an interception. 
On offense, Bug Brunson completed 8-of-11 passes for 92 yards and two touchdowns while rushing for 72 yards and a score. Cone added a rushing touchdown as did eighth grader Rylan Brunson.
Andrew Jackson is back in action Friday at Charleston Collegiate.
Clarendon Hall 49, Newberry Academy 0
Dorchester Academy 25, Colleton Prep 6
Oak Prep 86, Orangeburg Christian Academy 0
Blackville-Hilda 14, Williston-Elko 0