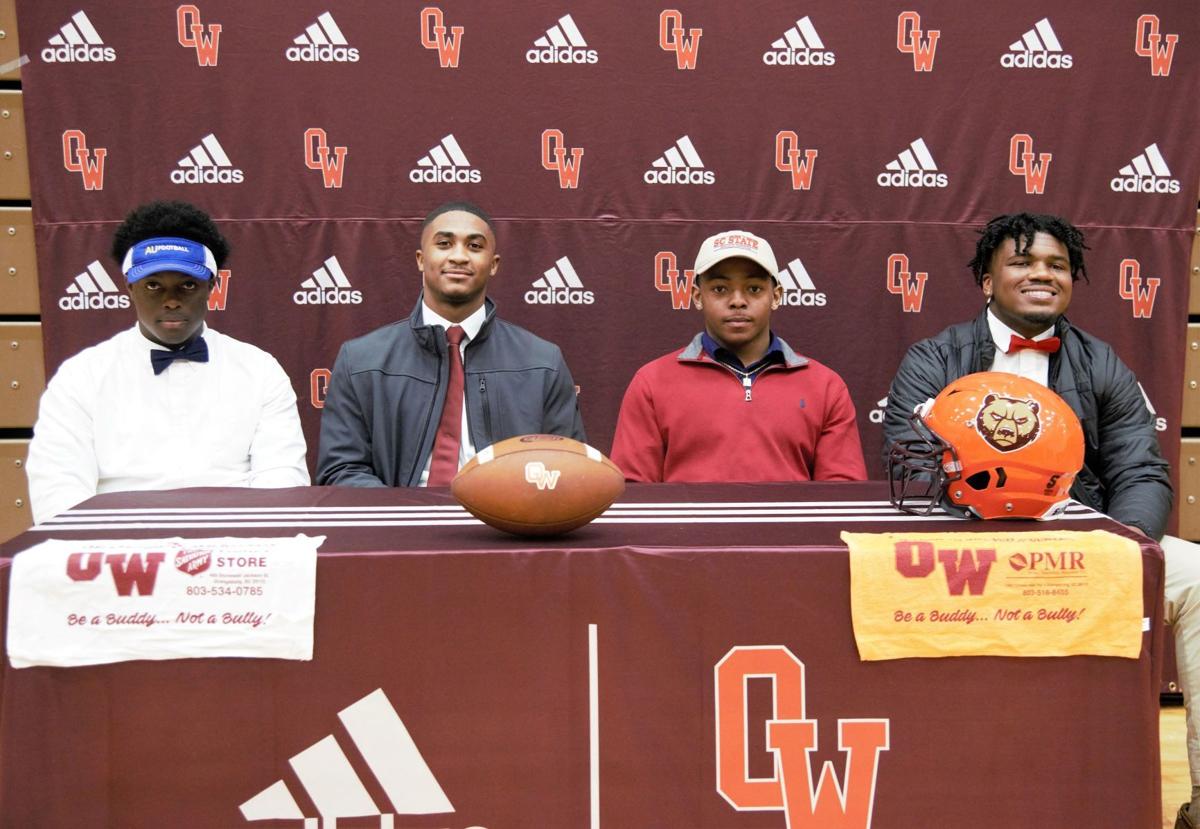 Four Orangeburg-Wilkinson Bruins will be taking their talents to the next level after officially signing Wednesday to play college football.
The Bruins signing in the O-W gym on National Signing Day were John Paul White, Christopher Austin, Darryl Shivers and Andre Linton.
White signed to play for the Concord University Mountain Lions in Athens, West Virginia. The linebacker totaled 74 tackles, with 11 for a loss and six sacks. He also forced and recovered a fumble as a senior.
White said playing college football is a dream come true.
"It means a lot to me. I can't say how blessed I am because I've really been through a lot," White said.
"This is one dream I really had, is to play football at the next level, and now I'm going to take that dream further. I'm trying to make it to the NFL just so I can pay back my family and my community," White said.
Fellow linebacker Chris Austin will be staying in town to play for the South Carolina State University Bulldogs.
The T&D Region Defensive Player of the Year for 2020 tallied 82 tackles, with 18 coming for a loss, 12 sacks, two forced fumbles and two fumble recoveries as a senior.
Austin reflected on his high school career and how he is thankful to be able to continue his academic and athletic career.
"When I first started playing football, I worked my way up, going from JV all the way up to varsity. Then, this year I had a lot of accomplishments making All-State, (T&D) Defensive Player of the Year, All-Region," Austin said.
Austin said his goal is to leave a mark at S.C. State.
"I want to leave an impact and show that State's really not a bad school to go because a lot of people from Orangeburg, they're trying to get out of South Carolina, but it's really a lot you can do in state financially and academically," Austin said.
The third Bruin defensive player, Andre Linton, is headed to the Upstate to play for the North Greenville Crusaders.
The defensive end made 28 tackles, including nine for a loss, had four sacks and forced and recovered one fumble in his senior campaign.
After signing, Linton said he is ready to get to work.
"I really feel like I'm ready to get back into work and the flow of things. I'm really ready to get up there and start working out with the team," Linton said.
Linton said he has been in constant contact with his future coaches. "That's what really separated that college from other colleges."
"When I took a visit up there it was a great campus, and it looks like somewhere where I could advance myself," Linton said of the Tigerville location.
The lone Bruin offensive player to sign Wednesday was offensive lineman Darryl Shivers.
Shivers will be making the trip to Columbia to suit up for the Allen University Yellow Jackets.
He is thankful for the opportunity to play college football.
"Leading up to this day, I was just praying and thanking the Lord I got to this day. Most people don't get here, and I'm blessed to see it," Shivers said.
"My goal is to go there and put in work," Shivers said.
Shivers had a message for his parents, friends and coaches. "Thank you for helping me get to this point, and I love you," Shivers said.