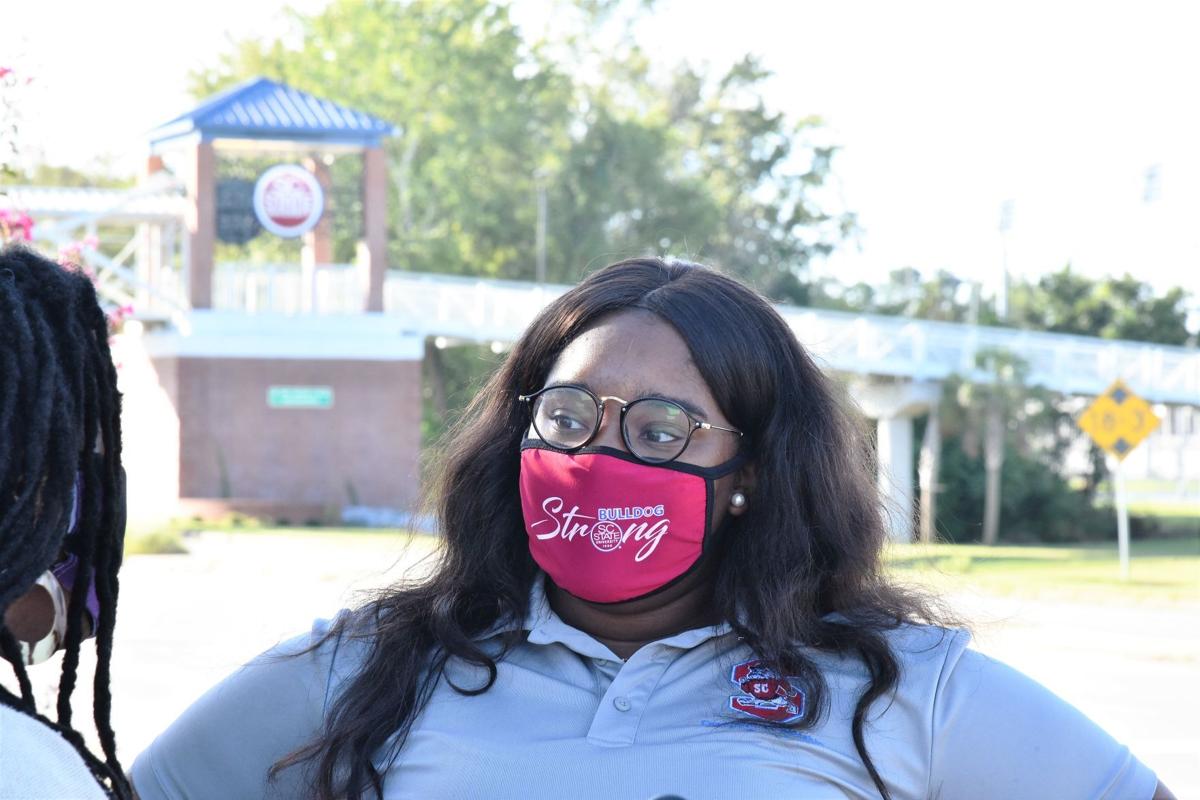 A mask mandate and routine testing are among safety protocols to be used by South Carolina State University as it forges ahead with plans to welcome students back in the spring amid the coronavirus pandemic.
"We always mention that the health, safety and well-being of our students, faculty and staff and the community we serve are priority one, and priority two is the ability for our students to continue their academic endeavors," S.C. State President James E. Clark said during a special teleconference board meeting on Nov. 12.
"This is not just a social endeavor. It is about the growth of the students, and sometimes it's about the structure that's associated from being on a campus as to being at home," he said.
Testing
The university announced Nov. 6 that the spring 2021 semester will begin on Jan. 4 with students learning remotely.
A limited number of students will return to campus on Jan. 16 and 17. While the campus will reopen for face-to-face instruction in mid-January, space will be limited. The university will allow about 1,000 students back on campus while the remaining students must continue to study remotely.
Returning students will be required to present a negative COVID-19 test result. They will also undergo routine testing while living on campus.
"We know that we must have additional testing resources assuming going forward," he said, particularly with the university's confirmation on Oct. 31 of 21 new cases of coronavirus on campus. All of the cases are student-athletes.
"All it takes is one event or one deviation from your protocols, and that can occur. Now, we had a lot of different theories as to what may have caused it, but one something that we did discover after the fact is that there was in fact a big party attended by our students and Claflin students," Clark said.
"We must communicate the upside of a great campus experience, but we also will make sure we communicate the risks that are associated with not following protocol, which will yield an outbreak, which would mean that a lot of students would have to go home," the president said.
Face shields are among the Personal Protective Equipment that will be distributed to each faculty member in January.
"We will have a mask mandate ... in place for faculty, students, staff ... or anyone that comes on campus. The COVID classroom capacity has been established. Academic Affairs has set up a mechanism whereby the faculty will be teaching in shifts," Clark said.
"If you have, say, 30 students, you might do 10 on a Monday, 10 on a Wednesday and 10 on a Friday because we have capacity limitations for all of the rooms. There's going to be mandatory training in the notion of dual delivery of instruction using Microsoft Teams the second week of December at the faculty institute that's going to be held," he said.
"The faculty will also be expected to provide academic advising and mentoring of students using the telephone or video conferencing," the president said.
He continued, "We're going to be encouraging faculty and students and students, everyone to get tested. We won't be able to mandate it, but we're going to encourage everyone to get tested twice a week, and we will have resources put in place for that.
"Athletics will be tested at least three times a week. We'll be following all of the NCAA and MEAC protocols. The students and staff on the athletics side are required to submit the daily symptoms check as well, but we have a system that's part of a lot of other things that we track about the athletes, and the reports of that will go to the head and assistant athletic trainers."
Clark said students will conduct business with their financial aid and related matters virtually.
"It's all integrated with the system that we have. We're having to look at campus-based work study and internship efforts ... because it involves being on campus fundamentally, but it involves interacting with people we may not be able to accommodate.
"When we talk about contact tracing for staff and so forth, that'll be done by human resources, and we'll have additional efforts that we will be doing in athletics. Again, we'll be encouraging everyone to test twice a week, etc. At least two or three times a week," he said.
Clark added, "For students that want to live on campus, just like what we did before, there will be pre-arrival testing ... to make sure that we capture any known positives."
The president said PPE packets for staff have been distributed and that return-to-the-workplace manual was also developed for them. He said they will also be encouraged to participate in testing made available for them.
How will the university conduct its testing?
"I potentially have up to five different testing types and mechanisms available to us and, in some cases, there will no charge to the students, faculty, staff, or the Orangeburg community on the test. Now, not all the testing we have applies to the community.
"We also have 3,000 rapid tests that we're holding. ... The rapid tests will not necessarily be as precise, but you do that for a mass group when you have to do things quickly and kind of scan a big group. And we'll hold those for special events like spring return," Clark said.
He said, ""I've also reached out to my friends and had contact with my friends at USC. USC has been working on a saliva-based test, and we're working on that with them right now," he said, noting that the university is also partnering with the South Carolina Department of Health and Environmental Control to offer free drive-thru COVID-19 testing to the university and Orangeburg community.
Testing will be available every Monday through Friday from 9 a.m. until 1 p.m. and will take place in the Smith-Hammond-Middleton Memorial Center parking lot on campus.
"The more volume we have, the more justification there is for DHEC having that site here ... The idea is to have enough testing such that at any time in doing periodic testing and sampling and surveillance-type testing, we have our finger on the pulse of what's going on," Clark said.
The university is also asking students that are living on campus to submit daily symptom checks to the Brooks Health Center.
"We're working to make sure that can be done electronically. ... This is a social contract. It's a shared responsibility that we all have to make this be successful. We will have the ability for people to do their temperature check in various modes ... and there's a student return-to-campus guide that's been developed.
"We're reviewing that again and updating that, and we're also going to be encouraging our commuting students to test. We're (also) reviewing our discipline protocols to make sure we're updating that and communicating that. For the longest time, people were following the guidelines, then people started to get a little bit slack in a lot of different areas," Clark said.
Clark said, "Battiste Hall is the housing facility that we're reserving as our isolation facility for quarantining those students who do test positive. So we're looking at about 10% of the population," noting that all residence hall rooms will be single-occupancy.
Social distancing and directional traffic are among the signage that has been put up across all facilities, along with sneeze guards and sanitizer dispensers, with more dispensers to be added in December.
"The faculty has been encouraged to spend more time on the campus in October and November to take a look and find out any areas that need repair. That gives us time to work through that list in December when everyone comes back," Clark said.
Clark said social media will be a component of getting the message out about the university's health and safety protocols to mitigate the spread of disease not just on campus but in the surrounding community.
"I plan to actually have a forum just for the parents. Parents kind of fall into a couple of categories. Some parents absolutely do not want their children to be on any campus ... and then we have some that absolutely want their students to go and be at a campus.
"Then we have some that are just concerned. They kind of want it, but they want to make sure that everything is in safe hands. We'll try to make sure that we reach out to everyone," Clark said.
He said penalties for noncompliance to health and safety protocols will not be ignored.
"This is something that will escalate at different levels. Common sense will be applied, but there will be a point where a student can be suspended, and it'll probably be a point where expulsion might be necessary," Clark said.
Athletics
S.C. State Athletics Director Stacy Danley updated the board on happenings within the Mid-Eastern Athletic Conference.
"Florida A&M University opted out of three fall sports that were scheduled to participate this spring. That included football, volleyball and indoor track. That's the second school in the MEAC and in the State of Florida who've opted out recently, with Bethune-Cookman opting out weeks ago of all sports for the remainder of the academic year.
"That leaves seven remaining schools and, as of today, all seven of us are training to compete this spring. We're shifting from a regional football schedule where we were scheduled to play the regional schools twice to a six-game conference schedule where we will play all of the remaining schools in the conference once," he said.
Danley added, "That schedule will still kick off on Feb. 21; however, with that said, the MEAC issued a deadline of Monday, Nov. 16, for member institutions to opt out. So, you know, this could change between now and Monday, where some other schools may decide to opt out in one or more sports. But that's kind of where we are. We're going to continue to monitor it."
He said the spike in coronavirus cases is affecting college athletics nationwide.
"We're monitoring it daily. We are scheduled in the NCAA to kick off the basketball season on the 25th. We will start our season on a home game against Appalachian State on Nov. 25," Danley said.
He added, "Since we enhanced our testing protocols where we went to a five-day-per-week testing approach, we've had two positive tests. ... We haven't had any positive among our staff since we went to enhanced testing."
Clark said, "There's tracking of all of the athletes that's being done and that's being documented, but what we will have up shortly is dashboard for the university at large. There will be a public dashboard that will have up-to-date data on it. We're days away from that."
Trustee Hamilton Grant thanked the president and his team for the work they put into creating a safe on-campus environment but still had concerns about bringing students back in the spring amid the rising cases of coronavirus in the state.
"If we can contain the students, it's harder to contain faculty and staff as those who may travel out of the Orangeburg area to go home and come back for instruction. So, for me, I would have liked to hear this more in detail," Grant said.
Clark said while "for some of our students this is the absolute best environment for them to pursue their academic endeavors," operational adjustments would certainly be implemented as needed.
Faculty Senate President Dr. David Staten asked when there would be a response to a letter outlining concerns among some faculty about returning to campus.
S.C. State Provost Dr. Learie Luke said the letter would be discussed by him and the president.
Also during the meeting, Clark recognized S.C. State Counsel Mercedes Pinckney, who is leaving the university, stating, "She really is going to be missed here." 
Concerned about COVID-19?
Sign up now to get the most recent coronavirus headlines and other important local and national news sent to your email inbox daily.