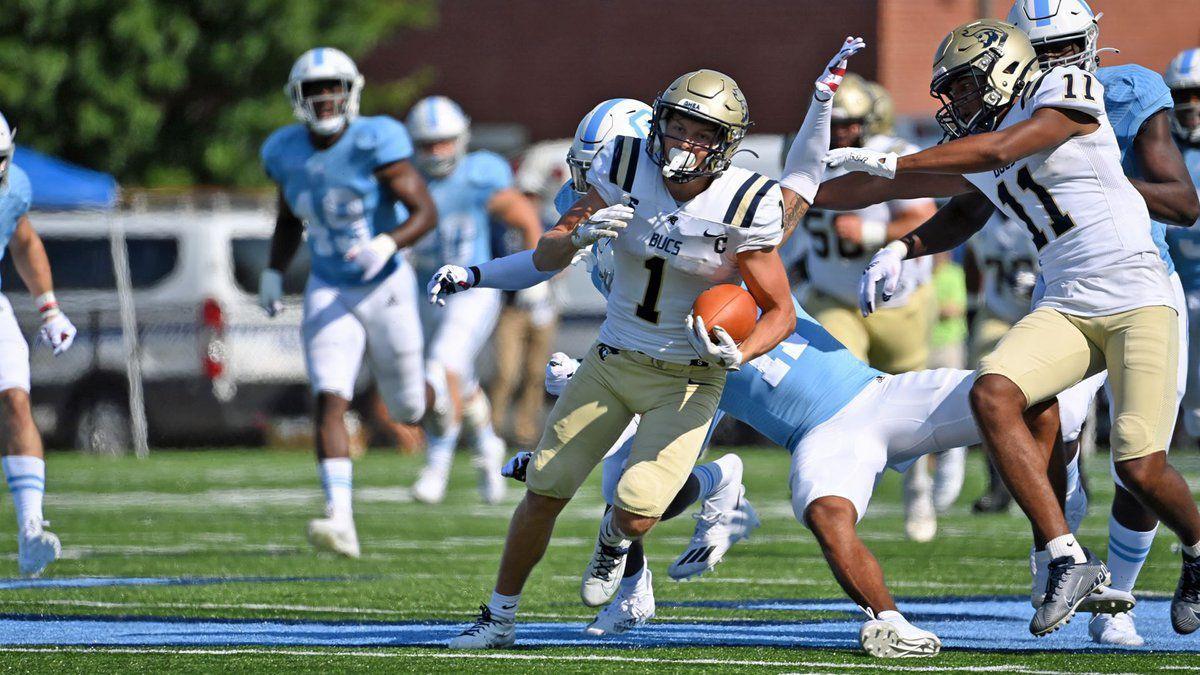 Charleston Southern receiver Garris Schwarting caught six passes for 151 yards and four touchdowns while adding a six-yard touchdown pass in the Buccaneers 38-21 victory over The Citadel Saturday.
Schwarting was recognized as the STATS PERFORM FCS National Offensive Player of the Week along with being named CFPA FCS National Offensive Performer of the Week.
He is the first Charleston Southern player to be recognized nationally for offensive performance.
On Monday, he was named Big South Offensive Player of the Week.
"It's hard to believe I could get that many touchdowns," Schwarting said Monday. "The most I ever scored in a game was two, and that was in high school."
Schwarting played prep football at Bamberg-Ehrhardt High School. He announced his decision to play at Charleston Southern in 2016. After the NCAA allowed players to have an extra year due to COVID restrictions, Schwarting decided to come back for one last season this year.
"Most of the guys I came in with (in that 2016 class) have decided to stay," Schwarting said. "It's been fun getting to know these guys and be around them every day."
Schwarting chose Charleston Southern over The Citadel and Newberry. According to Schwarting, his father graduated from The Citadel, and was in attendance celebrating Homecoming Saturday.
"It's always fun playing in the rivalry game," Schwarting said. "I have a lot of family from Charleston, so they were all at the game."
Despite the accolades, Schwarting was focused Monday as the Bucs play host to No. 20 Monmouth in a Big South conference game.
"Monmouth is a huge game," Schwarting said. "If we want to have any chance of winning the Big South, we have to beat them. It's a huge week."
Even in Charleston, Schwarting is keeping an eye on the Red Raiders. B-E starting quarterback Gage Boykin is Schwarting's cousin, so he says he talks with him on a regular basis.
"I keep up with what's going on," Schwarting said. "People post things on Facebook. I was able to get to a game last year, and I really want to try and make one this year as well."
SCSU's Cole, Rivera earn volleyball honors
South Carolina State volleyball players Chelsea Cole (jr.) and Kendal Rivera (fr.) were both named to the all-tournament team at the Wofford Invitational this weekend.
The Lady Bulldogs dropped matches to Gardner Webb (0-3), North Alabama (0-3) and host Wofford (0-3). Maria Julia Vedovatto Loureiro had 10 kills and 11 digs against North Alabama.
South Carolina State plays host to The Citadel Thursday, Sept. 16.
Patterson leads Claflin in Greenville
Caleb Patterson finished with a time of 18:01:34 to lead Claflin at the Furman Invitational 5K Saturday.
He finished 47th overall out of 65 total runners.
It was the first meet of the season for the Panthers who finished seventh out of seven teams. The team is scheduled to run Saturday at the Winthrop/Adidas Invitational in Rock Hill.
Gamecocks, Wildcats to play under the lights
The Southeastern Conference announced Monday South Carolina's home football game against Kentucky will be a 7 p.m. kick off Saturday, Sept. 25.
The Gamecocks (2-0) will face Georgia in Athens this Saturday at 6 p.m. on ESPN.
The conference also named USC kicker Parker White co-Special Teams Player of the Week. White connected on a last-second field to help lead the Gamecocks to a 20-17 victory over East Carolina.
Clemson, N.C. State gets 3:30 start time
The Atlantic Coast Conference released its slate of games for Saturday, Sept. 25 and Clemson's road game at N.C. State has been designated a 3:30 kick.
The Tigers face Georgia Tech Saturday at home beginning at 3:30 on ABC.
The league also named Clemson running back Will Shipley its Rookie of the Week after his performance against SC State. Shipley ran for 80 yards on eight carries for two touchdown against the Bulldogs.
SCSU remains ranked despite loss
Despite its 49-3 loss to Clemson, South Carolina State remained ranked in the BOXTOROW media and coaches polls both released Monday.
The Bulldogs are currently ranked eighth in the coaches' poll, one spot lower than last week. In the media poll, SCSU ranks ninth after dropping three spots.
South Carolina State travels to face FBS New Mexico State Saturday at 8 p.m.