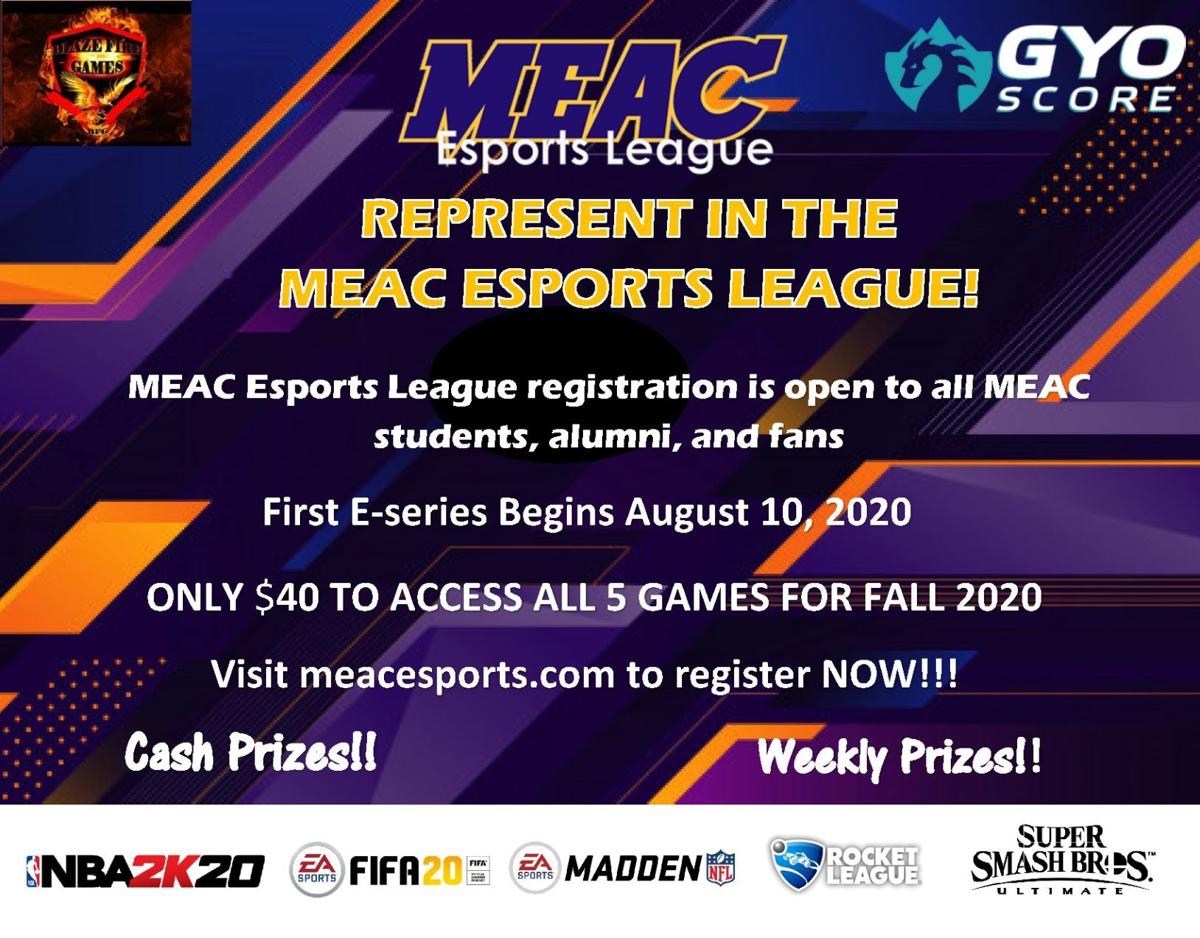 NORFOLK, Va. – Registration for the Mid-Eastern Athletic Conference Esports League, in conjunction with Blaze Fire Games, is open.
As schools continue to evaluate the conditions attributed to COVID-19, the MEAC Esports League will allow for students, alumni and prospects to stay connected and engaged through online gaming competition. 
Registration is $40 and will cover all of fall 2020 (July 20-Dec. 20) for the MEAC Esports League. The first eseries will run from Aug. 10-Sept. 14, with players able to participate in competitions for such games as NBA2K19, FIFA 20, Madden NFL, Rocket League and Super Smash Bros. Ultimate.
Registration for the MEAC Esports League includes access to all five games, with players able to select up to three games concurrently.
The online nature of esports will allow for players to engage with one another safely from their own homes until all universities return to normal campus activity, at which point the esports program will include on-campus components.
2 Tigers on Maxwell list
The Maxwell Football Club announced that Clemson running back Travis Etienne and quarterback Trevor Lawrence have been named as two of 90 players on the watch list for the Maxwell Award given to the most outstanding player in college football.
Butkus watch list
The Butkus Foundation announced that Clemson linebacker James Skalski has been named as one of 51 players on the watch list for the Butkus Award. The award honors the nation's best linebacker.
Thorpe watch list
University of South Carolina junior defensive back Israel Mukuamu was named to the preseason watch list for the prestigious Paycom Jim Thorpe Award.
The Thorpe Award preseason watch list includes 49 of the nation's best defensive backs.
Nagurski, Outland lists
Clemson defensive tackle Tyler Davis and linebacker James Skalski have been named to the watch list for the Bronko Nagurski Trophy, while Davis and offensive tackle Jackson Carman have been named to the Outland Trophy watch list.
University of South Carolina offensive lineman Sadarius Hutcherson is also among the 85 interior lineman that make up the preseason watch list for the Outland Trophy.
Groza watch list
University of South Carolina senior Parker White has been named to the 30-player watch list for the 2020 Lou Groza Collegiate Place-Kicker Award, announced today by the Palm Beach County Sports Commission.
White, a 6-5, 205-pound senior placekicker from Mount Pleasant, S.C., connected on 18-of-22 field goal attempts, 81.8%, and all 25 extra points, for a team-leading 79 points scored in 2019.
The award is named for National Football League Hall of Fame kicker Lou "The Toe" Groza, who played 21 seasons with the Cleveland Browns.
Hornung watch list
Clemson wide receiver and punt returner Amari Rodgers has been named as one of 50 players on the watch list for the Paul Hornung Award.
The Paul Hornung Award, now in its 11th season, is given annually to the most versatile player in major college football.
Wuerffel watch list
Organizers for the Wuerffel Trophy announced that Clemson running back Darien Rencher has been named as one of a record 114 players on the watch list for the Wuerffel Trophy.
University of South Carolina junior Dylan Wonnum is also on the Wuerffel Trophy list.
The Wuerffel Trophy, known as "College Football's Premier Award for Community Service," exists to honor college football players who serve others, celebrate their positive impact on society, and inspire greater service in the world.
Conference Carolinas to proceed
GREENVILLE – The Conference Carolinas Board of Directors unanimously approved a plan to proceed with intercollegiate competition in conference-sponsored sports in the upcoming fall semester. Intercollegiate competition may begin no earlier than Sept. 18.
Big South to begin Sept. 3
CHARLOTTE, N.C. -- With a priority for the health and safety of student-athletes and others due to the COVID-19 pandemic, the Big South Conference announced that it will begin fall sport competition on Thursday, Sept. 3.
7 Gamecocks on MLB rosters
The University of South Carolina had seven alumni on Major League Baseball rosters on opening day.
The list is highlighted by Taylor Widener (2014-16), who earns his first call to the majors as he made the Arizona Diamondbacks' 30-man roster and will start the 2020 season in the bullpen.
Here are the other six Gamecocks on rosters:
Jackie Bradley Jr. (Boston Red Sox)
Grayson Greiner (Detroit Tigers)
Whit Merrifield (Kansas City Royals)
Justin Smoak (Milwaukee Brewers)
Christian Walker (Arizona Diamondbacks)
Tyler Webb (St. Louis Cardinals)
Also, Jordan Montgomery is not on the Opening Day roster for the New York Yankees but is to be added.
Clemson to face Miss. St. in Cancun
CLEMSON – Tournament officials for the 13th annual men's Cancun Challenge have solidified the final field of eight teams and the schedule for the Thanksgiving week event.
This year's Riviera division features a mix between first-timers Clemson and Mississippi State, while also welcoming back Purdue (2016 Champion) and two-time Cancun Challenge participant Illinois State (2011, 2015).
In addition, officials have announced that Clemson will host Bucknell in a preliminary game in Littlejohn Coliseum on Friday, Nov. 20. The Tigers are 2-0 all-time against Bucknell.
Be the first to know
Get local news delivered to your inbox!