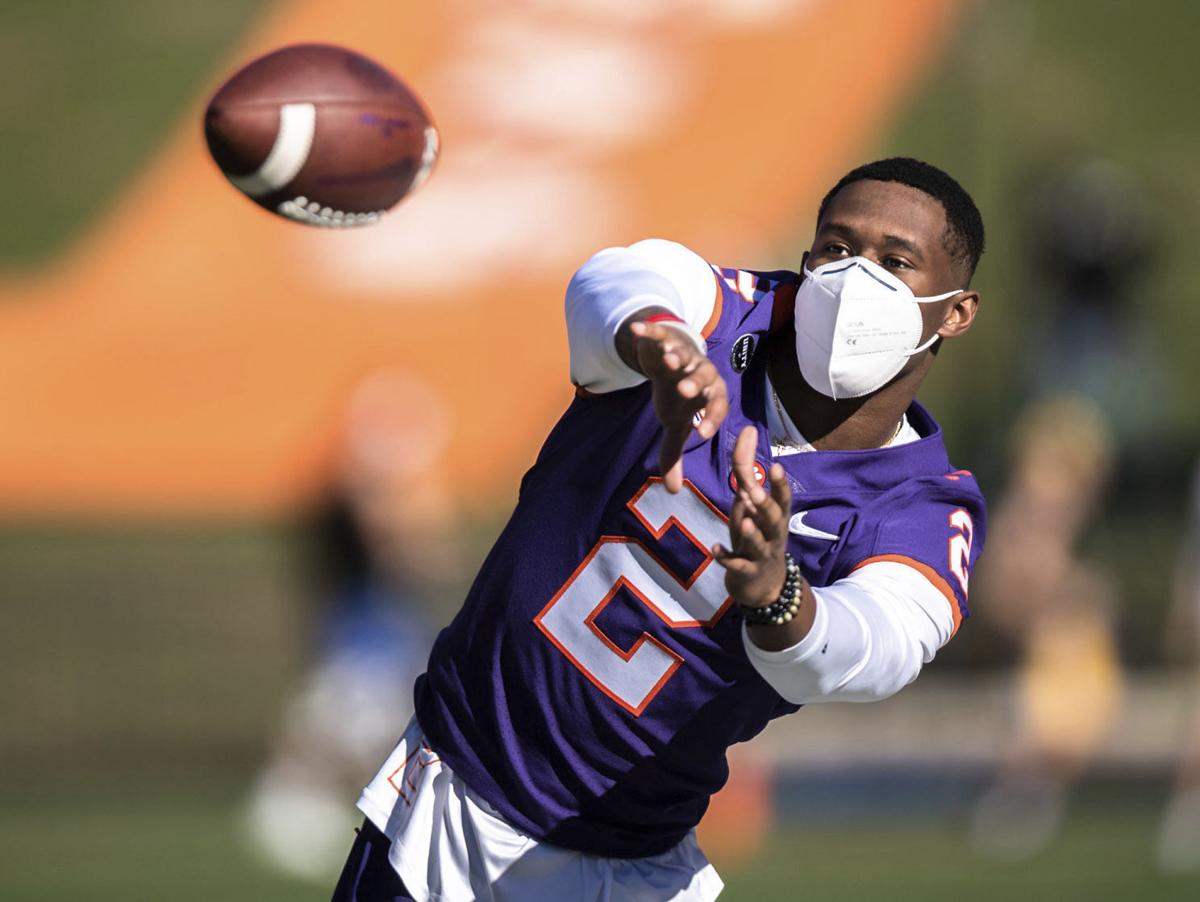 With Clemson's spring ball getting underway Wednesday, Clemson247 selects five players on offense (and defense to come) that could stand to take significant steps forward this offseason in order to make a leap in production and value during the 2021 season.
1. WR Joe Ngata (Jr.) and WR Frank Ladson (Jr.): Two-for-one in this first slot, and it should be obvious why both players are included in this list. Ngata nor Ladson had ideal sophomore seasons from both health and production standpoints. But both should enter spring ball healthy and hungry. Ngata caught just seven passes last season and had zero touchdowns. Ladson played in 10 games but only started four. He caught 18 passes in those 10 games.
Clemson's wide receiver unit has a chance to be really, really good in 2021. But there's still plenty of unknown and untapped.
Could totally have included redshirt sophomore wide receiver Brannon Spector on this list primarily due to the departure of Amari Rodgers. I elected to go with Ngata and Ladson because they possess more raw talent and are coming off disappointing seasons.
Plus, if Justyn Ross continues to be on pace to return to the field next fall and Ngata and Ladson do take the next steps, along with sophomore E.J. Williams being in the mix, less of a load falls on Spector despite the different positions and roles in the offense.
2. RB Chez Mellusi (Jr.): The more obvious pick for running back in this spot would've been senior Lyn-J Dixon. But Mellusi showed us flashes in 2020 that were promising, and for the first time in his career at Clemson, he's presented with a legit opportunity to become a significant part of the offense. Even if Dixon makes 2021 his best year at Clemson, there's opportunity for Mellusi as the second lead back to make a notable impact.
There are plenty of bodies (Dixon, Mellusi, Mikey Dukes, Kobe Pace, Will Shipley, Phil Mafah, Darien Rencher) in the running back room this spring and summer, and that's a good thing for competition. C.J. Spiller will have no shortage of that to fuel his guys.
3. OL Hunter Rayburn (RS So.): To be honest, we don't have a large enough sample size to know if Rayburn has a shot at legitimately factoring into the center rotation this spring or beyond. But that's also reason enough for some blind optimism?
Rayburn (6-4, 320) played 57 snaps over six games in 2020.
He wasn't the first or second-best option for the position despite the options ahead of him having limitations. He was listed as third-team center on the depth chart behind Cade Stewart and Mason Trotter.
With Stewart having moved on, there's a vacancy at center. Who fills the role and how capable is the occupant are two big questions facing Clemson this offseason. I didn't include Trotter because despite Trotter out-playing his recruiting ranking already, he's undersized and there's a probable ceiling there.
4. OL Paul Tchio (So.): Fair to suggest that Tchio ranked as the eighth or ninth most viable option at offensive line for Clemson last season behind Walker Parks and Trotter?
The freshmen OL snap counts withstanding Parks:
Tchio: 80 snaps over 9 games
Mitchell Mayes: 61 snaps over 4 games
Trent Howard: 21 snaps over 4 games
Bryn Tucker: 11 snaps over 3 games
John Williams: 7 snaps over 2 games
Converted guard Tayquon Johnson played 86 snaps over 11 games, so perhaps he would have fit in at No. 8 over Tchio.
Veteran Blake Vinson (37 snaps/3 games) didn't play in a game on the schedule past Georgia Tech on Oct. 15.
Point being, Clemson needs Tchio to be a dependable rotational player in 2021. Tchio's place on the depth chart last year was second team left guard behind Matt Bockhorst. Will be interesting to see if Tchio sticks inside or if Clemson has any inclination to train him at tackle. Regardless, Clemson needs to get Tchio ready for meaningful snaps in his Year 2.
5. QB Hunter Helms (RS Fr.): OK so including a preferred walk-on on this list might not have been your first guess, but the depth behind D.J. Uiagalelei is largely unproven and young. Redshirt sophomore Taisun Phommachanh knows the offense as the elder in the room, but Helms, as a freshman, was arguably the better passer than Phommachanh in the limited times we saw them in 2020.
Helms was 9-of-12 for 77 yards and two touchdowns in 22 snaps played over three games.
Phommachanh was was 5-of-17 for 17 yards in 43 snaps played over four games.
Should Uiagalelei get banged up and have to miss a half or a game or even multiple games, is there an obvious answer as to which backup quarterback enters the game, especially if Clemson needs to pass to win? I'm not sure.
Freshmen quarterbacks Bubba Chandler and Will Taylor don't arrive on campus until June and are unlikely Year 1 contributors.