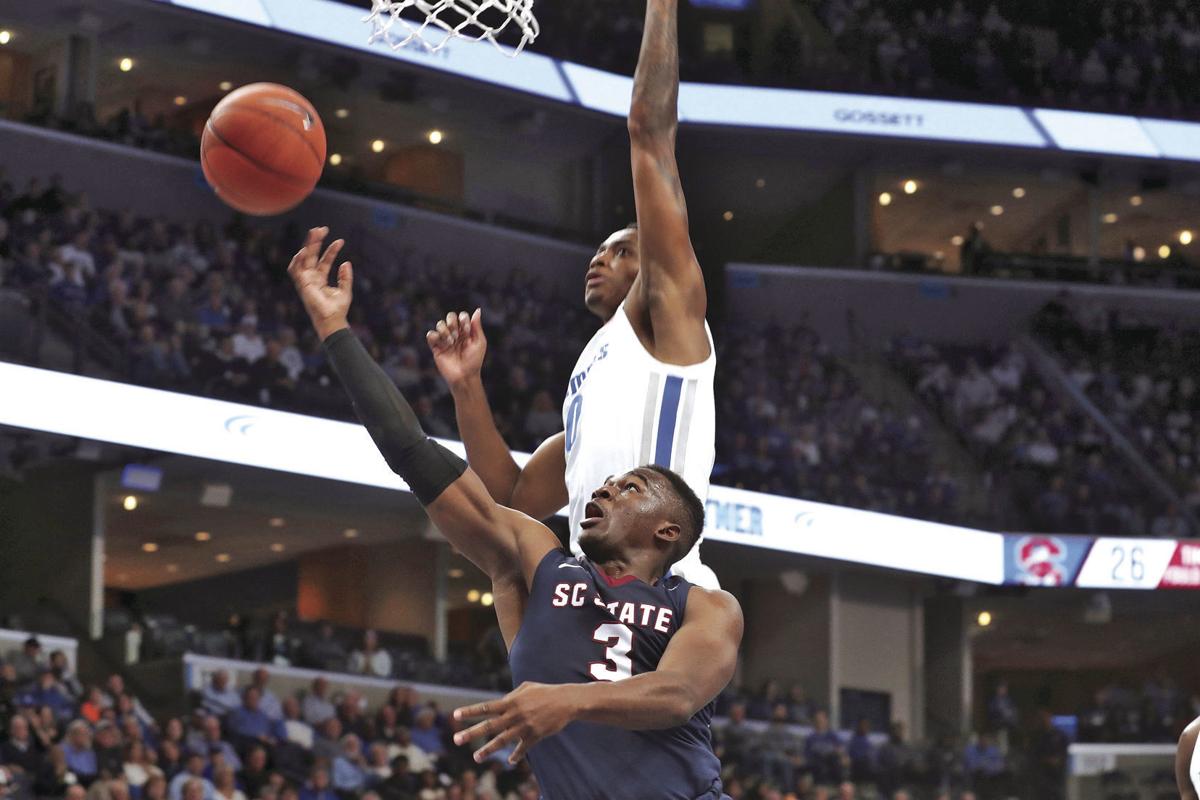 BASKETBALL
No. 14 Memphis top Bulldogs 97-64
MEMPHIS, Tenn. (AP) — James Wiseman, the nation's top-rated recruit, had 28 points and 11 rebounds as No. 14 Memphis beat South Carolina State 97-64 on Tuesday night.
Fellow freshman Precious Achiuwa added 14 points and eight rebounds for Memphis (1-0). Wiseman connected on 11 of 14 shots and blocked three shots before checking out for good midway through the second half.
Ian Kinard led South Carolina State (0-1) with 13 points, and Jahmari Etienne scored 11.
It's doubtful the Bulldogs will face as tough a challenge as they did in the season opener. No other teams on South Carolina State's schedule are in the Top 25. The Bulldogs, a member of the MEAC, are picked fifth in the conference preseason poll.
UP NEXT: South Carolina State hosts Bob Jones University on Friday.
Lady Bulldogs fall in season opener
The South Carolina State women's basketball team dropped its season opener to visiting Presbyterian College 70-49, Tuesday, Nov. 5, at Smith-Hammond-Middleton Memorial Center.
Junior forward Dejah Williford-Kelley finished with a team-high 11 points and six rebounds, while redshirt sophomore Zeleria Simpson added nine. Freshman forward Jayah Hicks had six rebounds and senior guard Chrisana Scott chipped in eight each in the loss.
Despite the lofty 23 turnovers, South Carolina State led in several categories including points of turnovers (15-12), 2nd chance points (13-7) and bench points (25-22).
SC State returns to action at noon on Saturday, when they play at Charleston Southern. Game will be televised live on ESPN+.
No. 8 Gamecocks rout Alabama State
COLUMBIA (AP) — Freshman Aliyah Boston had a triple-double in her South Carolina debut, leading the eighth-ranked Gamecocks to a 103-43 win over Alabama State on Tuesday night.
Boston finished with 12 points, 12 rebounds and 10 blocks. After her final blocked shot sent the ball out of bounds in the fourth quarter, several teammates bounced off her and South Carolina coach Dawn Staley pulled her out to huge cheers.
Boston's triple-double was the seventh in South Carolina history and the first by a freshman. 
It was the sixth time in Staley's 12 seasons at South Carolina that her team has scored at least 100 points.
UP NEXT: South Carolina has a two-game road swing, heading to No. 4 Maryland on Sunday, then to Dayton on Nov. 13.
Virginia Tech tops Clemson to 67-60 
CLEMSON (AP) — P.J. Horne had a tie-breaking dunk with 63 seconds left and freshman Landers Nolley II scored 30 points and Virginia Tech outlasted Clemson 67-60 on Tuesday night in the Atlantic Coast Conference and season opener for both teams.
Clemson rallied from 55-50 down to it at 57-all with 1:11 left. That's when Wabissa Bede came out of a defensive tangle to throw a long pass to a wide-open Horne, who jammed the ball, got fouled and made the free throw.
Bede came up big one more time when he blocked the shot of Tigers freshman Al-Amir Dawes, picked up the steal that lead to a basket from Tyrece Radford to seal it with 39 seconds left.
It was Clemson's first loss in a season opener since 1984-85, a run of 34 straight wins that was snapped. Clemson continues its three-game opening week against Presbyterian on Thursday night.
North Alabama at South Carolina, 7 p.m., SECN
Furman at Clemson (W), 7 p.m.
VOLLEYBALL
Claflin travels to Winston-Salem State
WINSTON-SALEM, N.C – The Claflin University volleyball team will try to avenge an early season loss when the Lady Panthers visit Winston-Salem State University (WSSU) on Wednesday, Nov. 6.
First serve for the Central Intercollegiate Athletic Association (CIAA) Southern Division matchup is 6 p.m. inside Whitaker Gymnasium on the WSSU campus.
Claflin, 6-15 on the season and 5-9 against CIAA teams, fell to WSSU the first time around in straight sets 3-0 (25-16, 25-18, 25-15). 
Taylor Drayton was the bright spot for Claflin offensively with eight kills and two service aces. Drayton is currently tied for the team lead in kills with Jala Roberts at 171 and her 24 serve aces is second to Sadaiya Edouard who has a team-high 28.
Edouard is the best blocker for Claflin with 55.
Léah Wellington, who had 12 assists in the match against WSSU, continues to lead the Lady Panthers in that department with 247.
Trinity Fierce is nearing the 200-mark in digs for the season 192 for Claflin followed by Jada Jones at 168.
Ytae Cobb is WSSU 's kills leader with 161. The Rams have four players over the 100 kills mark as Tailar Jackson has 117, Miranda Taylor has 109 and Sanaa Lanier has 102.
Claflin will enter the match losers of its last three contests, while WSSU is 4-1 over its last five matches before Tuesday's clash with Shaw University. The Rams took a 13-8 overall record that included a 10-3 CIAA mark into the match against Shaw.
After the road trip to WSSU, Claflin will wrap of its season next week with two divisional matches. The Lady Panthers will host Fayetteville State University on Nov. 12 for First Responders Night/ Military Night. The match is slated for 6 p.m. at the Jonas T. Kennedy Health and Wellness Center (Tullis Arena).
The Lady Panthers will end the regular season at Saint Augustine's on Nov. 15 in Raleigh, N.C.
FOOTBALL
B-E's Wilson nominated for
Capital One Courage Award
MIAMI LAKES, Fla. – Georgia Southern's Drew Wilson, a former Bamberg-Ehrhardt standout lineman, has been named as a nominee for the 2019 Capital One Orange Bowl-FWAA Courage Award.
Wilson, a redshirt junior, has started all eight games this at right tackle for the Eagles (5-3 record), after missing the 2018 season and undergoing four surgeries to repair a detached retina in his right eye.
The 6-foot-4, 310-pound Wilson now wears a visor on his helmet and wears goggles to protect the eye during helmet-less drills.
Wilson has played in 30 career games and started 24 for Georgia Southern, helping the Eagles post 259.8 rushing yards per game, the seventh-most prolific rushing attack in the country. They have given up just nine sacks this season too, good for 14th-best nationally. This past Thursday, the Eagles went to Appalachian State and gave the Mountaineers their first loss of the season, 24-21.
The Courage Award was first presented by the Football Writers Association of America (FWAA) in 2002. A select group of writers from the FWAA vote on the winner each year.
Be the first to know
Get local news delivered to your inbox!