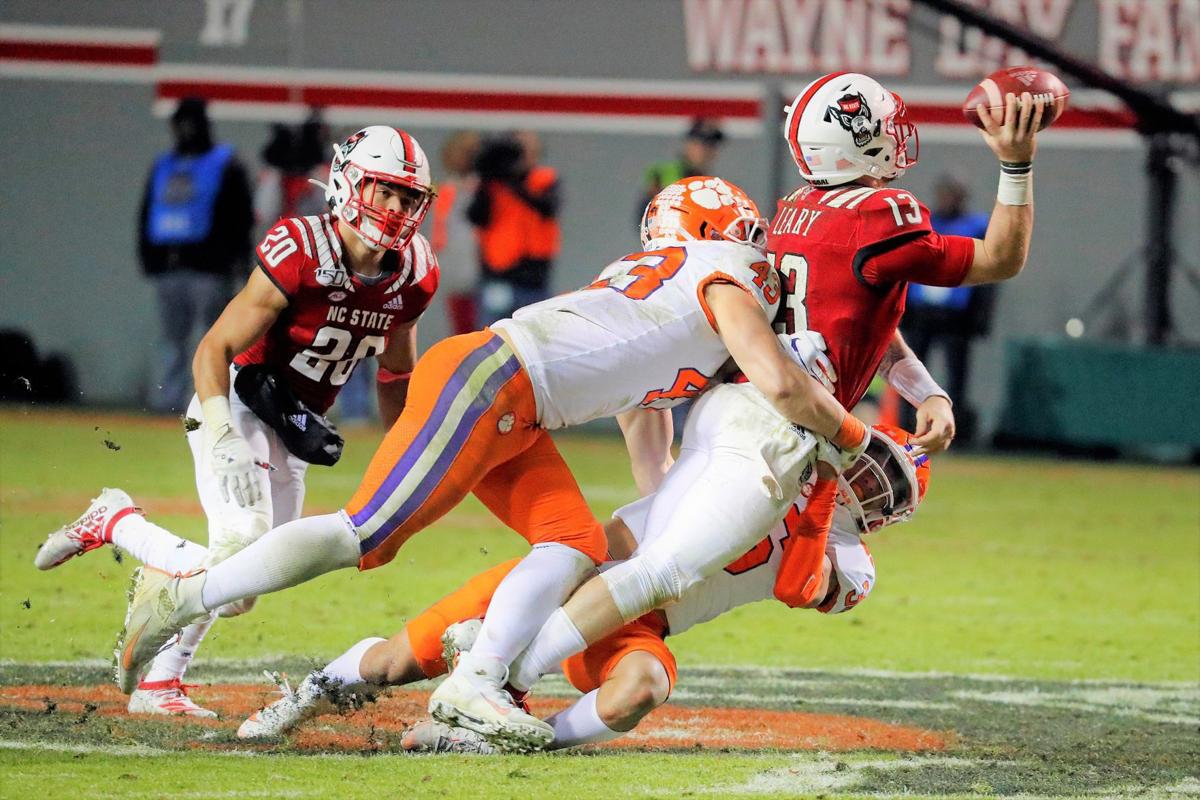 RALEIGH, N.C. — With the Atlantic Division championship on the line in ACC football play, the No. 5 Clemson Tigers (10-0, 7-0 ACC) took out their perceived slight this past week by the College Football Playoff rankings on a beat-up and battered NC State Wolfpack team with a win by the score of 55-10 on Saturday night.
With the win, the Tigers punched their ticket to Charlotte for the ACC Championship.
"It's really special (to clinch the division); I'm just so proud of our guys," Clemson head coach Dabo Swinney said. "It was just an unbelievable night. Things worked out to where we had a chance to clinch tonight. And man they were ready, they were focused and to win it for the fifth time in a row, that's an amazing accomplishment for these guys.
"We are just building on what's happened in the previous years, but we're excited about it. We've got a lot more goals too."
With a ton of controversy over where the Tigers fell in the first CFP rankings, Swinney still believes that his team just needs to keep focusing on what they can control and, hopefully, they will hear their name called on selection Sunday.
"Hopefully we can keep playing well and we'll have a shot," Swinney said. "A couple of teams (including Alabama and Penn State) lost, so maybe we'll move up in there. But that doesn't really matter right now.
"What matters is taking care of what we control, and that's game day."
The Tigers' domination started in the first quarter, when they forced two Wolfpack' turnovers, scored four touchdowns and outgained the Wolfpack 210 yards to 14 yards.
Clemson finished the first quarter with a 28-0 lead, the first time they have scored 28 points in the first quarter of a game since 2012 (Duke). The record-tying first quarter also extended the Tigers' first quarter domination of opponents to 128-7 this season.
Clemson kept things going early in the second quarter. After quarterback Trevor Lawrence completed passes for 36 total yards, and running back Travis Etienne moved the ball to the 1-yard line on a 7-yard run, the Tigers turned to their new-look "jumbo package.' John Simpson (6-4, 330 pounds) took the handoff and became the first Clemson offensive lineman to score a touchdown since Brandon Thomas recovered a fumble in the end zone at Georgia Tech on Oct. 29, 2011.
Facing a fourth-and-5 from the 50-yard line with 1:02 to play in the first half, Lawrence found Lyn-J Dixon for a 17-yard gain, before he connected with Justyn Ross for a 33-yard touchdown that extended the first-half lead to 42-0.
You have free articles remaining.
"We just play Clemson every week," Swinney said. "We respect every opponent, we take pride in the preparation that leads to these types of performances."
NC State had their best drive of the first half on their ensuing drive, as they drove to the Clemson 10-yard line before their third fumble of the first half was recovered by Xavier Thomas.
The 42-0 halftime lead tied the second-largest tied halftime lead in an ACC game over the last 15 seasons. In 2016, Louisville led by 44 points against NC State.
NC State finally got on the board in the second half, as Bam Knight capped off a 5-play, 75-yard drive with a 53-yard touchdown run that cut the Tigers' lead to 42-7.
Clemson answered the Wolfpack' score on their next drive. Etienne capped off an 11-play, 75-yard drive with an 8-yard touchdown run, his 50th touchdown, only two shy of the ACC record held by former Pitt running back James Connor. Etienne finished the game with 112 yards rushing, which tied the school record for consecutive 100-yard rushing games set by both Kenny Flowers and (Allendale native) Raymond Priester.
The Wolfpack added a 46-yard field goal that cut the lead to 49-10, but that was as close as they got.
The Tigers followed a muffed punt return by the home team and scored a final touchdown (on a one-yard run by former First Baptist School standout Michel Dukes) with 11 seconds remaining in the game.
- Clemson won 10 games for a school-record ninth consecutive season. With its 10th win of the season, Clemson would match Texas (2001-09) for the third-longest streak of 10-win seasons in FBS history.
- Clemson clinched the ACC Atlantic Division to become the first ACC team to win five consecutive division titles.
- Clemson earned a berth in the ACC Championship Game for the seventh time, passing Virginia Tech (six) for the most ACC Championship Game appearances in either division
Up Next: The Tigers close out their home schedule against the Wake Forest Demon Deacons on Saturday, Nov. 16 (3:30 p.m., ABC).
Zach Lentz is a Clemson University alumnus who got his start working with the Tigers basketball team from 1999-2004. Now a resident of Orangeburg County, he reports on Clemson sports as a correspondent for The Times and Democrat. He also serves as a co-host of Solid Orange, seen at 11 p.m. Wednesdays on WACH FOX 57 in Columbia. He is editor of www.ClemsonMaven.io