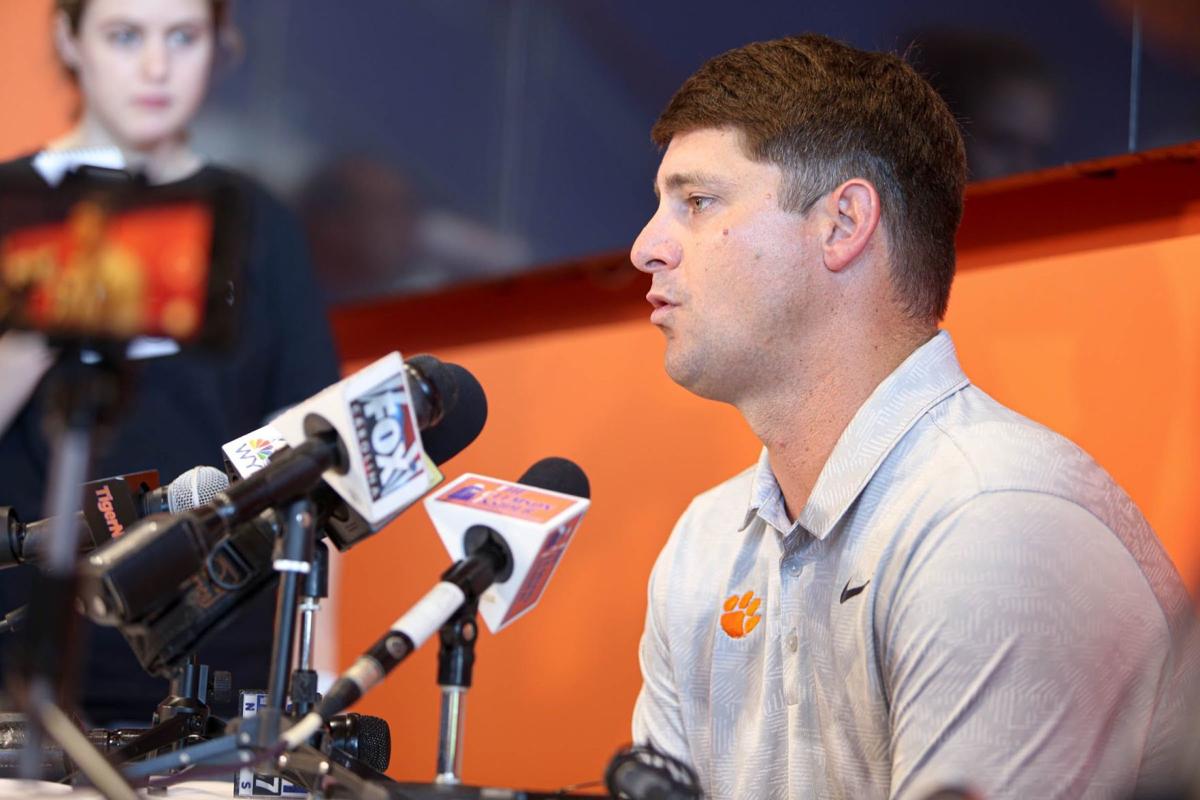 CLEMSON — One might wonder how Clemson Tigers wide receivers coach Jeff Scott balances a bevy of five-star "Frisbee-catching dogs," as head coach Dabo Swinney likes to call his players, with the egos that come with such a talented group and the delicate balance of keeping them happy.
But for Scott, the issue is not as big of a deal as one might imagine, because of the culture that was established long before Clemson recruits ever stepped foot on campus.
"I think for us it kind of goes back to the culture that's been created here," Scott said. "Having a talented wide receivers room is not anything new. I go back to one of the pictures I've shown in the recruiting process. It's the 2012 wide receiver group. I've got a picture of six of them on the bench and all six of the guys have had an opportunity to play in the NFL.
"You may think of some other programs, think of one or two right out from the last five or six years. When you think about it, there's a lot of guys."
Scott continued to reiterate his point at media day as he referenced the Tigers' leading receiver from the 2018 season.
You have free articles remaining.
Justyn Ross did not start a game for the Tigers last season but still managed to lead Clemson with 46 receptions for a team-high 1,000 yards with nine touchdowns in 343 snaps in 15 games.
"That says a lot to the other guys who maybe aren't in as a starter right now to simply get opportunities. For us, pitch-swing is really big; if the guy deserves to play, if he's earned the opportunity to play, we need to give them those opportunities.
"The ball finds guys in the games. We really have earned that and get open in practice. It's something, I think, (a) quarterback develops that trust in practice through fall camp and through consistency day after day."
This season, Scott will once again have to navigate the waters of managing playing time, as two more high-profile recruits, Joe Ngata and Frank Ladson Jr., will be looking for their moment in the spotlight.
But regardless of the amount of top-tier recruits he has in the wide receiver room, this process — starting when a player is recruited and does not end when they arrive on campus — is one that has worked for Scott and the rest of the Tiger coaching staff for years.
And they are not planning on tinkering with the formula.
"It's something we talk about, and the guys have to buy into," Scott said. "It's something we talk about in the recruiting process as well. We play seven guys a game. To be honest, I feel like that's been one of the reasons for our success. We play 59 games in four years.
"Look at us, the last two games, last two years, our guys were fresh and ready to go out there and make plays. And a big reason for that is because of the way that we split up the reps throughout the year. They helped develop those, a lot of depth at that position."
Zach Lentz is a Clemson University alumnus who got his start working with the Tigers basketball team from 1999-2004. Now a resident of Orangeburg County, he reports on Clemson sports as a correspondent for The Times and Democrat. He also serves as a co-host of Solid Orange, seen at 11 p.m. Wednesdays on WACH FOX 57 in Columbia. He is editor of www.ClemsonMaven.io