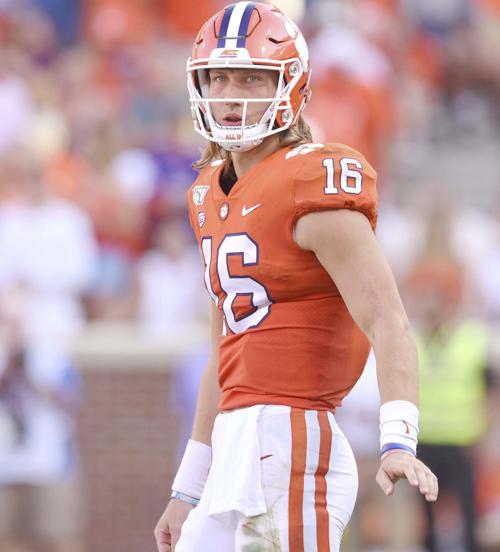 CLEMSON — For Clemson quarterback Trevor Lawrence, the expectations heading into his sophomore season could not have been higher after he became the first true freshman to lead his team to a national championship win in nearly 40 years.
Pegged by many as the sure-fire frontrunner for the Heisman Trophy this season, it was never a question about how many touchdowns, yards and accolades that Lawrence would accumulate — it was how many records he would break.
But the buzz surrounding the 6-foot-6, long-haired signal-caller has died a little after the first two weeks of the season. In fact, he has fallen to No. 6 in ESPN's latest Heisman ranking.
"Many pegged Lawrence as a clear Heisman favorite to start the season, and while he hasn't gotten off to quite the start many envisioned, he's still been pretty darn good. In the Tigers' 24-10 win over Texas A&M on Saturday, the sophomore QB accounted for two TDs, including a 30-yard TD pass to Justyn Ross," ESPN wrote.
"It has not been a great start statistically, but look at some of the throws Lawrence made against Texas A&M and it's obvious a breakthrough performance is on the horizon," David Hale said. "He's just biding his time."
You have free articles remaining.
Lawrence understands there was no way to live up to the hype and his focus is on winning games — not padding his stats.
"Yeah, it's definitely something you've got to kind of keep bringing yourself back to. It's just, you know, we're winning ... we're not going to play perfect, that's the biggest thing for me is I'm not going to play perfect," Lawrence said. "Regardless of the expectations, my main goal is to win and to be a good leader and to do everything I can to help our team win, so that's something I'm having to keep bringing myself back to me. It doesn't really matter what my stats are, as long as we're winning and we're performing well.
But it is not only Lawrence dealing with the expectations this season — the entire team has people already pegging them to not only win the ACC for a fifth straight season but to also win a second straight national title.
"(Staying grounded) starts with Coach Swinney. He does a great job of keeping everyone kind of grounded," Lawrence said. "You know, he's right, he says, 'We're going to get everyone's best every week. They circle Clemson when they play us," so we know every week we're getting everyone's best. So that's one thing that keeps you grounded and makes you want to prepare every week because you know you're getting their best.
"Coach Swinney also says, "We haven't earned anything," you know, we've played two games. We're supposedly the number one team, but we've only played two games and there's a whole lot of other good teams so ... we're stilling trying to prove that every week."
They will have an opportunity to "prove" it this week for the first time on the road as they travel to Syracuse — site of their last regular season road loss.
"It's always a good challenge going on the road, it's just different," Lawrence said. "I mean, it's still football, you know, still the same thing, but there's something about it that makes it a little bit different. So it'll be a good challenge for us going on the road. It's a really good Syracuse team, they always play us tough, so it will be a good challenge for us, for sure.
"I've heard it gets really loud, it's kind of packed in there. We're excited for it, it's going to be awesome. You know, last time the team went to Syracuse, I wasn't on the team, but they beat us so we have some motivation going into the game."
Zach Lentz is a Clemson University alumnus who got his start working with the Tigers basketball team from 1999-2004. Now a resident of Orangeburg County, he reports on Clemson sports as a correspondent for The Times and Democrat. He also serves as a co-host of Solid Orange, seen at 11 p.m. Wednesdays on WACH FOX 57 in Columbia. He is editor of www.ClemsonMaven.io