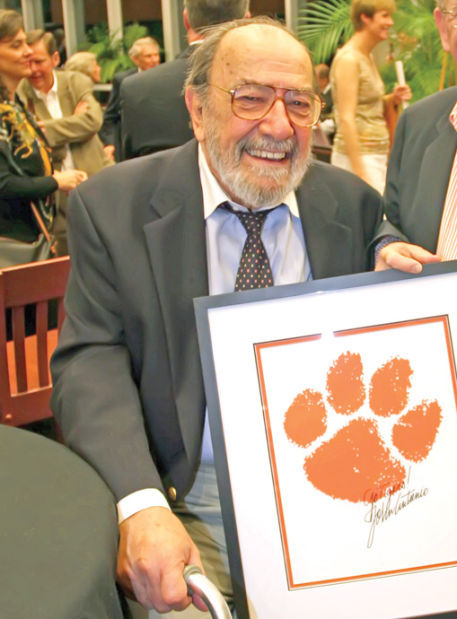 ISSUE: The death of John Antonio
OUR VIEW: Tiger Paw creator will live on through his design
John Antonio, 83, the designer of Clemson's Tiger Paw logo, died Thursday in Greenville after a long bout with cancer. Many may not have known of him or the story of the logo he created for the university.
The native of Greenville designed the logo in the spring of 1970 and it was introduced at six separate press conferences by officials including then-head football coach Hootie Ingram.
Henderson Advertising in Greenville was hired to work on a new athletic logo. Company President Jimmy Henderson gave the project to Antonio, who had worked with corporations on logos and public relations. He contacted every school in the nation and requested a copy of their Tiger logo. All were pictures or drawings in some form of a tiger.
Antonio then wrote the Museum of National History in Chicago and asked for a plaster-of-paris cast of the imprint of a Bengal tiger's paw. This was sent to Henderson and a picture was made, slightly tilted about 10 degrees to the right.
Antonio had a meeting with Clemson coaches and administrators in early summer of 1970 and showed the use of the Tiger paw on stationary, athletic fields and uniforms. Frank Howard, retired coach and then director of athletics, was not impressed until Antonio pulled out an orange Clemson helmet from under the desk. He had affixed a white tiger paw to the helmet.
"That helmet made a big impact on Coach Howard," Sports Information Director Bob Bradley recalled years later. "He was so impressed he wanted to bring that helmet back to Clemson and show everyone."
Antonio may be gone but he certainly left his mark in Clemson and South Carolina and far, far beyond.
Be the first to know
Get local news delivered to your inbox!