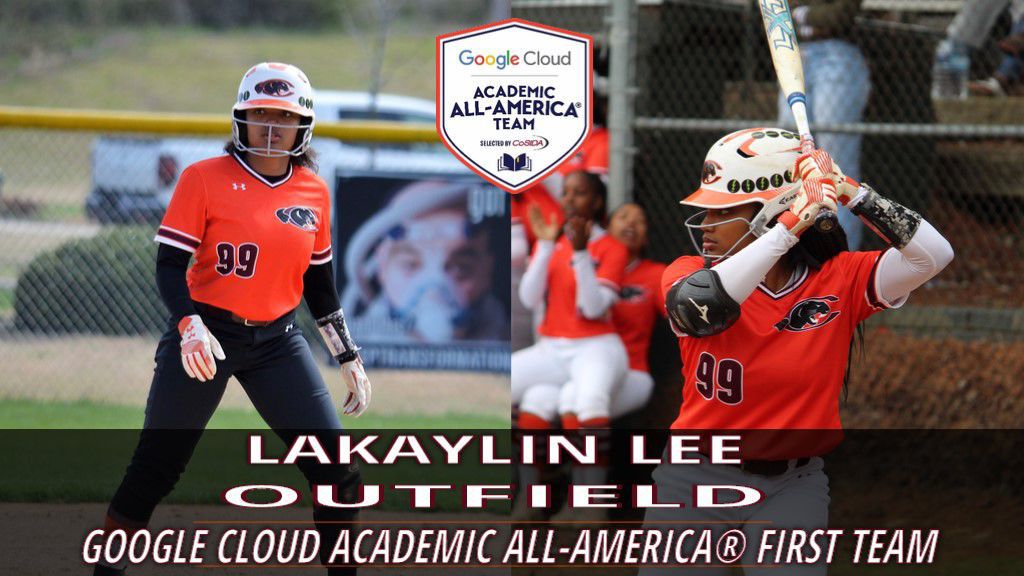 Claflin's Lee earns honor
AUSTIN, Texas -- Former Claflin University softball player LaKaylin Lee, '19, has been named to the 2019 Google Cloud Academic All-America® Division II Softball First Team, as selected by the College Sports Information Directors of America (CoSIDA). Lee was earlier named to the 2019 Google Cloud Academic All-District Softball Team in May. The Google Cloud Academic All-America® Division II Softball Team was announced on May 5.
 The Division II Google Cloud Academic All-America® program is partially financially supported by the NCAA Division II national governance structure, to assist CoSIDA with handling the awards fulfillment aspects for the 2018-19 Division II Academic All-America® teams.
 Lee, a 5-2, outfielder, from, Decatur, Georgia, was named to the 2019 Central Intercollegiate Athletic Association (CIAA) Female Scholar Athlete of the Year and to the 2019 All-CIAA First Team. She is also a 2019 Division 2 Conference Commissioners Association (D2CCA) Softball All-Atlantic Region Second Team Selection and a member of the 2019 Easton/National Fastpitch Coaches Association (NFCA) Academic All-America Scholar Athlete Team.
 Lee graduated Summa Cum Laude with a degree in Business Management at the 150th Commencement this past May. She finished the 2019 season ranked 11th in sacrifice flies and 32nd in runs per game in the nation. Lee finished her career with a .385 batting average, a .608 slugging percentage along with 100 of 107 stolen bases. This season she amassed 55 runs with 55 hits including nine doubles, five triples and four homeruns with 32 RBIs and 30 stolen bases in 31 attempts.
 She is 1-of-18 members of the 2019 Google Cloud Academic All-America® Division II Softball teams have at least a 3.90 G.P.A.
Kerry earns 1st Team Freshman All-America Honor
LYNCHBURG, Va. - University of South Carolina freshman righthanded pitcher Brett Kerry has been named a First Team Freshman All-American by the National Collegiate Baseball Writers Association (NCBWA), it was announced this afternoon (Monday, June 10). It was the first NCBWA Freshman All-America honor for the Gamecocks since Carlos Cortes was on the team in 2017.
Kerry, who also was named to the Freshman All-SEC team and was a Collegiate Baseball Freshman All-American, ended his rookie season with a 4-1 record and a 2.62 ERA while recording seven saves in 22 appearances, including two starts. He held opponents to a .200 batting average and had 65 strikeouts in 58.1 innings pitched. In the SEC, Kerry was 2-1 with a 2.95 ERA with four saves and 39 strikeouts in 42.2 innings. The freshman helped the Gamecocks get into the SEC Tournament after striking out four and allowing just five hits and two runs in 6.1 innings in a win over No. 5 Mississippi State.
Kerry was a two-time SEC Freshman of the Week (March 4, May 13). He had seven strikeouts in 3.1 innings pitched in a win over Clemson on March 1 and had saves in back-to-back wins against Kentucky on May 10 and 11. He pitched in three innings or more in 10 appearances, including a career-high 6.1 in the regular-season finale vs. Mississippi State.
South Carolina has now had four NCBWA Freshman All-Americans - Kerry, Cortes, Braden Webb (2016) and Max Schrock (2013).
Go helps win Arnold Palmer Cup
ROLAND, Ark. - South Carolina rising-senior Lois Kaye Go helped Team International win the 2019 Arnold Palmer Cup on Sunday, contributing one of the final points to clinch the win at the prestigious event.
During the four rounds of match play that stretched over a three-day period, Go aided in two of Team International's 30.5 points that were needed to clinch a victory. Go is the first Gamecock women's golfer to win the Arnold Palmer Cup.
Every match Go was a part of went at least 17 holes throughout the event, totaling 70 holes in just three days at the Alotian Golf Club for the native of Cebu City, Philippines. Go picked up a victory in the mixed foursomes morning session with best ball on Saturday and then another on Sunday during the singles matches.
In the victory in the mixed foursomes, Go and her partner Peng Pichaikool of Mississippi State defeated the University of Texas pair of Cole Hammer and Hailee Cooper. An impressive victory for the international duo, with Hammer the No. 4 ranked amateur according to World Amateur Golf Rankings.
Go's success against the University of Texas continued to Sunday's singles matches. She took down Kaitlyn Papp, a sophomore for the Longhorns, who is the No. 25 ranked amateur according to World Amateur Golf Rankings.
Go's success at the Arnold Palmer Cup comes shortly after she was named an All-American by the Women's Golf Coaches Association (WGCA). Go also was named First Team All-SEC this past season and currently holds the career stroke average record heading into her senior year at 72.63. Go's 2018-19 resume also includes SEC Scholar Athlete of the Year, 2018 Asian Games gold medalist, 2018 Kuala Lumpur Amateur Open champion and 2019 Philippine Amateur Open champion.
Be the first to know
Get local news delivered to your inbox!