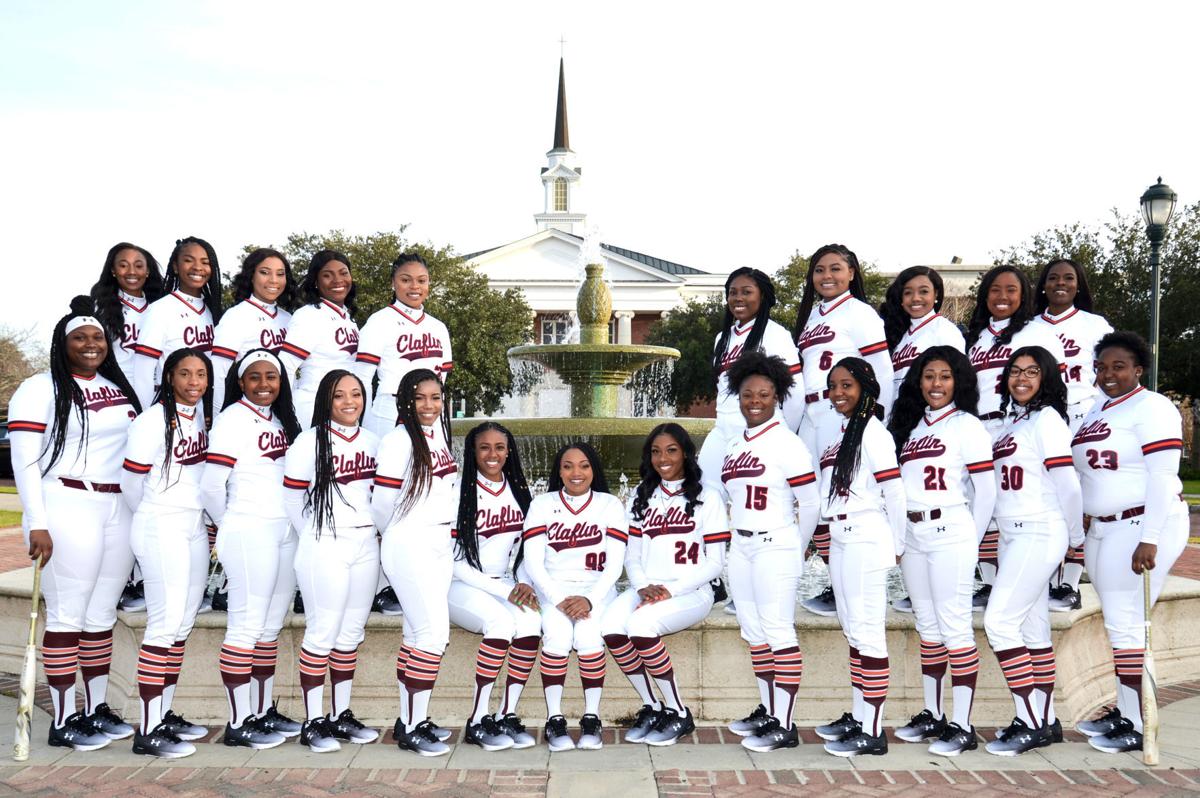 SALISBURY, N.C. – In their first season competing in the Central Intercollegiate Athletic Association, the Claflin University Lady Panthers softball team completed an unbeaten conference season.
Claflin shut out winless Livingstone in a Southern Division contest on Wednesday, winning game one 8-0 and game two 18-0, to finish undefeated in CIAA play at 18-0.
The Lady Panthers, who sit at 32-15 on the season, clinched the Southern Division of the conference and earned the No. 1 divisional seed in the upcoming CIAA post-season tournament.
In game one, Bre'Zhay Chambers picked up her 14th win of the season, going all six innings, allowing just one hit with 12 strikeouts against 23 batters faced.
Chaston Huntly led the Claflin offense, going 3-for-4 with a run and an RBI. Kayla Cato went 2-for-3 with a triple, 2 runs and 2 RBI, and Marion Goins hit her first collegiate home run in going 2-for-3 and adding a run and double.
Claflin opened the game with a run in the first inning, as Cato tripled with two outs and scored on an RBI-single by Huntly.
After neither team scored in the next two innings, the Lady Panthers' offense erupted for 4 runs in the top of the fifth, fueled by the Goins' homer to lead off the inning.
Claflin put up one additional run in the fifth and 2 in the sixth to capture the 8-0 shutout victory.
"It's been a great season thus far, as our pitching has been outstanding and we've had timely hitting," Claflin head coach Marty Kinard said about capturing the division in the team's first year in the conference. "I must give credit to our seniors who have stepped up and led the way for the underclassmen.
"We are looking to get better every day and put ourselves in position to win a conference championship."
The Lady Panthers maintained the momentum in game two, putting up 2 runs off 3 hits and a Blue Bear error in the opening inning.
The Lady Panthers' offense scored 5 runs in the third inning to take a commanding 7-0 lead. Angel Johnson led off the inning with a single and advanced all the way to third on an error by the catcher, scoring later on a double by Cato. Huntly singled to score Cato from second for Claflin's second run of the inning and fourth of the game.
With an out, the Lady Panthers next three batters reached the basepaths, as Shauneyah Nicholas and Mercedes Howze singled to score Huntly, and another Blue Bear error allowed Jasmine Squirewell to reach base and Nicholas and Howze to cross home plate.
The Lady Panthers put up 5 hits in the third inning.
As the Claflin defense remained solid, its offense kept pushing, putting up 10 runs off 11 hits and a Blue Bear error in the fourth to take a 17-0 advantage. Howze and Cato paced the Lady Panthers in the inning, hitting a grand slam apiece.
Claflin closed the game scoring a run in the fifth, en route to capturing the 18-0 win.
Claflin was led in game two by Johnson, 4-for-5, 3 runs, 2 RBI; Cato, 2-for-4, 6 RBI, double, grand slam; Huntly, 3 for-3, 2 runs, RBI; Shauneyah Nicholas, 2-for-4, 2 runs, an RBI, Howze 2-for-4, 5 RBI, grand slam; and Cameron Hollis, 2-for-2, double.
Shaniya Thomas was solid in the circle, recording a no-hitter and allowing one walk with 5 strikeouts in 3 innings of work to pick up her 12th win of the season. Reagan Hill came on in relief for 2 innings, allowing 2 hits with a walk and a strikeout.
Claflin will close out the regular season against Augusta University at home on Tuesday and at USC Aiken on Wednesday, before heading to its first CIAA postseason tournament, scheduled for Monday-Wednesday, Apr. 29-May 1, at Moyer Park in Salem, Va.
Panthers set to play
6 at Virginia State 
The Claflin University baseball team, which won both games of a doubleheader at Clark Atlanta University on Saturday, begin play in 6 games across 3 days at Virginia State University in Petersburg, Virginia on Thursday.
Claflin - ranked third in the latest Black College Nines HBCU Small College Poll - is 22-10 on the season.
Thursday's doubleheader will be followed by a doubleheader at VSU on Friday and another one on Saturday.
Claflin will return home on Monday to host Benedict in a 6 p.m. single game. It will be senior day at historic Mirmow Field, with a pregame senior presentation at 5:30 p.m.
Be the first to know
Get local news delivered to your inbox!