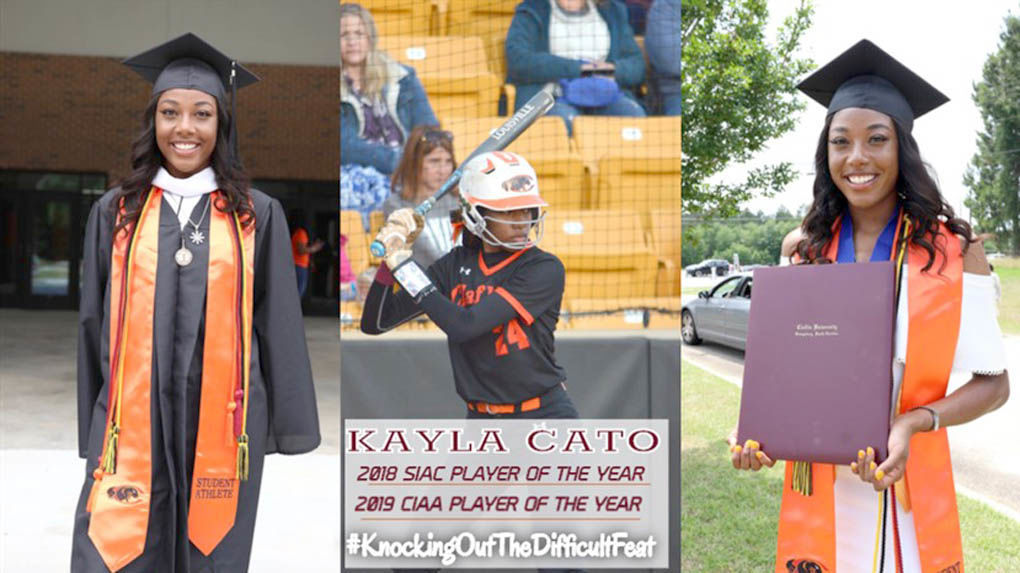 For many collegiate softball players, being named conference player of the year is the end goal.
To be the player of the year in back-to-back years is a difficult feat, but to do it back-to-back in two different conferences, well that's something that's not done, unless you're Kayla Cato, senior softball player at Claflin University.
Claflin changed conference alignments on July 1, 2018, the summer before Cato's senior year.
For her three previous seasons, Claflin was a member of the Southern Intercollegiate Athletic Conference. But in July, the university joined the Central Intercollegiate Athletic Association, setting the stage for Cato's accomplishment.
In 2018, Cato was the SIAC Player of the Year and this season 2019 she earned the same accolade in the CIAA.
Cato's success can be attributed to her mother and grandfather's intuition to start her playing the game of baseball at age 6, and the game she loves, softball, at age 10. In addition to baseball and softball, Cato also played basketball and ran track, but softball is what stuck.
"Being back-to-back player of the year and in two different conferences is truly a blessing," Cato said. "This sport has consumed my whole life and for the endless amount of work and effort I've put into it to be rewarded not once but twice is an amazing feeling. My God is awesome!"
Over the course of her four seasons, Cato was ranked nationally in three. This season alone she finished ranked second in sacrifice flies, sixth in RBIs, 21st in total bases and RBIs per game, 30th in slugging percentage and 40th in runs per game.
She also earned first-team All-CIAA honors and All-CIAA tournament honors and most recently was named a DII Conference Commissioner's Association All-Atlantic Region Selection.
In 2018 she finished ninth in RBIs and 12th in total bases in the nation and in 2016 she finished the ranked 22nd in home runs and 29th in home runs per game.
"Cato is always one of the first to the field and the last to leave," head coach Marty Kinard said. "She goes above and beyond to make sure that she is in the best position to succeed on and off the field. She is one of the hardest workers to ever come through the program here at Claflin. She has represented not only the Claflin softball program to the best of her ability but also this great university during her career."
"Every summer Cato focused on preparing herself for life after Claflin," Kinard said. "During the summer of her junior year, she traveled to South Africa to play and teach softball. Cato exemplifies the true meaning of a student-athlete and has been a great role model for our underclassmen. She has left her legacy here at Claflin and will be a player that is never forgotten."
A very humble individual out of Decatur, Ga., Cato also excels in the classroom.
During her matriculation at Claflin, she has maintained a cumulative 3.6 grade-point average and graduated cum laude with a degree in mass communications and a minor in marketing on May 11.
She is also a member of Timothy J. Autry Theta Chapter Chi Alpha Sigma National Athlete Honor Society and was recently named to the 2018-19 Google Cloud Academic All-District (District 2) First Team.
While her collegiate softball days are done, Cato has her eyes set on the professional game. She is candidate for the upcoming ASBA draft scheduled for June 5 and plans to take full advantage of the opportunity.
Once her softball career is done, Cato will move on to her other love in front of the camera. With her degree, she plans to pursue a career as a sports broadcast reporter, something she dabbled in during her junior year as part of the Panther Sports Network for Claflin Athletics.
Romanda Noble-Watson is Claflin University sports information director.
Be the first to know
Get local news delivered to your inbox!