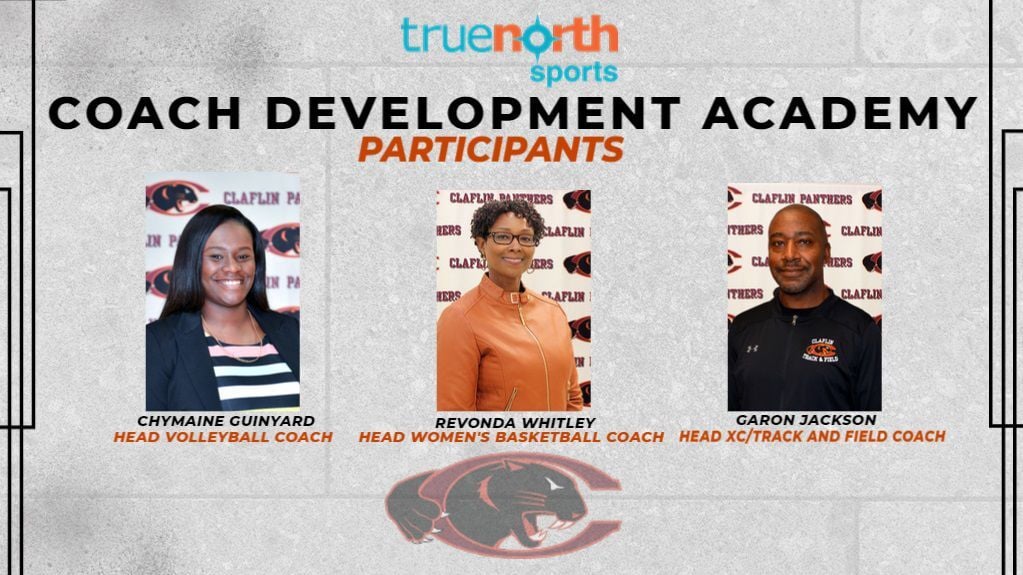 Claflin University head coaches Chymaine Guinyard, Revonda Whitley and Garon Jackson are among 24 CIAA coaches chosen to participate in the True North Sports Coach Development Academy.
Coaches were nominated by their respective institutions to represent the conference in the academy.
The Coach Development Academy is a three-part virtual course program designed to support and assist coaches in developing their authentic philosophy, team culture and program structure. Eight classes were held online.
Classes featured guest speakers, including Dartmouth head football coach Buddy Teevens, Florida head men's tennis coach Bryan Shelton, Clemson assistant women's basketball coach Shimmy Gray Miller, Alabama State head football coach Donald Hill Eley, certified mental performance consultant Dr. Tiff Jones of XFactor Performance and CEO and chief visionary Celia Slater of True North Sports, which hosted the academy.
In her first season as the head coach at Claflin, Guinyard, who served as the interim head coach last season, has been a member of the coaching staff for four seasons, including serving the 2017 and 2018 seasons as the assistant coach. She was a member of the 2014 team that captured the school's first-ever Southern Intercollegiate Athletic Conference championship and the school's first-ever automatic berth into the NCAA Division II volleyball championship.
Whitley is in her fourth season as the head coach of the Claflin women's basketball team. She joined the Lady Panthers in 2017 after serving 13 years as the associate head coach at the University of Maryland Eastern Shore, an NCAA Division I program. In her first two seasons, Whitley led her teams to a .542 winning percentage.
Jackson took over the Panther men's and women's cross-country/track and field teams in the fall 2019. He returned to the Palmetto State after serving nine seasons as an assistant coach at Bethune-Cookman University. A native of Sumter (Sumter, High School) and a 2017 Sumter Hall of Fame member, Jackson served five seasons as the head coach at his alma mater, Voorhees College in Denmark, before heading to Bethune-Cookman.
Be the first to know
Get local news delivered to your inbox!