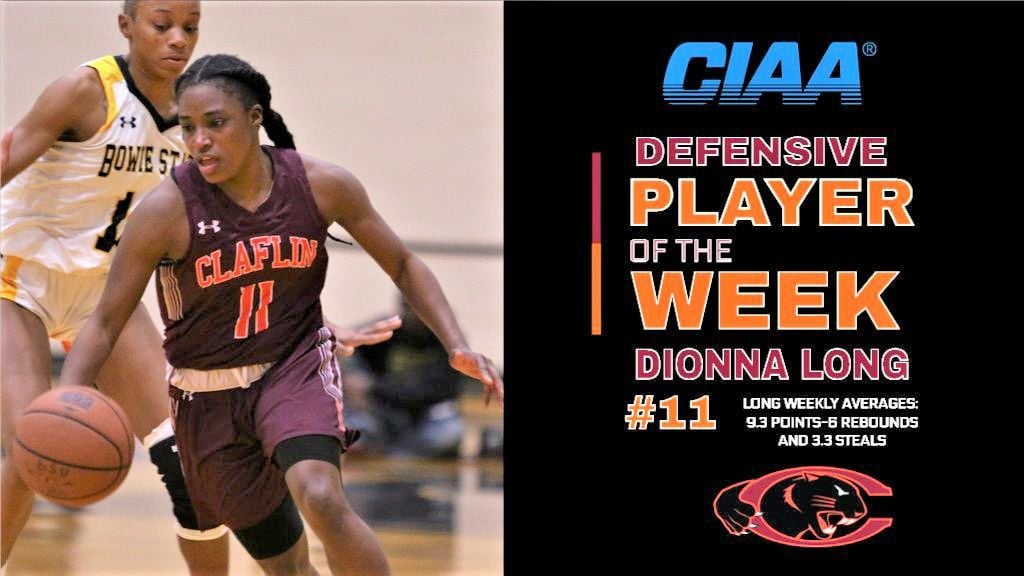 CHARLOTTE, N.C. – Claflin University sophomore guard Dionna Long has been tabbed this week's Food Lion Central Intercollegiate Athletic Association Defensive Player of the Week, as announced by the league office on Monday.
Virginia State University's Jasmine Carter and Shaw University's Sydni Callis we're named the Food Lion Player of the Week and Rookie of the Week, respectively.
This is Long's second Defensive Player of the Week honor this season. She earned the same on Nov. 19.
Long, a 5-4, from Thomasville, N.C., totaled 18 rebounds, including 13 defensive boards, and 10 steals in three games, tying a season-high with seven steals against Shaw. The sophomore guard also put up 28 points and six assists for the week, averaging 9.3 points, six rebounds, and 3.3 steals for the Lady Panthers. Long is currently third in the league at 2.8 steals per game.
Claflin will hit the road Wednesday, Jan. 15, to take on Johnson C. Smith University in a CIAA Southern Division contest.
The Lady Panthers 0-14 on the season after a 62-47 loss to Bowie State Saturday at the Jonas T. Kennedy Health and Wellness Complex.
The Panthers defeated Bowie State on Saturday, 66-60, to run their record to 9-7 overall and 5-2 in the CIAA.