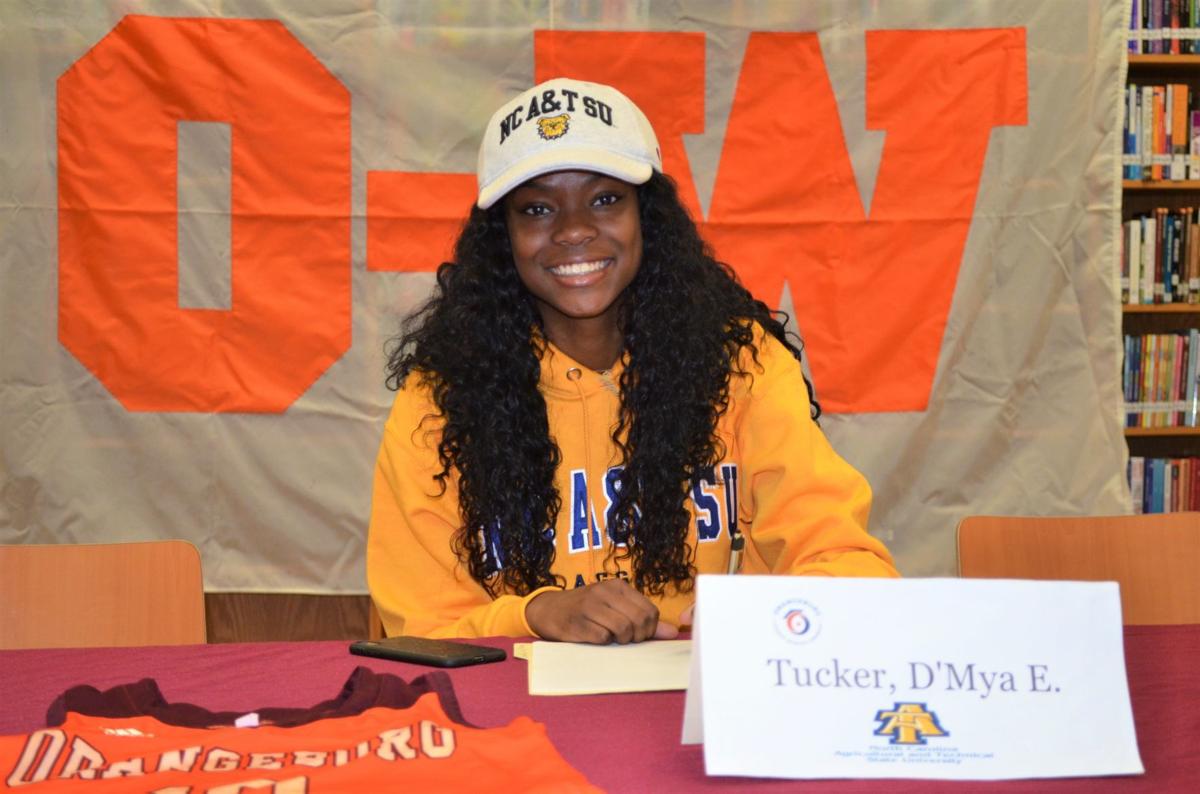 Orangeburg-Wilkinson senior shooting guard D'Mya Tucker had been hearing interest from the North Carolina A&T State women's basketball program since the earliest portion of her recruiting process.
On Friday, the 6-foot-1 Tucker signed a national letter-of-intent to join the Aggies next season, committing to head coach Tarrell Robinson and the NCA&T program that has won 2 of the last 3 Mid-Eastern Athletic Conference titles (2016 and 2018).
"They've been recruiting me since I was like in the seventh grade, and they stuck it out the whole time," Tucker said. "They are very family-oriented, so it felt like home, from the first time I visited.
"Also, they've been winning the MEAC, and I really believe in coach Robinson and what he's been doing with his kids. I feel like I'll be able to accomplish a lot there."
As a junior, the 6-foot-1 Tucker averaged 18.3 points, 10.4 rebounds, 2.6 assists, 2.6 steals and 1.3 blocked shots per game.
Although she made unofficial visits to many programs, including Old Dominion, Elon, UNC Wilmington, James Madison, Furman and East Carolina, Tucker was sold on NCA&T being the place for her to play college ball.
"My top five were A&T, of course, Old Dominion, East Carolina, VCU and James Madison," Tucker said. "But, I went to A&T for the first visit, and the rest is history."
Tucker said she looks forward to returning from the Greensboro, N.C. campus to play against South Carolina State in Orangeburg in MEAC play for future seasons.
"Not everybody is able to travel and see you play, so when you can come back home and play, you know people will be able to see you play," Tucker said. "It's humbling to be ranked as a player in the state, but to be going to college to play on a whole other level.
"I still have to work harder and make a name for myself on the collegiate level. College coaches see that I'm a playmaker, so I can virtually play every position on the floor. I'm a threat everywhere. But, I'm still working on my footwork. I'm just looking forward to competing and doing something impactful."
Orangeburg-Wilkinson head girls basketball coach Cedrick Simpson is glad Tucker made her decision for college before her senior season begins. The Bruinettes will open the season on Friday, November 29 in Summerville, playing Baptist Hill at 6 p.m., in the Teresa Kendle Thanksgiving Classic.
"It's big, because you want to go in comfortable for your senior year," Simpson said. "The recruiting process is fun, but it can be a weight on your shoulders.
"This is life decision, not just a basketball decision. I think, making her decision early, that was a great decision on her part. A&T saw something in her early on that a lot of coaches finally saw when she became a sophomore and then a junior."
When college scholarship offers began to pick up for Tucker the past two years, they came in like a flood.
"Her potential is through the roof, and A&T got a steal in getting her," Simpson said. "She had offers from 29 schools, but at the end of the day it's her decision.
"One thing we put our hat on is sending kids off to college. Everybody wants championships in high school. But, the one thing that lasts is that college degree. The kids we've had sign the past few years from our program has been a blessing. D'Mya Tucker is one of the best, not just because of what she does on the court, but what she does off the court, her demeanor towards people and her unreal work ethic. It's a great day to be a Bruinette!"
Tucker is one of 14 returners from an O-W team that went 17-10 and won a Class 4A playoff game a season ago. Center Brandi Rivers is now in her freshman season playing for Claflin University.
Tucker also played AAU Basketball with the SC Future program from sixth grade through this past summer.
Be the first to know
Get local news delivered to your inbox!