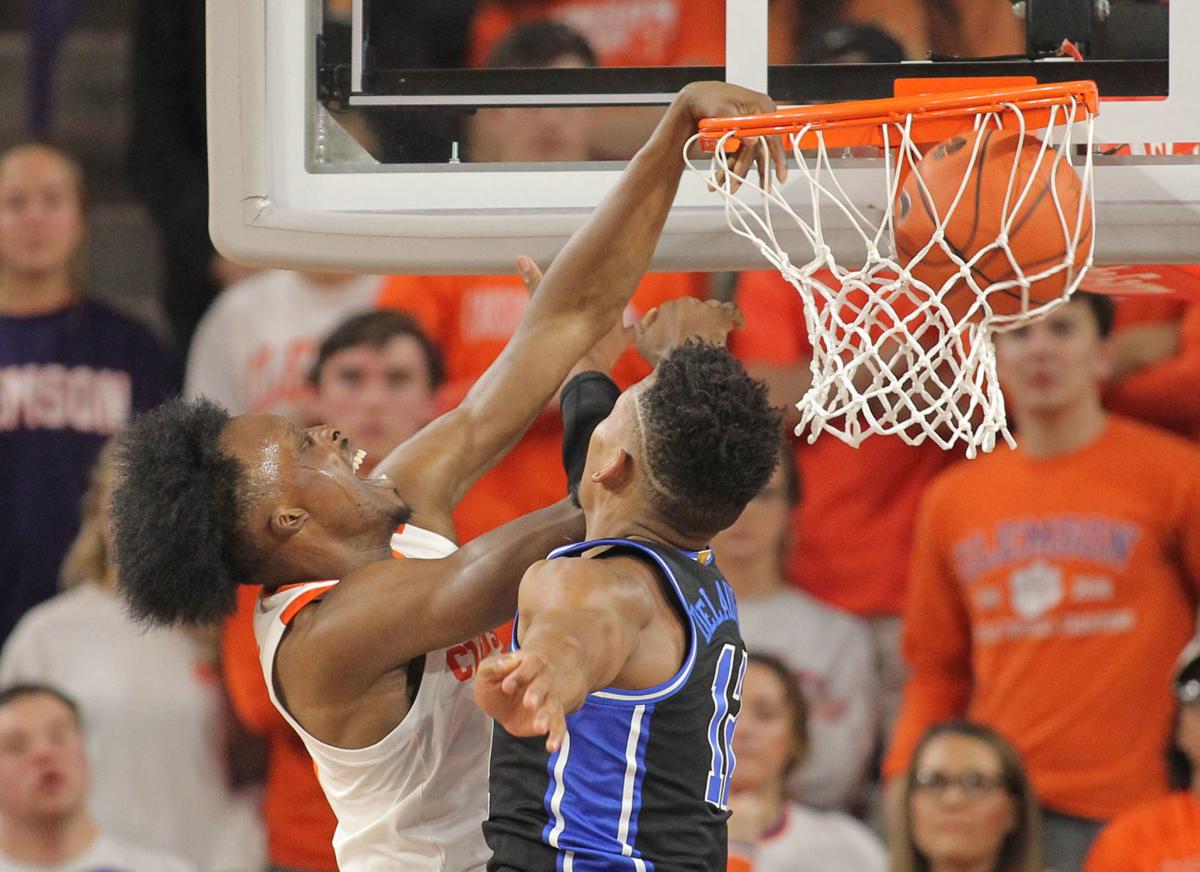 CLEMSON (AP) — Clemson gave its weary fans something to celebrate a night after losing the national championship game in football, getting a career-high 25 points from Aamir Simms in a 79-72 upset of No. 3 Duke on Tuesday night.
It was the highest-profile upset for the Tigers since beating No. 1 North Carolina on their home court in February 2001. And just like that day, students rushed the court at Littlejohn Coliseum.
It was the first Atlantic Coast Conference loss for the Blue Devils (15-2, 5-1), who came into the game leading the nation with an average margin of victory of 21.5 points.
The Tigers completed one of the rarest of ACC doubles. They beat North Carolina in Chapel Hill for the first time in program history on Saturday, ending a 59-game losing streak on the Tar Heels' home court.
Clemson (9-7, 3-3) has now beaten North Carolina and Duke in back-to-back games twice. The other time came in 1990, when the Tigers won their only regular-season title in 67 ACC seasons.
Less than 24 hours earlier, The Tigers' football team fell short in its bid for a third national championship in five seasons, losing 42-25 to LSU in the College Football Playoff championship game at the Superdome in New Orleans.
No one expects the Tigers to make a run to the title game in basketball, but for one night, they showed they could thump one of the country's best teams.
Claflin men take 
winning streak
to Charlotte
CHARLOTTE, N.C. – The Claflin University Panthers will try to continue their winning ways on Wednesday at Johnson C. Smith University for a Central Intercollegiate Athletic Association (CIAA) Southern Division contest.
The matchup will start approximately 20 minutes after the conclusion of the women's game that starts at 5:30 p.m. Both games will be played at the Brayboy Gymnasium on the Johnson C. Smith campus.
Claflin will enter the contest with the current longest winning streak (5 games) among CIAA teams, following an exciting overtime win over Bowie State last Saturday. The home victory moved the Panthers to 9-7 overall and 5-2 against CIAA teams. Claflin is perfect against divisional teams at 4-0.
In the division wins, the Panthers have generated an average of 72 points per game on offense and yielding 62.5 points to their opponents. Over that span, Claflin shot 45.8-percent from the field with 32 three-point baskets, give the Panthers having 121 for the season. As for defending three-pointer, Claflin is the best in the CIAA, holding teams to an average of 6.1 field goals (31.2-percent) per game.
The offensive leaders during that span have been Brandon Davis, Donnell Frayer, Jr and Letrell West, all averaging in double figures. Davis led the trio in the four games at 13.3 points with a career-high of 23 points against Shaw University, pushing his season average to 11.3 points.
Frayer, Jr. averaged 12.3 in the four divisional games that included 10 three-pointers and along with a career-best 26 points in the Saint Augustine's University win. Frayer, Jr. is averaging just under the double-figure mark at 8.4 points with 23 three-point baskets.
Letrell West, the team's leading scorer at 15.0 points, averaged 12 points over the four division games that included double-figures in three. He also knocked down nine three-pointer, running his season total to a team-high 42.
Two other bright spots for Claflin has been the play of Devin Smith and Haneef Britt.
Smith, who directs the Panther offense, is averaging 7.0 points and 3.2 assists over the last four games.
Britt, since gaining more playing time, has improved his scoring average from 3.1 points to 7.6 points over the last four games with a season-high 10 points against Bowie State.
Johnson C. Smith will bring a 9-5 overall record in the game that includes 3-3 against CIAA teams and 1-1 in the division.
Cayse Minor, one of the conference top scorers, is averaging 18.1 points with 12 games in double-digits this season for the Golden Bulldogs. He posted a season-high 31 points against Bowie State.
Xavier Jones and Nenad Milenkovic are also averaging in double-figures for Johnson C. Smith at 11.1 points and 10.8 points, respectively.
After the Johnson C. Smith game, Claflin will host to Lincoln University (Pa.) on Saturday (Jan. 18).
Lady Panthers visit
Johnson C. Smith
for CIAA Contest
CHARLOTTE, N.C. – The Claflin University Lady Panthers will hit the road for a mid-week contest when they travel to Johnson C. Smith University for a Central Intercollegiate Athletic Association (CIAA) Southern Division contest, Wednesday.
The divisional matchup gets underway at 5:30 p.m. at Brayboy Gymnasium on the Johnson C. Smith campus.
Claflin, winless on the season at 0-14 and 0-7 in the CIAA, have scored over 60 points twice and have lost by a single digit margin in two of their last three contests.
Dashia Jackson has been the offensive leader recently for Claflin, averaging 12.5 points in the past 5 games, pushing her season total to 9.8 points and 25 three-point baskets.
Dionna Long, the team-leading scorer at 12.5 points, averaged just under the double-figure mark during that period at 9.4 points. For her defense last week, Long was selected the CIAA Defensive Player of the Week, pulling down 18 rebounds along with 10 steals in three of the five games. Long currently leads the team with 2.8 steals per game.
Shakarri Mack is another Claflin player close to averaging double digits at 9.5 points.
Johnson C. Smith, winner of its last two games, is 7-8 overall and 3-3 in the CIAA.
Aubriana Bonner is the only player averaging in double-figures for the Golden Bulls at 10.0 points. Maiya Green and Le'Zarea Bowens is at 9.5 points each.
This will be the seventh meeting between Claflin and Johnson C. Smith since the 2006-07 season with the Golden Bulls holding a 4-2 advantages. Johnson C. Smith won both games last season by the scores of 79-70 and 79-43.
After the road game, the Lady Panthers will return home to host Lincoln University (Pa.), Saturday (Jan. 18).
Boston Named SEC Freshman of the Week
COLUMBIA - For the fourth time this season, South Carolina forward Aliyah Boston was named SEC Freshman of the Week, the league office announced Tuesday morning. Boston averaged a double-double in the Gamecocks' pair of victories last week.
Boston posted 14.5 points, 16.5 rebounds and 4.0 blocks per game last week, including a 19-point, 25-rebound, five-block effort against then-No. 21/21 Arkansas. Her rebound total was the highest by a Gamecock freshman in a game in program history and was just one shy of the overall program record. She is the highest rebounding freshman in the conference and third among freshmen in scoring. For the season, she is the Gamecocks' leading scorer (13.2 ppg) and rebounder (8.8 rpg), including six double-doubles.
No. 1 South Carolina closes out a two-game road swing with an 8:30 p.m. tip off at Missouri on Thu., Jan. 16, on SEC Network. The Gamecocks are back home at 7 p.m. Monday, Jan. 20, at Colonial Life Arena against ranked Mississippi State. at 7 p.m.
Wednesday games
Claflin at Johnson C. Smith, 7:30 p.m.
Claflin (W) at Johnson C. Smith, 5:30 p.m.
Kentucky at South Carolina, 6:30 p.m.