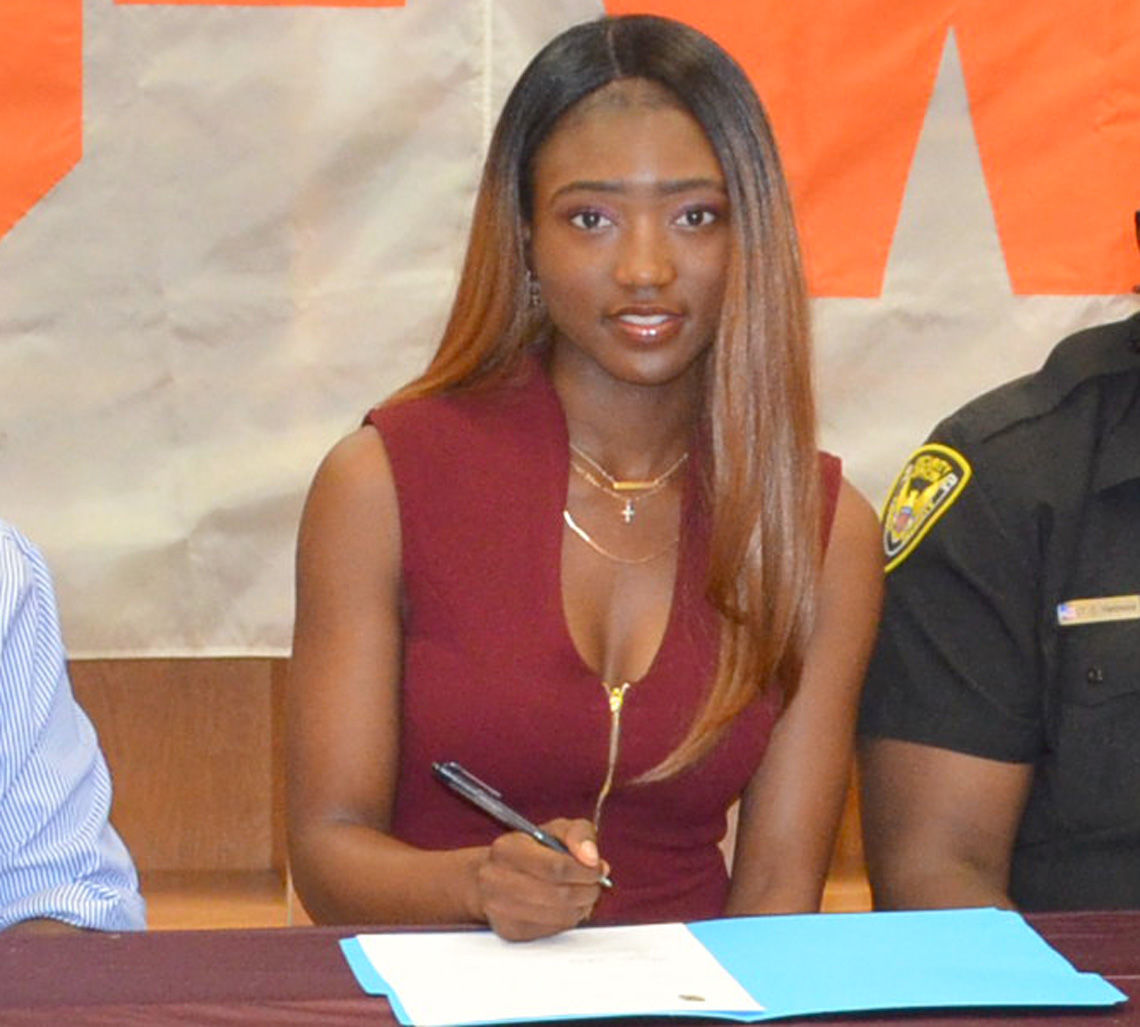 What a difference a year and a determined spirit make!
Orangeburg-Wilkinson senior Shadyma White was forced by a lingering injury condition to miss her junior seasons of cross country and track.
But, not willing to give up on her dream of running fast and competing again, she rehabilitated, got stronger, got faster and returned for an impressive senior year.
On Monday, she capped off that year by signing a national letter of intent to stay in Orangeburg and run track for South Carolina State University beginning this fall.
"This really was a dream come true today," White said. "I was nervous and my hands were shaking.
"But, I'm very excited to run against all the good college track programs. I can't wait."
Through considerable hip tendon inflammation that gave her tendinitis from her gluteus maximus down through her hamstring, White was barely in condition to walk long distances her junior year, and could in no way run.
This school year, after running cross country and helping O-W qualify for state competition, White competed in the 100m, the 200m, the 4x800 relay, the 400m, the 4x400 relay and the 4x100 relay.
"My junior year was a struggle; I couldn't run one day at practice and it really made me upset, because I really wanted to run," White said. "When the doctor told me my condition, I cried and went through like three bags of tissues. That really took my heart away. I had to sit out cross country and track for my junior year.
"Coming back for my senior year, everybody was faster than me and I had to build up. By my last track meet, I had improved a lot. I just have to thank South Carolina State's coaches for believing in me, based on how I improved every step of the way."
Kansas, Newberry and Coastal Carolina were also in talks with White about joining their track programs. But, in the end, it was the hometown Bulldogs program that she chose.
White gives much credit to Crescent Physical Therapy in Orangeburg.
"Crescent and my coach, Coach W, both really helped push me to get back in shape, and I can't thank them enough," White said. "Coach W and I ran a lot, during the summer, when it was like 105 degrees and never went below 90.
"But, I worked hard, knowing that at the end of the day, it was going to be something good for me. I kept striving and got my time down in my 400 under a minute. That was after my first 400 was right at 2 minutes. I'm like 80 percent better now, getting to 100, still working on it. I have goals to be the fastest 400 and 200-meter runner ever."
O-W cross country and girls track coaches Evan Wardlaw and Morris Hodges were delighted to see White work her way back into running and competing for her senior year.
 "We had to work with the injury, especially in cross country, early on," Wardlaw said. "When I started running with her every day, it was just go a little bit farther, her personal growth of getting back, not running for a time or running for a spot on the team.
"She had to get back to getting comfortable with herself being an athlete again. It was a lot of downs early, since she was used to being on a different tier, and suddenly she was struggling with a re-occurring injury condition. But, when we got to the season, we had to have five runners cross the finish line to have a team score in each cross country meet. She pushed herself to finish each race and help the team make state qualifiers. We wouldn't have done it without her. It was outstanding, and a long journey that I couldn't see the end of, but I knew she was getting better each and every day."
Hodges saw the drive and desire and commitment from White. He admits that her heart was obvious, as was her drive to compete.
"As a senior, she worked so hard, countless days to come back from an injury where she couldn't really walk well and had very little mobility," Hodges said. "Seeing her fight back to become MVP for our team was great. She won, not because she had the fastest times, but because we couldn't do one relay without her.
"That's someone we didn't have slated on any depth chart, because she didn't run the year before. She proved to us that she was going to work hard and come every day to work. She was a starter for us in every relay early in the season, before we worked in more of the younger girls and she was able to specialize in a few events. For State to give her an opportunity to continue, I know this isn't her last day of greatness and success. I can honestly say we have not tapped into her full potential."
In the 400m and 200m, White placed in the top 7 in Class 4A competition, while placing in the top 11 in both events statewide. All that a year after she couldn't run.
A challenging schedule in college will be nothing new for White. For her senior year she got up early for school, had track practice till 6 p.m., worked at McDonald's till midnight, then started it all over again the next morning.
"There are no excuses to not work hard and get it done," White said. "I needed a job to pay for my first car, which I got by myself.
"Everything happens for a reason. God is good and I just want to thank him for being so good from the beginning. I know he's got a lot of things in store for me."
White says she has taken so much inspiration from following the track career of Allyson Felix, who tore ankle ligaments leading up to qualifying attempts for the 2016 Olympics. Felix not only qualified but won 400m silver in Rio that year.
"I decided if she could do it then I could do it," White said. "These track athletes don't quit, so why should I quit.
"I've come to far to quit. I kept working, I kept grinding, and here I am today."
Be the first to know
Get local news delivered to your inbox!