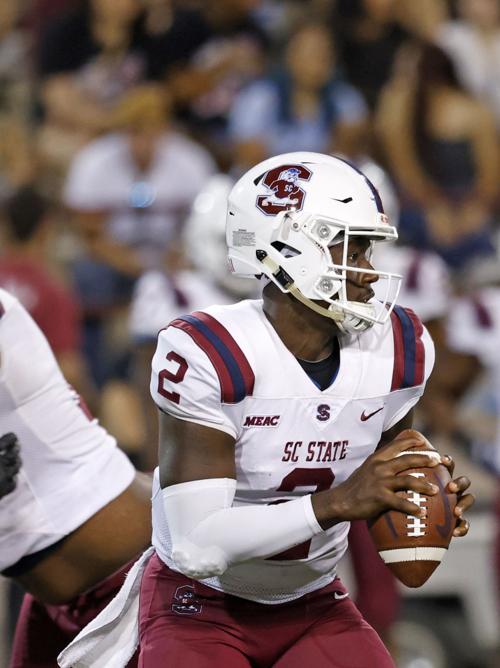 South Carolina State head football coach Buddy Pough said his team is rejuvenated as the Bulldogs prepare to face Bethune-Cookman this weekend.
After opening the season with three straight road losses, SCSU will take the field at home for the first time this season Saturday against the Wildcats.
"It's been a while since we played these guys," Pough said Monday at his weekly press conference. "They didn't play last fall, or in the spring. They started back this fall, and it's not going so well."
Bethune-Cookman enters the game with an 0-4 record after a 38-24 loss to Alabama State last week. Like the Bulldogs, B-CC has played two FBS teams (UTEP and Central Florida) along with top-ranked Alabama A&M.
"We're trying to find out who's going to break the streak," Pough said. "Hopefully it's us."
The two teams last met Oct. 26, 2019, when SCSU defeated the Wildcats in Daytona 27-19. Though the teams are no longer conference foes, Pough knows the outcome could have a direct correlation to the rest of the season.
"(After the bye) our guys have some confidence they can win some games," Pough said. "We have to win Saturday. It doesn't count in our conference, but it counts in our minds, in our psyche. We have to prove to ourselves that we can win."
After falling behind 40-13 against New Mexico State on Sept. 18, the Bulldogs were able to rally to cut the deficit to one score, and had an opportunity late to tie the contest. Pough credits the play of center Eric Brown for SCSU's late comeback.
"Eric Brown is the straw that stirs the drink on offense," Pough said. "We lost him on the third play of the game (against NMSU), but he was able to come back and play the second half. He's nursed a sore ankle this week, but I think he will be full speed."
According to Pough, there is a comfort level between Brown and quarterback Corey Fields.
"They are similar personalities, neither one says a bunch," Pough said. "Both guys are talented and smart guys, good students."
Fields has completed 54% of his passes this season for 697 yard and five touchdowns. Pough said he still must get better with turnovers (six interceptions) but hopes the return of Shaq Davis will better help stretch the field.
"We have to do a better job of giving (Corey) more space to throw the ball," Pough said. "Once we figure out what Corey is comfortable with throwing, then we can tailor the offense toward his strength."
Defensively, the Bulldogs have given up 540 yards per game and nearly 45 points. Pough said the addition of Jeblonski Green should help shore up a young defensive line that has struggled with some of the play calling this season.
"I think we can put (Jeblonski) back into the lineup and add an immediate punch," Pough said. "He's the type of defender that we can build the rest of the defense around. We need to be more aggressive on defense (especially in the secondary). We need more pop, and make big plays on defense."
South Carolina State and Bethune-Cookman are scheduled to kick off at 1:30 p.m. at Oliver C. Dawson Stadium in Orangeburg.