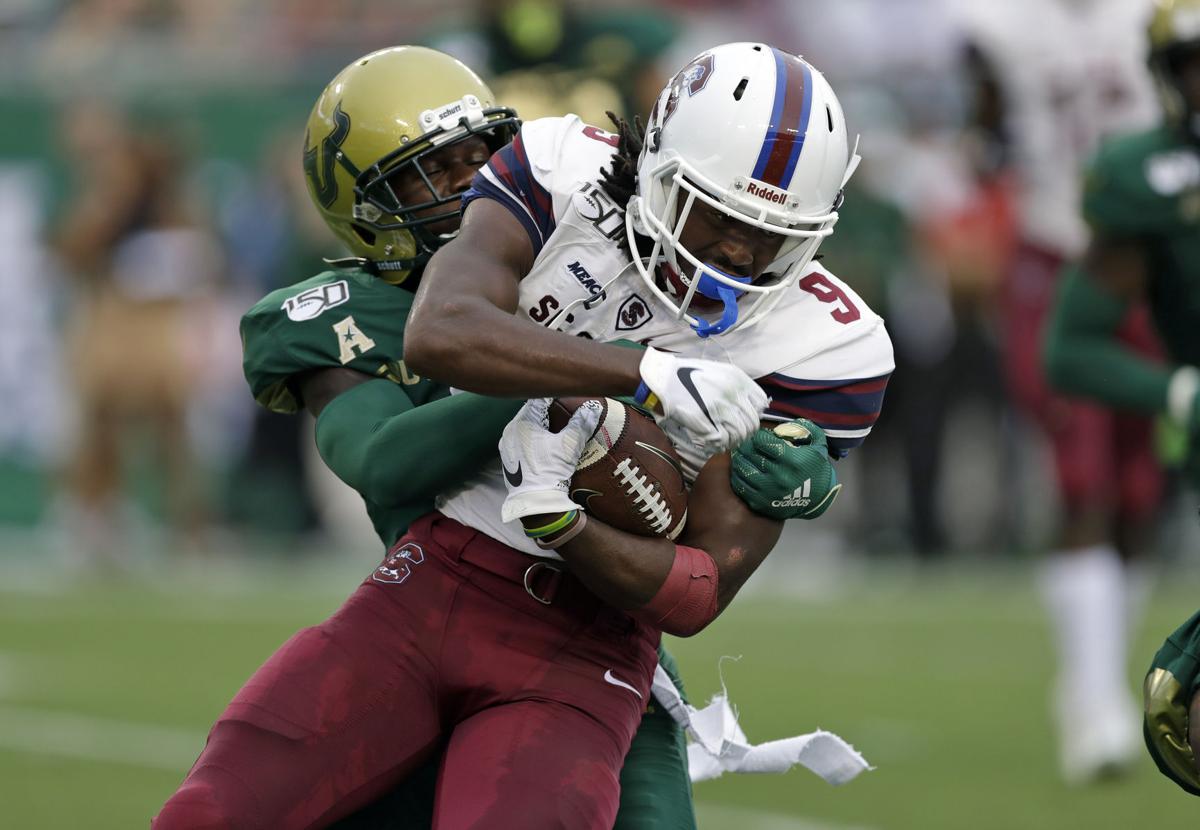 South Carolina State redshirt senior Will Vereen caught a pass early in the Bulldogs intrasquad scrimmage Saturday at Oliver C. Dawson Stadium.
The catch was significant because it was the first time Vereen has seen live action since an ACL injury ended his season in 2019.
"It feels really good to be back on the field," Vereen said following the scrimmage. "I'm taking it day by day and trying to remain positive."
Head coach Buddy Pough said Vereen is coming along nicely, and should be a weapon for the offense this season.
"He's a burner, a guy with straight-ahead speed," Pough said. "He can make something happen fast for us. I'm happy he was able to get the extra year back due to the COVID-19 rule. He's an older guy that we can depend on."
As a junior, Vereen appeared in six games for the Bulldogs. He caught 20 passes for 319 yards and two touchdowns prior to the injury. He also averaged nearly 20 yards per kickoff return.
Vereen appeared in 11 games as a sophomore. He caught 15 passes for 175 yards and a touchdown.
SCSU wide receivers coach Steve Bird said Vereen has done everything right to get back on the field.
"He knows what he can do," Bird said. "He knows his limitations and he's a smart kid. This was a hard injury to come back from, and (the doctors) had to go back in and do some more work before he could start his rehab. He's been very diligent about his workouts, made sure to go to the rehab clinics back home and the reports were always that he was either on time or early. He's worked hard at it."
Despite the good reports, Vereen confesses that it wasn't always easy coming back from his injury.
"The hardest part was staying on top of my rehab," Vereen said. "Some mornings, I just didn't want to wake up, but I kept finding the energy. So far, practices have been going well and I am full throttle."
Vereen worked with the starters Saturday but said he is happy just to be back at 100%.
"I just want to play my role on this team," Vereen said. "We're young, but I think we have the talent to go all the way. I will do whatever it takes to make this team successful."
According to Bird, Vereen already has his diploma and has enrolled in graduate school. Bird said seeing him get back on the field and go through camp has been a blessing.
"It makes you feel good and shows the other kids that you can always overcome something," Bird said. "He's doing well on and off the field. He's a good leader and has helped Shaq (sophomore Shaquan Davis) and the young guys. We're fortunate to coach kids like him."
"We're young, but I think we have the talent to go all the way. I will do whatever it takes to make this team successful."

Will Vereen