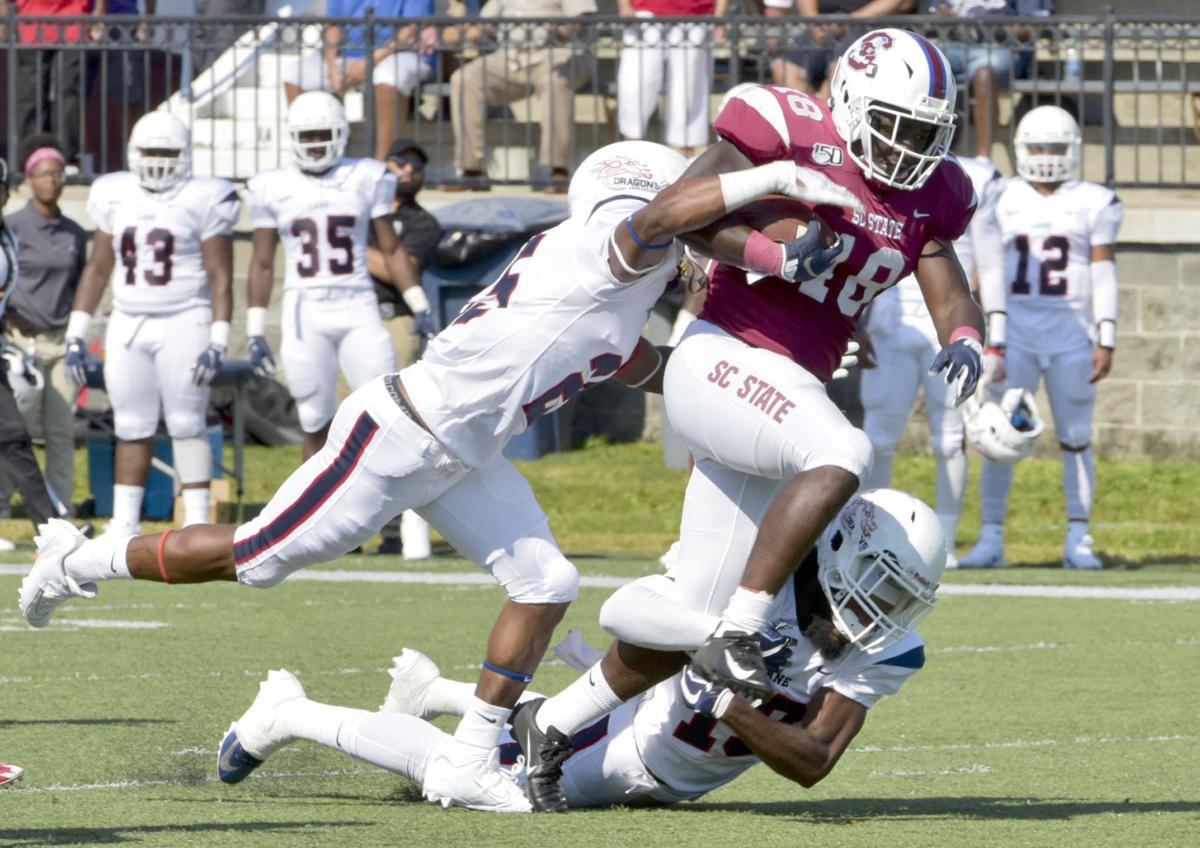 Many players on the South Carolina State football team were in their elementary school years the last time the Bulldogs carried a 2-0 record.
That was 2009, when the team opened with three straight wins over Grambling, Bethune-Cookman and Winston-Salem State.
Now in 2019, these Bulldogs will carry a 2-0 record to Tampa, Florida, this weekend to play a winless South Florida team (0-2) from the Football Bowl Subdivision level of NCAA Division I play.
The team could return to Orangeburg with another win. But, win or lose, the team will be earning the athletic department needed funds (reportedly $400,000) from the non-conference contest at a program in the higher sub-division.
Then - after Saturday's 6:05 p.m. game - SC State will have three weeks worth of workouts and rest to head into the Mid-Eastern Athletic Conference schedule.
Simply speaking, Buddy Pough has good reason to be smiling in his 18th season as head coach of the Bulldogs.
You have free articles remaining.
"We haven't been 2-0 in so long, we are excited as all get-out," Pough said at his weekly press conference on Monday. "We had practice yesterday, and it was hot, but we didn't have a soul missing.
"Everybody was there and excited to practice; so, it's been a lot of fun being with our team under these circumstances. It's always neat to play in these big-time stadiums. So we are looking forward to going down to Tampa to play."
The Bulldogs will be playing in Raymond James Stadium, a home field that is shared by the USF Bulls and the Tampa Bay Buccaneers. The hope is to begin the game in a similar way to SC State's opening wins against Wofford and Lane the past two Saturdays.
"The main ingredient has been us getting off to a fast start offensively in games," Pough said. "That just gives you a special feel, as opposed to being in a game where every little thing you do you are so tight until you worry about making any mistake.
"Our defense has benefited from the fact that it has taken some of the pressure off of them; although they have played really well. It's been a situation where it hasn't been quite as big a deal for them to play perfect football on the defensive side, because of the fact that we have been so much better offensively. It allows them to play freer and looser on defense. That's a major reason why we feel different about ourselves than we have in previous years."
The Bulldog players obviously bought in to the game plan during the spring and summer months this year, and their drive to improve as a team and fare better than the 5-6 record of a season ago has been evident.
"That was the talk of the whole offseason, the fact that we had the opportunity to see a team really start to improve," Pough said. "To be a part of that, and to have an opportunity to see all of those different guys develop was one of the most exciting things in this program in a long time.
"We knew that we had a chance to be pretty good. We feel like we've still got a lot of developing to do, but this team has got a chance to be really good. At the same time, a couple injuries could set us back to a place where I don't know that we would be nearly as good again. We just have to make sure that we work to make more guys a part of this equation, make more guys ready to play. That could help us solidify this foundation in a way that we could be really good for years to come."