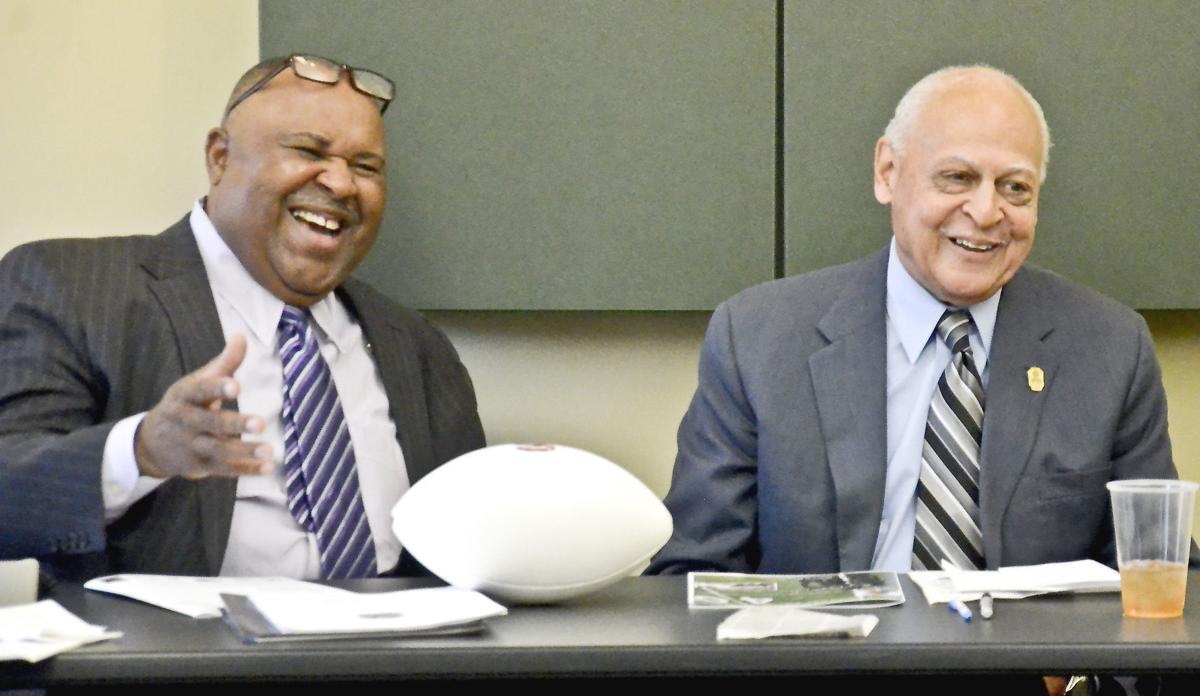 When Willie Jeffries left the sideline at South Carolina State University in 2001, after two stints leading his alma mater's Bulldogs for a total of 19 seasons, he was the program's all-time winningest coach.
This could be the last week he holds that record, as one of his former linemen is in position to eclipse the mark of 128 wins.
During his two tenures (1973-1978, 1989-2001) Jeffries compiled a 128-77-4 record at SC State, which included six MEAC titles and as many postseason appearances.
But, with this past Saturday's 38-24 Mid-Eastern Athletic Conference victory at Delaware State, Jeffries' successor - Buddy Pough - is one win away from becoming the all-time winningest head coach at the school both coaches graduated from.
Pough currently carries a 128-72 overall record in this his 18th season leading the SC State program. His teams have picked up where Jeffries' teams left off, winning two outright MEAC titles (2008 and 2009) and four shared MEAC titles (2004, 2010, 2013 and 2014), while also making four trips to the NCAA FCS playoffs (2008, 2009, 2010 and 2013).
Although he is aware that the next win for his Bulldogs will be big for program history, Pough said at his weekly press conference on Monday that he is focused solely on this Saturday's home MEAC game against Florida A&M. It is a Rattlers team that is coached by former Clemson quarterback Willie Simmons and is coming to town with a 4-1 record, including a 2-0 record in MEAC play.
The Bulldogs are 3-1 overall, 1-0 in conference. Adding to that record is Pough's concern this week, not so much the all-time record, the fact that the 2 p.m. game will be televised on a tape-delayed basis on ESPN2 at 10:30 p.m., or the festivities surrounding Youth/ROTC/Military Appreciation Day for SC State.
While ESPN's Jay Walker (former Howard University quarterback) and Tiffany Greene (a graduate of FAMU and the first black woman to work as a college football play-by-play announcer) are in the booth overlooking Oliver C. Dawson Stadium, Pough will be walking the home sideline of Willie E. Jeffries Field as he leads his Bulldogs.
"I'm so busy thinking about FAMU, they are coming in here and that's always a tough game for us," Pough said. "It would be a little bit disappointing to let this (record) thing linger on. But, the possibility does exist.
"I don't know exactly how you react to having to win a game to make a record, to the point where you put the emphasis on the record or you put the emphasis on the game. I've really not thought about that much, because when I cut on the film I see how this Florida A&M team looks."
Pough's only coaching loss to FAMU was in 2011, when the Rattlers took a 27-24 win. His Bulldogs are 15-1 when playing Florida A&M.
A season ago, the Rattlers were riding high after a win over eventual conference champion North Carolina A&T, but the Bulldogs went to Tallahassee and won 44-21 during a 4-game winning streak.
"I'm sure Florida A&M wants to return the favor at our place this Saturday, especially since they don't want to be on the books as the team you set any record against," Pough said. "Youth Day is always one of our better-attended games, so we will have a big crowd here on Saturday.
"It'll be a great atmosphere for a game in general. I'm more excited about that for our university and for our team and for our athletic department than anything."
Coach Jeffries is still an active supporter of SC State athletics and many church and community organizations throughout Orangeburg County. Having him around to see one of his records eclipsed will be meaningful to both coaches.
"Coach is happy for us and excited for us, and he will be the happiest guy of all that one of his guys is the guy who will get a chance to break his record," Pough said. "But, at the same time, we will never replace him. He is the guy who everybody thinks about when you say South Carolina State football.
"He is South Carolina State football and that will never change."
Jeffries, a Union County native, spent 29 years as a collegiate coach. Jeffries also spent five years each at Wichita State and Howard, amassing an all-time record of 179-132-6. Jeffries made history in 1979 when he was hired as head coach at Wichita State, becoming the first African American to coach at a major university.
He is a member of the SCSU Athletic Hall of Fame, the South Carolina Football Hall of Fame (2013), the Black College Football Hall of Fame (2011) the Kansas Hall of Fame (2011), the S.C. Athletic Hall of Fame, the MEAC Hall of Fame, the Wichita State Hall of Fame and the College Football Hall of Fame.
Pough never set out with a goal to eclipse anything Jeffries did in the past. He will appreciate what setting a record means, but it's not something that was on his bucket list nearly two decades ago.
"I'm not that kind of sentimental guy who is going to stand around and say 'I'm so happy for this or that;' we move on," Pough said. "The fact that we've had the opportunity to do what we've done for as long as we have, I'm extremely appreciative.
"I appreciate having the opportunity to do what I've done for a living for all these years. That's probably the most special part of the whole affair for me."
Pough admits he didn't plan to wear the headset and lead the Bulldogs for this long when he followed Jeffries and took the helm before the 2002 season.
"I almost left after a year or two, because of the fact that you have some opportunities and you say is this the right decision for me," Pough said. "But, there were so many ingredients in my being here.
"My mom being here, that is one of the reasons you stay home the way you do. And then, I'm home home, with so many friends and relationships, it's just a lot of fun for me being here. I really have enjoyed my time here. South Carolina State has had its ups and downs, but it has always been supportive of me and us and our football program. I think football is important to our town and to our fan base."
In similar fashion, Jeffries and Pough are an important part of any conversation that has anything to do with the respected Bulldogs program they have led to a combined 256 wins... and counting.