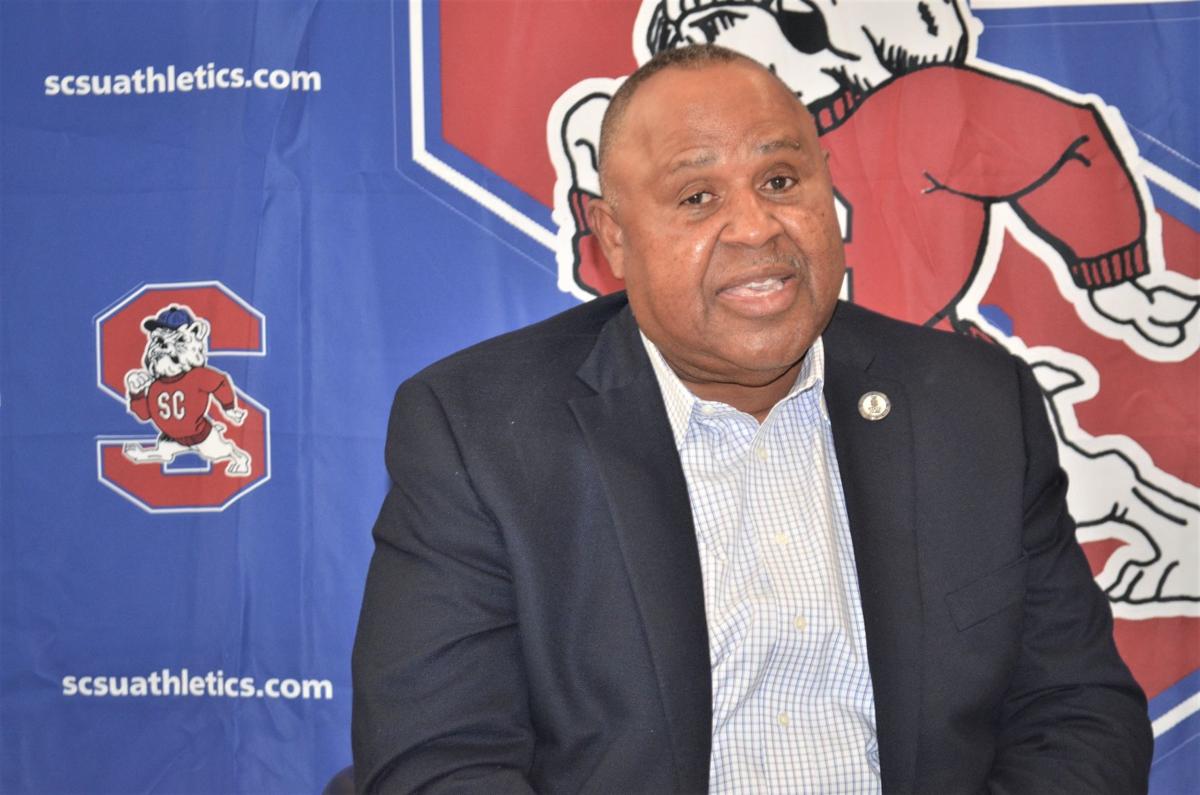 Entering his 19th season leading the South Carolina State Bulldogs, head football coach Oliver "Buddy" Pough signed 19 players to national letters of intent on Wednesday's National Signing Day.
The recruiting class - which with a junior college player already in classes on campus totals 20 - addressed areas of need for the returning young, but extremely talented, defending Mid-Eastern Athletic Conference co-championship team of 2019.
A total of 11 signees in this class are linemen, with 7 being on the defensive side of the ball and 4 being on the offensive side.
"We signed two tackles and two guards on offense, and then we signed 5 defensive tackles and two defensive inside guys," Pough said. "We think it's a good class.
"We did not sign a quarterback because, as you can see, one of our quarterbacks is a freshman and the other is a sophomore. I don't need another guy in that mix. So, at this point, we will see what happens with this group."
Pough said he is excited about what this recruiting class can add to the Bulldogs in the next few seasons. However, he was just as excited to see 87 current Bulldogs running in off-season workouts early on Wednesday morning.
"We've got guys who are getting bigger and faster, and that's our deal," Pough said. "We're more of developmental school (for football players).
"I don't know if it's as big of a deal with the guys we signed today as it is the guys I saw who are already here, getting better, developing into what you see on our football team. This is a nice group of kids in this recruiting class, though. Our coaches got out there and worked and we were able to sign kids from all over the state."
The Bulldogs inked two Shrine Bowl of the Carolinas selections, including York High School tight end Khalil Ellis, and White Knoll offensive lineman Nick Taiste. Also in the class are four Touchstone Energy Cooperatives Bowl North-South All-Stars, including Calhoun County defensive back Michael Brunson, Bluffton wide receiver Rakim White, Central (Pageland) defensive tackle Dajon Funderburk, and Hartsville offensive tackle Eric Brown Jr.
The lone running back in the class is Richmond County (N.C.) tailback Jahiem Covington, who averaged 8.6 yards per carry in his senior season and was an East-West All-Star in the state of North Carolina. Two defensive ends in the class are the other two out-of-state players coming to Orangeburg, including Miami (Fla.) Southridge's Nathan Wilcox and Tyon Bigby of Georgia's Newton High School.
"I thought we did a good job of getting as many guys from all areas of the state of South Carolina," Pough said. "I'm looking forward to getting the ones we can here this summer and seeing what we can do with them once we get them here.
"It's great to get kids from football programs including Hartsville and Daniel and Bluffton and Lamar and Myrtle Beach. A lot of times you take the best available guys, and we did some of that here. But, we emphasized finding defensive front guys and offensive linemen. We were successful, in regard to doing that."
The Bulldogs graduate both starting offensive tackles and both starting defensive tackles from the 2019 team. Filling holes on the depth chart with quality players at those positions was a focus with this class.
"For all practical purposes, losing our defensive tackles and losing (fifth-year senior defensive end) Bruce Johnson, we lost our defensive front," Pough said. "We've got some guys coming back who play in there - guys like (rising sophomore) Patrick Godbolt - and they will be the anchors of our defensive front. But, it takes about 8 to 10 of those guys to actually fill out a roster.
"We need as many of those guys as possible. You can't just play with four, you've got to have at least 6 or 8."
One defensive end who could see a lot of playing time early in 2020 is former Lamar High and Lackawanna College juco transfer Randy Wheeler.
"He doesn't have nearly as far to go as some of the younger guys will," Pough said. "When you bring in a JC guy, you expect they will be able to help you.
"And then Jared Kirksey, the defensive end from up at Daniel. He is 6-foot-1 and 240 pounds, and we feel like he is a big get for us. And then Eric Brown from Hartsville might be able to help us soon on the offensive line. But you never know. Eventually, you hope they all help us."
Another area of need for SC State in this class was punting. Sumter product Dyson Roberts will have the chance to earn the punting duties left behind by former Lake Marion standout Cliff Benjamin.
"We've got great relationships with most of the high school coaches around this state," Pough said. "They know, if we tell them something, they can trust us and we will do our doggonest to follow through.
"They also know that South Carolina State is a nurturing environment, where their guys will have every opportunity to earn a degree, to be able to go out and earn a living with that degree." 
Pough carries a 133-74 record as head coach at SC State and became the program's all-time winningest coach this past season. The Bulldogs posted an 8-3 record, including a 6-2 record in MEAC play. Pough was named MEAC Coach of the Year and Boxtorow Co-National Coach of the Year, as the Bulldogs earned another MEAC championship trophy.
"There's sort of a pecking order for our league, and people know that we are going to be in the mix and have the opportunity for championships," Pough said. "(North Carolina) A&T is still head and heels above us, in some ways. But, they can't be above us in desire and want to.
"We've just got to prepare to take our rightful place as the lead guy in this pack. That's what people want to be a part of, a top team that has a chance to win championships each year. With that, we feel like we have the best possible signing class for South Carolina State here in 2020."
COMPLETE SC STATE 2020 SIGNING CLASS LIST BELOW
Be the first to know
Get local news delivered to your inbox!