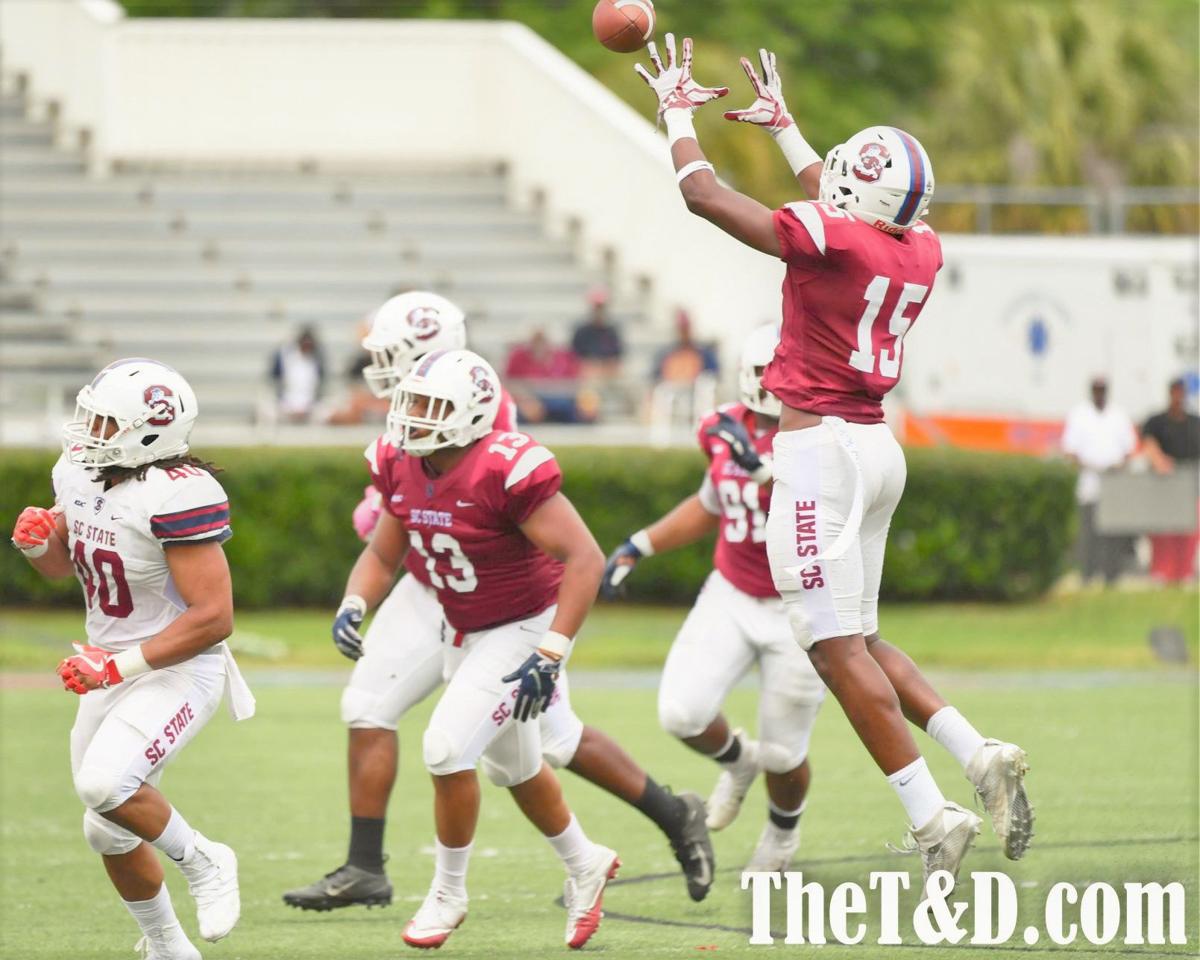 It is late April, but unlike any spring South Carolina State head football coach Oliver "Buddy" Pough has ever experienced in his 18 years leading the Bulldog program.
Normally, the Garnet and Blue Spring Game would have just been played, giving Pough's staff a better idea of what to expect from position players this fall.
However, due to the current shutdown in much of American society to deal with the coronavirus pandemic, there was no game and the defending co-champion program of the Mid-Eastern Athletic Conference is awaiting clearance from medical, government and university leaders to reassemble.
"Right now, we are encouraging guys to do well with their schoolwork, as our coaches all keep checking to see that they get their assignments done," Pough said on Tuesday. "It's been an interesting experience, but you are first and foremost concerned about everyone's health."
With all of the Bulldog players back in their hometowns, Pough said he is thankful that none of his student-athletes or their parents has reported firsthand issues with the COVID-19 virus.
Pough and his staff have become quite familiar with online meeting programs, including Microsoft Teams and Zoom, during the shutdown of schools and college campuses the past month.
"Once you've checked on a guy's health, from there you check on their academics," Pough said. "You see a guy through some of the programs and apps you've got out there, so that's been a new experience for me.
"You see all the commercials about the technical abilities we have in this world now. It really helps out. The problem is you have guys who don't have abilities in their households, may not have Wi-Fi or laptops. That's been a bit of an issue, making sure our guys have all of the tools they need to continue to operate in a virtual world."
Pough admits his staff has called an audible or two, when options have been available.
"We've had to share different kinds of tools and abilities that way," he said. "Sometimes it's been making arrangements for some of our guys to go places to get on the internet. It's been different.
"At the same time, it's either this or nothing. There aren't any choices but this."
Pough hopes there is the opportunity for all college football programs to get back on track by late summer or early fall.
"You're between a rock and a hard place with this, since you don't want to be insensitive when talking football as opposed to people's health," he said. "But this is going to really affect us in a way that we never would have thought of in the past.
"So many guys on your team that you really look forward to giving that individual attention during the spring. Most of them, when you get to the fall, you are just looking forward to getting them through the season and into the next spring."
That development time and work on fundamentals with players at each position are what Pough believes will be missed the most from a lost spring.
"We didn't get any practices in, and I think, across our leage, FAMU and (North Carolina) A&T got a couple in," Pough said. "But by and large, we are still waiting to get started. You just don't know, at this point.
"I'm a little bit jealous of the schools who got started earlier. I've often felt like some programs get through with signing day one day and start practice the next day. I just never felt like that was good, especially since we start practice so early in the morning and it's still cold that early in the year. That bit us in the fanny this year, I guess."
Pough admits it doesn't make things any easier knowing that all college programs are dealing with the same issues.
"It's a little bit of a misery-loves-company deal, since our competition is in the same boat we are in," he said. "The lack of competition and ability to develop your guys in the spring will influence your team in some way. That's a big part of every season.
"What makes it really crazy is, in the summer months, the guys are home for a few weeks and can go to the high schools and workout in their home weight rooms. Some high schools have as good of facilities as we do. But those guys are home and everybody is basically shut down now. They can run and do agility drills, which is good. But, all the individual stuff only takes you so far."
When does Pough think he will be able to somewhat safely assemble his team to begin preparing for the 2020 season?
"I don't have a clue," he said. "I think it will be late May before we get an idea what the next step might be. Would be nice to get back latter part of the summer. Maybe late August even.
"It's up in the air, we don't know. I would hope that we would be able to get started that first week in September and have a regular schedule for the fall."
For now, Bulldog football players finish up their academic work and hope for a signal soon as to when they can return to campus and Oliver C. Dawson Stadium.
"It won't be people like me who make the call (on resuming large gatherings), it will be doctors and first responder people we listen to," Pough said. "I think we will hear from our governor and that will kind of guide us. Once we get to a point where they feel comfortable, we will take the lead from the Carolinas and Clemsons, see what they do and we will go from there."
As for now, Pough plans to continue watching a lot of game film from his Bulldogs' 2019 season, as he became the Orangeburg program's all-time wins leader and the team earned a share of the MEAC crown with North Carolina A&T.
And when the coach isn't watching his team, he plans to check in on the biggest live televised sporting event this month, the NFL Draft 2020 in virtual form. It began Thursday. 
"The draft should be fun, with (former Bulldog standout 6-foot-8 offensive lineman) Alex (Taylor) hopefully going to a team that has some patience with him and gives him a chance to become the player he has the potential to become," Pough said. "We went down to the Senior Bowl to see him and we saw a bunch of Carolina and Clemson guys there too.
"It'll be fun to watch those guys go off the board and head to new teams. That's the closest thing we've seen to a game in a while. You're so starved for anything to watch."
Pough mentioned that he'd even taken time recently to watch a replay of a classic NFL game involving Peyton Manning and Tom Brady.
The coach would rather be busy with off-season coaching and monitoring team workouts. But, for now, he and his staff will do what they can to be ready when the weight room and practice field are once again open for Bulldog business.
Concerned about COVID-19?
Sign up now to get the most recent coronavirus headlines and other important local and national news sent to your email inbox daily.